Texas Gov. Greg Abbott has expressed his shock and sympathy to victims and their families after eight died and hundreds were injured at the Astroworld music festival in Houston on the night of Nov. 5 and said that has directed a state agency to offer resources for the investigation of the incident.
"What happened at Astroworld Festival last night was tragic, and our hearts are with those who lost their lives and those who were injured in the terrifying crowd surge," Abbott said in a Nov. 6 statement.
He expressed thanks to the first responders and good Samaritans on site who helped those injured in what has been described as a "mass casualty incident" by Houston Fire Chief Samuel Peña.
Abbott said he has directed the Texas Department of Public Safety to "make state resources available" to support the active investigation being conducted by Houston officials from the mayor's office, police department, fire department, and Harris County Judge Lina Hidalgo. The investigation is now a criminal probe.
"I ask Texans to join Cecilia and me in lifting up in prayer those affected by this tragedy," Abbott said, referring to Texas First Lady Cecilia Abbott.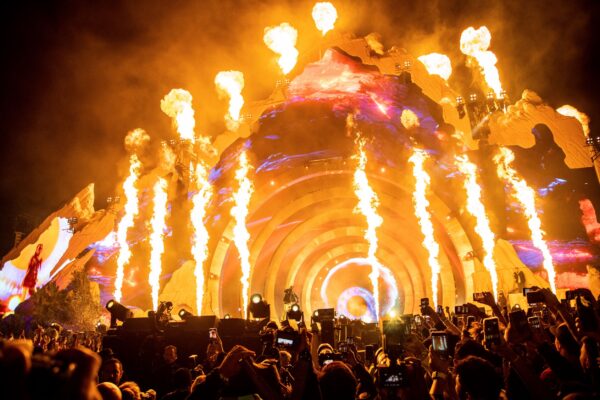 The second day of the two-day music festival was canceled following the tragic loss of life on Nov. 5.
Houston officials confirmed in a Nov. 6 press conference that eight youths had died among the 25 people who were taken to hospital after crowds surged toward the stage of the outdoor venue as rapper Travis Scott was performing.
Peña told reporters that from the time a "mass casualty incident" was declared at about 9:30 p.m. to the first medical team reaching a patient was two minutes.
In total, more than 300 people were injured and treated at an emergency field hospital set up at the venue, Peña said. More than 55 Houston Fire Department units stepped in to provide assistance to the medical personnel supplied by event organizers.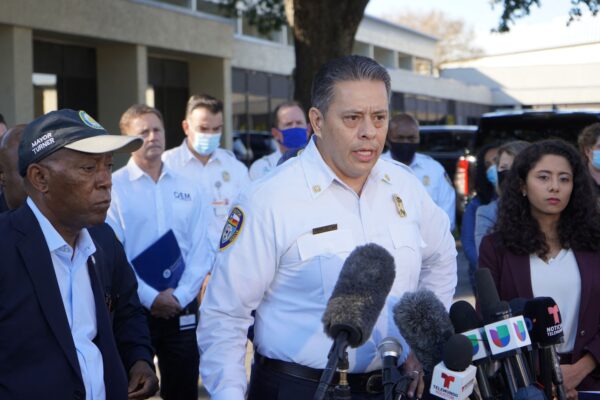 Houston Police Department Chief Troy Finner said the concert was eventually cut short at 10:10 p.m.—a decision that was made by officials and event management who were concerned about the risk of rioting and further injuries.
"When you have a group that is that young, you can't just shut down an event," Finner said.
Houston Mayor Sylvester Turner promised families and the public that a thorough investigation would be conducted and any mistakes would be openly disclosed to avoid such a tragedy from happening again.
"I have called for a detailed briefing from all stakeholders, including Live Nation, Harris County, NRG Park, police, fire, Office of Emergency Management, and other agencies, explaining how the event got out of control, leading to the deaths and injuries of several attendees," Turner said of the investigation.
Finner echoed the commitment to a full and transparent investigation.
"We leave no stones unturned. This has not happened to us in Houston since I've been a police officer, and we take pride in it. And we're going to get down to the bottom of it," he said.
Astroworld also released a Nov. 6 statement saying that it's working with authorities to identify what went wrong at the event. Turner said event organizer Live Nation would submit all of its video footage of the event.
Officials confirmed that some concertgoers had been trampled in the crowd surge. The youngest injured youth is believed to be 10 years old.

Roughly 50,000 fans attended the festival, which was held at a venue that Peña said could have held up to 200,000 people.
"It was a wide-open venue," he said. "The plan included two separate stages.
"These injuries did not occur as people tried to exit the venue."
Peña told reporters that the doors in and out of the venue remained unobstructed throughout the event, which was attended by 528 police officers—the majority of whom were inside the venue—and 755 security officers provided by Live Nation.
"It was the crowd control at the point of the stage that caused the issue, especially as the crowd started to surge up toward the stage, so that's what we're going to be keying in on in regards to the investigation," he said.
Peña promised to do the right thing for the families during the investigation.
Turner confirmed the eight deaths to be a 14-year-old, 16-year-old, two 21-year-olds, two 23-year-olds, a 27-year-old, and one male who remains unidentified. He said that one of the deceased was a visitor from outside of Houston.
Spring Branch Independent School District (ISD) Memorial High School released a Nov. 6 statement confirming one of the victims as 14-year-old 9th-grader John Hilgert.
"Our hearts go out to the student's family and to his friends and our staff at Memorial. This is a terrible loss, and the entire MHS family is grieving today," Spring Branch ISD said in a statement. "Please keep the student's family in your thoughts and prayers as they face this tragedy. We will make counselors available to students next week to offer any help and support needed."
The school said it has hung green ribbons on campus in memory of John. Green was his favorite color.
Officials said that 11 individuals at the concert suffered cardiac arrest. Four people have been discharged from the hospital, but 13 still remain, with five being under the age of 18. No one has been reported missing.
Police said 23 arrests were made at the festival for trespassing, as well as one arrest for possession of marijuana and one arrest for public intoxication.
Security Officer Stabbed by Needle
Finner also asked Texans to wait for more details to come of the investigations into the incident in response to "a lot of narratives" being circulated on social media.
"I think that all of us need to be respectful of the families and make sure we follow the facts and the evidence. And that's what we're trying to do here in the Houston Police Department," he said. "I will tell you one of the narratives was that someone was injecting other people with drugs."
He confirmed reports of a privately hired security agent who was treated by medical staff with Narcan when he passed out after he tried to restrain a citizen and felt a prick on his neck.
"He was revived and the medical staff did notice a prick that was similar to a prick that you would get if somebody was trying to inject," Finner said.
However, it's unclear what may have been injected, as Narcan was administered as a precaution.
Tom Ozimek contributed to this report.