Gordon Ramsay feud: Superstar chef Gordon Ramsay recently gave an interview discussing his longstanding feud with his father-in-law, but it also delved into—what else—food, not swearing in front of children, his wife, and even mushrooms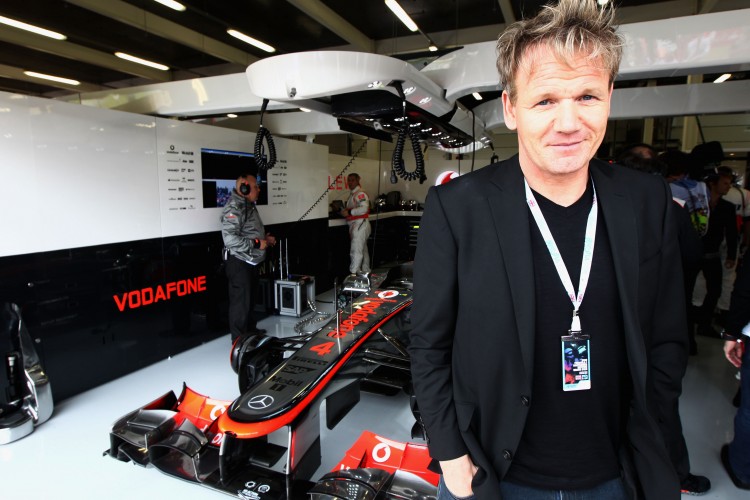 Gordon Ramsay, who spoke of issues he had with his father-in-law, Chris Hutcheson, in a recent interview, elaborated on the dispute and aspects of his life, cooking, and other subject matter including a no-swearing policy around his four children.
Ramsay, the host "Hell's Kitchen" and "Kitchen Nightmares" and who made $38 million last year, said the rift began years ago, according to an interview he gave to Erik Hedegaard in "Men's Journal."
Recently, the Ramsay resolved a longstanding feud with Hutcheson in court, but he is still incensed about the situation.
"First my father let me down, and then my father-in-law let me down," he said, adding that he fired Hutcheson in 2010. Ramsay said that he hired a private detective to track the movements of Hutcheson, who apparently was leading a double life of sorts. He said Hutcheson started taking out "excessive" loans to fuel his other life.
In December, the feud became a highly publicized affair when reports said Hutcheson filed a lawsuit against Ramsay to acquire his son-in-law's restaurants. He wanted to "wind up" Gordon Ramsay Holdings, which oversees his restaurants and media holdings, according to the Daily Mail. Starting in 1996, Hutcheson and Ramsay were partners in the venture, but Hutcheson later claimed Ramsay owed him $3 million in "significant unpaid debt."
Ramsay, who is notoriously foul-mouthed, said in the profanity-laced interview that he does not swear around his children.
"I've never cursed in front of them. Never, ever," he said.
And when he met his wife, Tana, he impressed her with none other than food.
"I put together the most amazing langoustine salad, and I made this amazing fragrant lemongrass mayonnaise to put over the prawns, these beautiful, thick, number one langoustines, which were poached in bouillon and served over a nice fresh green-bean salad with slightly toasted hazelnuts, and it was [expletive] amazing," Ramsay said.
Regarding mushrooms, considered a signature in Ramsay's cooking, he said that he is over them.
"The mushroom thing was a phase—I'm more into brain food now," he said.
He added, "But I can still look at a box of raw ingredients and put together the best [explicative] dish you'll ever eat. That's why I laugh when they say, 'Let's see if he's a real chef.'"