Gordon Ramsay and his wife Tana announced the birth of their fifth child, revealing his name.
Ramsay, 52, issued a statement on the birth.
"After 3 baftas and one Emmy… finally we have won an Oscar, please welcome Oscar James Ramsay, who touched down at 12:58 today for some lunch !" the celebrity chef wrote on Instagram, which included a photo of the newborn and his wife.
View this post on Instagram
Oscar now has siblings Megan, 21; 19-year-old twins Holly and Jack; and Matilda, 17.
Gordon and Tana, 44, announced in January that Tana was expecting again.
In 2016, she suffered a miscarriage, which the couple talked about publicly.
Regarding the miscarriage, he wrote on Facebook at the time: "Hi guys, Tana and I want to thank you so much for your support over the past couple of weeks. We had a devastating weekend as Tana has sadly miscarried our son at five months.
"We're together healing as a family, but we want to thank everyone again for all your amazing support and well wishes. I'd especially like to send a big thank you to the amazing team at Portland Hospital for everything they've done."
Ramsay also told the Daily Mail at the time: "It has brought us all so much closer. You realize how lucky you are and you reflect on what you have, how fortunate you are with your remaining children and you remind yourself of what you've got. It's made the family unit even tighter."
He and Tana tied the knot in 1996.
Rips 'Snowflake Generation'
In an expletive-laced interview with the Daily Mail, the chef said he wants them to prove themselves and "learn something different."
"You want to work in this business? You [expletive] off to another chef, learn something different and come back with something new to improve the business," he said, reported The Daily Mail last month.
"I'm firm, I'm fair and I will give you everything I've got to get you to the very top. And that's it, no [expletive]," Ramsay added. "I take a lot of flak for being straight and honest but I'm not worried about that [expletive] snowflake generation."
Parenting Secret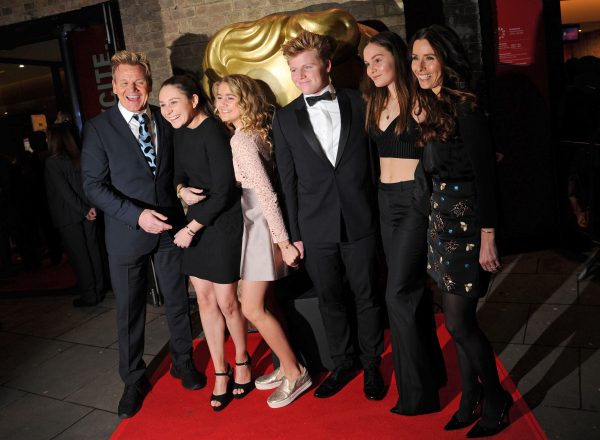 In an interview with the Telegraph, Ramsay explained that he said he thinks his children being "grateful" rather than entitled.
"Tana came from a super set-up, and I'm just 'educated rough' from a council estate," he said. "So we meet in the middle and the kids bounce off both of us. They have a completely different life than I did growing up. I worked my arse off to get out of the [expletive] mess that I grew up in and they're grateful, they're not spoilt."
"It's not in a mean way; it's to not spoil them," he said, referring to the fact that he won't just be leaving his fortune to the children when he passes, he added.  "The earlier you give them that responsibility to save for their own trainers and jeans, the better."
He said his children won't be flying first class when they fly, either.
"They don't sit with us in first class," he said. "They haven't worked anywhere near hard enough to afford that. At that age, at that size, you're telling me they need to sit in first class? No, they do not. We're really strict on that."