An opinion poll has found that Republican support for President Donald Trump had a slight increase after he posted a series of Twitter posts over the weekend accusing several far-left Democratic congresswomen of anti-Semitic and anti-American behavior.
Trump ignited outrage after he unloaded several criticisms and accusations against "progressive" members of the Democratic party between July 14 and 16. This sparked a public feud between the president and four far-left members of the Democratic party—Reps. Alexandria Ocasio-Cortez (D-N.Y.), Ilhan Omar (D-Minn.), Rashia Tlaib (D-Mich.), and Ayanna Pressley (D-Mass.).
His most notable post was one where he called on "'progressive' Democrat Congresswomen" to "go back" to their countries to help fix the "totally broken and crime-infested places" before returning to the United States to "show us how it is done." Apart from Omar, who was born in Somalia, the other three lawmakers were born in the United States.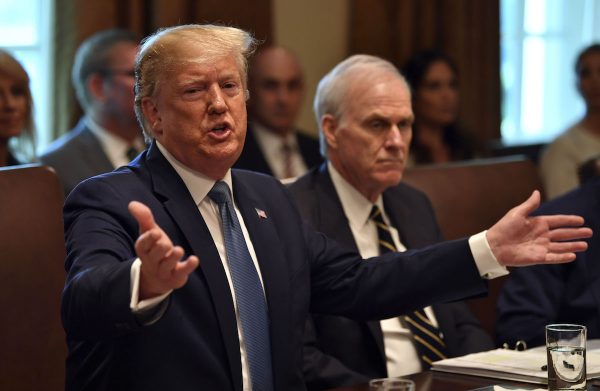 Many of Trump's opponents denounced the comments, calling them racist. Moreover, the House passed a resolution to condemn the president's "racist" remarks on July 16 largely on party lines.
A recent Reuters-Ipsos public opinion poll, conducted on July 15 and 16, showed that Trump's net approval among members of the Republican Party rose by 5 percentage points to 72 percent, compared with a similar poll that ran last week.
The poll also found that the president lost support with Democrats and independents since the tweetstorm on July 14.
About 3 out of 10 independents said they approved of Trump, down from 4 out of 10 a week ago. His net approval—the percentage who approve minus the percentage who disapprove—fell by 2 points among Democrats in the poll.
Overall, Trump's approval remained consistent where 41 percent of Americans approve of his job performance, while 55 percent disapprove.
Meanwhile, a survey conducted by YouGov (pdf) found that 88 percent of Republican respondents supported Trump's tweets that suggested Democrats who dislike America should leave.
So interesting to see "Progressive" Democrat Congresswomen, who originally came from countries whose governments are a complete and total catastrophe, the worst, most corrupt and inept anywhere in the world (if they even have a functioning government at all), now loudly……

— Donald J. Trump (@realDonaldTrump) July 14, 2019
….it is done. These places need your help badly, you can't leave fast enough. I'm sure that Nancy Pelosi would be very happy to quickly work out free travel arrangements!

— Donald J. Trump (@realDonaldTrump) July 14, 2019
Of the GOP respondents, 48 percent said the tweets were "great," another 16 percent said they were "good," and 24 percent said they were "okay."
The remaining 13 percent said they were "bad" or "terrible."
Only a few Democrats supported the tweets, with 71 percent choosing the "terrible" description and another 16 percent saying they were "bad." Among independents, 17 percent said they were "great," 9 percent said they were "good," 22 percent said they were "okay," 19 percent said they were "bad," and 32 percent said they were "terrible."
Overall, 21 percent of respondents said they were "great," while 37 percent said they were "terrible."
The Reuters-Ipsos poll was conducted online in English and gathered responses from 1,113 adults, including 478 Democrats and 406 Republicans in the United States. It has a credibility interval, a measure of precision, of 3 percentage points for the entire group and 5 points for Democrats or Republicans.
Not Backing Down
Trump showed no signs of backing down when asked during a cabinet meeting on July 16 about his Twitter posts and comments he made about the four freshman lawmakers.
"I think it's terrible when people speak so badly about our country, when people speak so horribly. I have a list of things here—I'm not going to bore you with it because you would be bored. You wouldn't write it anyway," he said.
He continued: "But I have a list of things here said by the congresswomen that [are] so bad, so horrible that I almost don't want to read it, it's so bad. I think what you should do is: You have the same list that I do. You should repeat some of that. When the Democrats didn't want to mention the name of the congresswoman, not so long ago, and what they did and the way they're treating Israel is a disgrace."
"But not only Israel, what they say about our country. It's my opinion they hate our country. And that's not good. It's not acceptable," he added.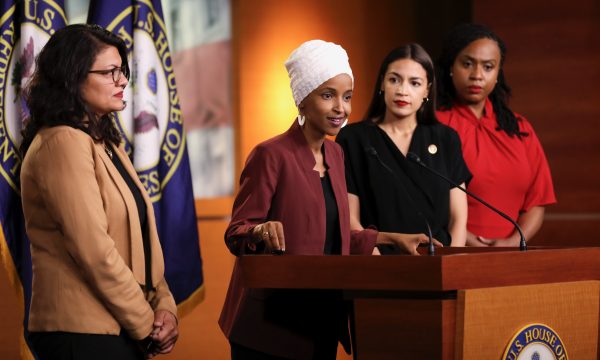 Earlier in the day, Trump denied the accusations that he was being racist in his Twitter posts, saying "I don't have a Racist bone in my body," while referring to the House resolution to condemn the president's alleged racist posts.
…..Congresswomen, who I truly believe, based on their actions, hate our Country. Get a list of the HORRIBLE things they have said. Omar is polling at 8%, Cortez at 21%. Nancy Pelosi tried to push them away, but now they are forever wedded to the Democrat Party. See you in 2020!

— Donald J. Trump (@realDonaldTrump) July 16, 2019
NTD reporter Zachary Stieber and Reuters contributed to this report.