Sen. Roger Marshall (R-Kan.) is preparing to introduce a new bill that would require easy public access to disclosure forms filed by government officials like Dr. Anthony Fauci.
Marshall, a first-term senator, plans to introduce the Financial Accountability for Uniquely Compensated Individuals (FAUCI) ACT, a spokesperson confirmed to The Epoch Times in an email.
The act would require financial disclosures filed by government officials like Fauci, the longtime head of the National Institute of Allergy and Infectious Diseases, to be made available on the website of the Office of Government Ethics.
It would also make public a list of all confidential files within the government whose disclosures are not available to the public.
Marshall and Fauci clashed this week during a Senate hearing, with the senator telling Fauci that his staffers had been unable to locate the doctor's financial information.
He asked Fauci to submit a disclosure to Congress and the public. Fauci replied that his disclosures are "public knowledge" and have been for the decades he's been in his position.
The disclosures, though, are not available unless people fill out a document and mail it to NIAID, a spokesperson for the agency told The Epoch Times in an email.
"People just need to fill out a simple half-page form called 'Request to Inspect or Receive Copies of Executive Branch Personnel Public Financial Disclosure Reports or Other Covered Records,'" the spokesperson said.
The spokesperson has not responded to a query about how long it takes for the disclosure to be sent once the form is received.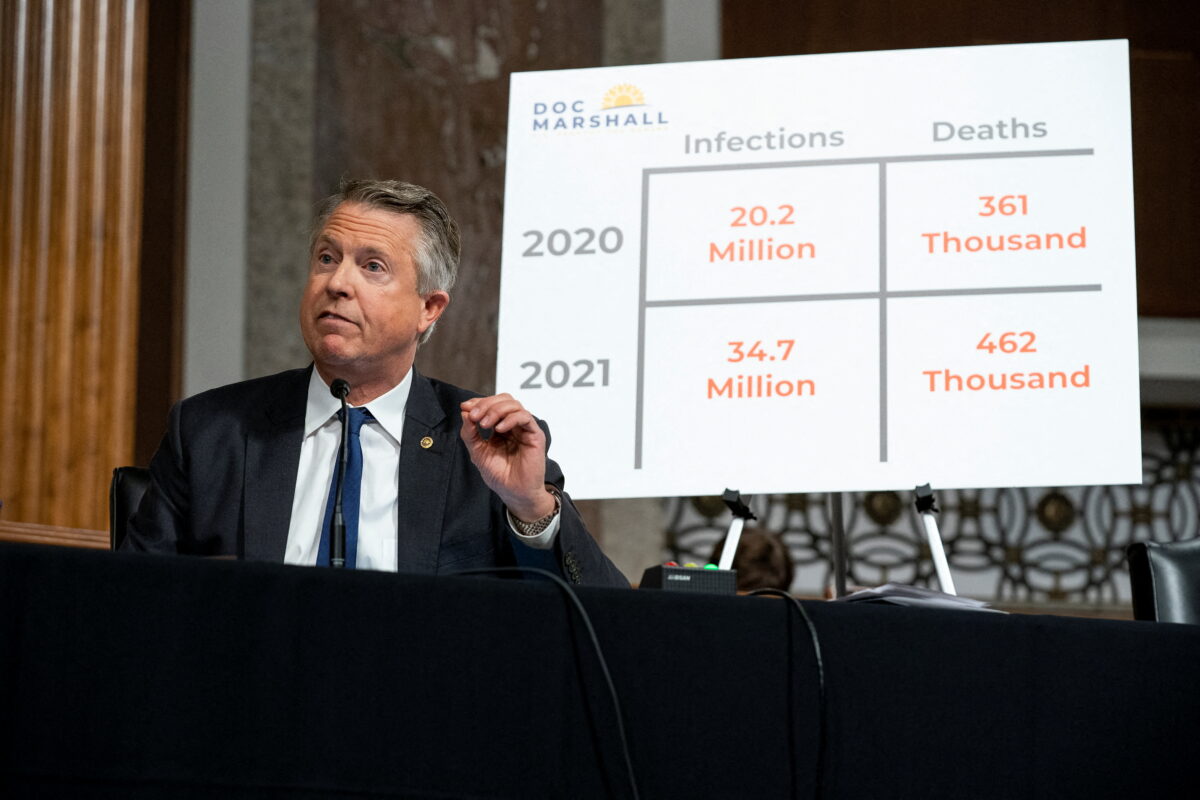 The Epoch Times has submitted the form for Fauci's most recent disclosures via mail and email but has not heard back about either submission yet.
The form only allows two options for receiving a requested disclosure: pick it up at the Office of Government Ethics or receive it by mail.
A reporter who obtained Fauci's 2019 disclosure said it took over two months to get it after first asking for it.
She published the document, which precedes the start of the COVID-19 pandemic, online.
Fauci, the chief medical adviser to President Joe Biden, has served multiple presidents. During the pandemic, he's been a key influencer of government policy and regularly talks to media outlets about recommendations and rules regarding the COVID-19 and the CCP (Chinese Communist Party) virus, which causes the disease.
Marshall's office noted the barrier to accessing the documents and some transparency advocates agreed the forms should be easily accessible online.
NIAID did not respond to a request for comment on the act, the text of which has not yet been released.