Sen. John Cornyn (R-Texas) said during a Dec. 21 interview that he had texted moderate Sen. Joe Manchin (D-W.Va.) about joining the Republican Party amid the vitriolic backlash over Manchin's decision to vote against his party's $1.85 trillion social spending legislation.
Cornyn told KXAN, an Austin, Texas-based radio station, that he had reached out to Manchin following the West Virginian's Dec. 19 appearance on "Fox News Sunday," when he announced his decision to not support the spending measure.
Manchin's decision to become the 51st vote against the landmark budget legislation started a panic among Democrats, who quickly resorted to questioning Manchin's motives, trustworthiness, and character.
Several progressives have long accused Manchin of being in the pocket of major corporate interests, and these charges redoubled following his announcement.
"This isn't just about Joe Manchin," MSNBC host Mehdi Hassan said in a statement on Twitter that was shared by Rep. Alexandria Ocasio-Cortez (D-N.Y.). "It's about the dark money and billionaires and coal interests behind him, which keep winning at ours and the planet's expense."
"Wow [Joe Manchin], with all due respect, when you say you're a no on Build Back Better, is it you?" Rep. Jamaal Bowman (D-N.Y.) wrote on Twitter. "Or is it the special interest [money] that powers you?"
Others took Manchin's "no" as a sign that the Senate's most fundamental rules are broken and that the president should bypass the Senate altogether to approve Build Back Better, despite a majority of senators opposing the measure.
Sherrilyn Ifill, president of the NAACP's Legal Defense and Educational Fund, summarized these critiques in a Twitter post of her own.
"Manchin is Manchin," Ifill wrote. "But what kind of healthy democracy is structured in a way that can allow one man elected by 290,000 voters in one of the least populous states to thwart the agenda of his party and the President who was elected with 81 million votes. We need structural change."
Congressional Progressive Caucus Chairwoman Pramila Jayapal (D-Wash.) appeared to go so far as to critique Manchin's character.
"It's unfortunate that it seems we can't trust Sen. Manchin's word," Jayapal said.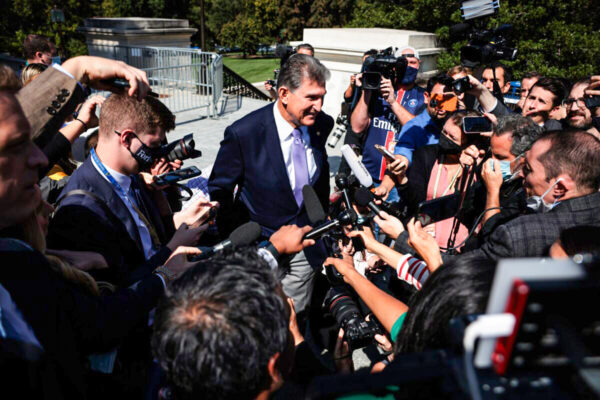 Amid this flurry of insults and accusations, Republicans are wondering whether they can capitalize on the moment to bring Manchin over to their side of the aisle.
"Joe if they don't want you we do," Cornyn reported his one-line text to Manchin.
However, the Republican noted that he hadn't heard back from the moderate swing-voter.
These efforts are nothing new for either the Republican Party or Manchin.
As early as June 2021, rumors about whether Manchin would switch parties prompted a response from Senate Minority Leader Mitch McConnell (R-Ky.). Just a few days before Manchin's announcement on Fox, McConnell made a more open gesture to Manchin, saying that "it would be a great idea" for the red-state Democrat to join the Republican Party.
In October 2021, the same rumors persisted, prompting another invitation for Manchin to join the Republican Party from Sen. Mike Lee (R-Utah).
"There's no reason why he belongs with the 'party of inflation,' why he belongs with the 'party of lawlessness,' why he ought to remain with the party that's harassing, intimidating, and belittling him at every turn, just so they can fundamentally remake the American economy and American society," Lee said. "Absolutely, [he] should leave the Democratic Party, and I look forward to embracing him when he joins our caucus."
Manchin was asked at roughly the same time about the rumors that he was considering a party switch. He quickly denied any such intent, saying that those rumors were ridiculous.
Still, it isn't inconceivable that his treatment over the past several days could prompt Manchin to go through with the drastic move.
"I never got the extremes. I never got the far right or far left," Manchin said during a meeting of the Washington Economic Club. "And I can understand that. But we never ran our country or our states or our politics from the far right or far left."
During the event, Manchin was asked whether his life would be easier if he became a Republican, as he's the only Democratic statewide officeholder in West Virginia.
"Have people approached you about doing that?" the host asked.
"Every day," Manchin replied.
Manchin admitted that "it would be much easier" if he became a Republican, but said public service entails more than doing things that are easy.
"What I'm telling you now is who I am," Manchin said. "Do you think that having a 'D' or an 'R' or an 'I' by my name is gonna change who I am?
"I don't think the 'Rs' are any more happy with me than the 'Ds' are right now. … I don't know where … I belong."
In an interview with West Virginia radio personality Hoppy Kercheval the day after he announced his intent to not vote for the budget, Manchin went deeper into his political thought.
"I'm not a Washington Democrat," Manchin said. "I think I still represent the centrist, moderate wing of the Democratic Party that has compassion but also has reasonability."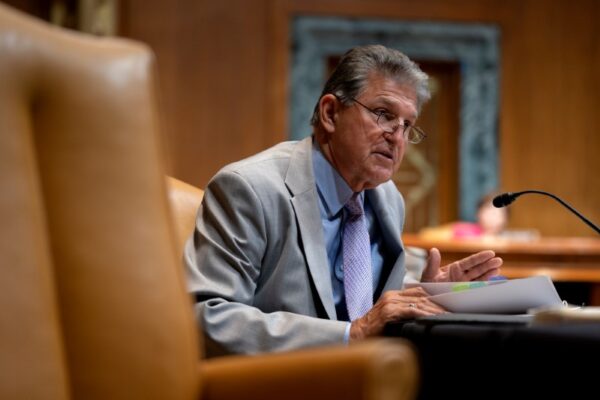 In a December 2020 appearance on Fox News, Manchin called himself a "conservative Democrat," but noted that there aren't many such Democrats left.
And the progressives hold much more sway over the Democratic Party than ever before.
The 96-strong Congressional Progressive Caucus controls nearly half of all Democratic votes in the House of Representatives.
The original draft of the budget measure topped out at a $3.5 trillion price tag, an inconceivable figure for Manchin and his moderate ally Sen. Kyrsten Sinema (D-Ariz.), but one that most other Democrats were happy to support. At the height of moderate resistance to the legislation, only 10 Democrats opposed the measure in any capacity. During the final vote on the measure, only one Democrat, Rep. Jared Golden (D-Maine) voted with Republicans against the legislation.
Ultimately, a party-switch by Manchin would be a spectacle of huge proportions in Washington, as it would force Majority Leader Chuck Schumer (D-N.Y.) to hand over the metaphorical gavel to Minority Leader Mitch McConnell nearly a year before the 2022 election takes place.
But it would change the situation on the ground only nominally: Manchin, as he has noted time and time again, isn't a party-line voter. Whether he has a "D" or an "R" beside his name, Manchin will vote the same.
Still, if Manchin did make the decision to join the Republican Party, it would be a crippling blow to President Joe Biden, who has already faced criticism for his inability to wrangle his divided caucus into supporting the budget legislation.