Gov. Gavin Newsom signed an executive order last month to send vote-by-mail ballots to all registered voters in California ahead of the Nov. 3 presidential election. Republican groups suing Newsom in response to this order say their main objection is his use of emergency powers to change election laws.
In California, as well as across the nation, a debate has been raging as to whether vote-by-mail ballots open the door to widespread fraud. Following the GOP lawsuit announcement on May 24, much of the media discussion revolved around fraud and mail-in ballots.
While voter roll problems and fraud are major concerns, said attorney Harmeet Dhillon, the lawsuit isn't a stab at mail-in voting by and large; it's about Newsom overstepping his emergency powers amid the pandemic to make major changes to elections.
"This is for the legislature to decide, and he decided on his own," she said. Dhillon is also a Republican National Committee (RNC) committeewoman. RNC and the California Republican Party joined forces in the lawsuit.
"That's pretty obviously a power grab on his part. And, by the way, there's no emergency in November necessarily, so his emergency powers don't extend indefinitely," she said.
Newsom's office did not reply to inquiries.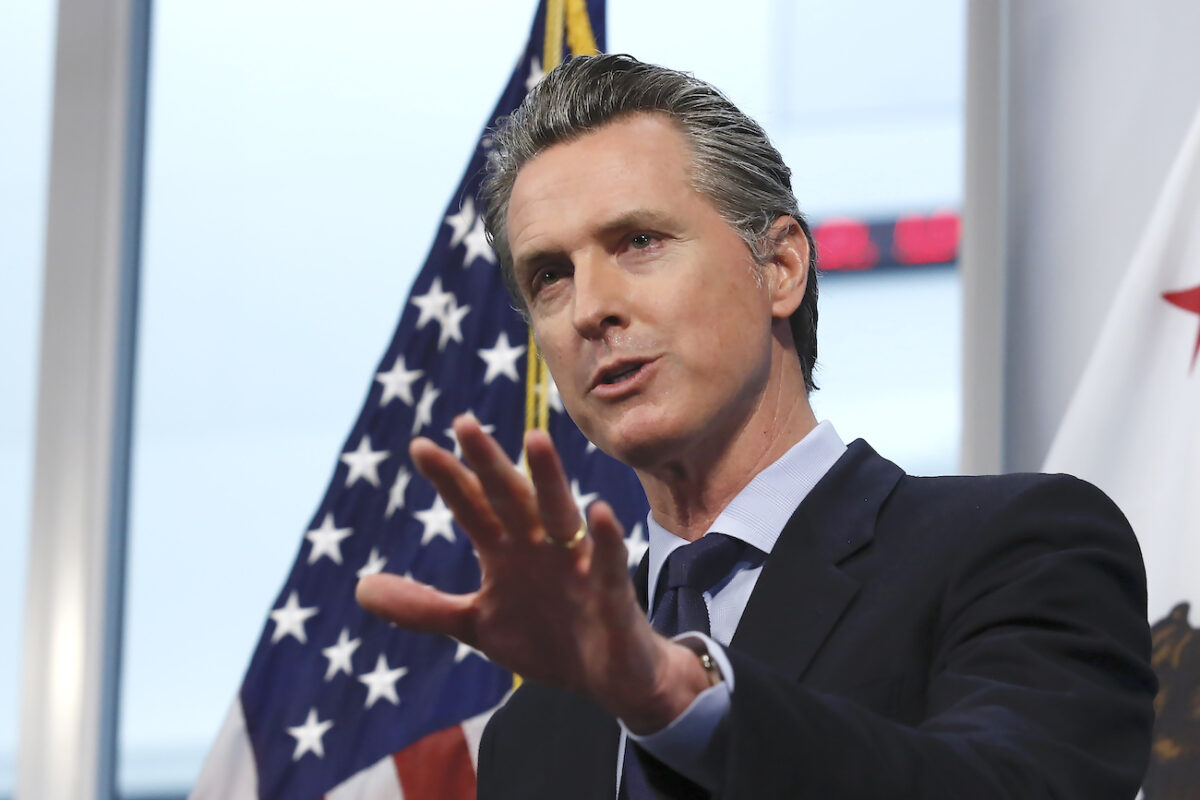 After issuing his executive order on May 8, Newsom said in a statement, "No Californian should be forced to risk their health in order to exercise their right to vote.
"Mail-in ballots aren't a perfect solution for every person, and I look forward to our public health experts and the Secretary of State's and the Legislature's continued partnership to create safer in-person opportunities for Californians who aren't able to vote by mail."
His order requires all counties to send vote-by-mail ballots to all registered voters in California preceding the general election, although in-person voting at polling stations will still be permitted.
"One of the issues that the governor put in his executive order is he gets to decide where there are in-person polling places, unilaterally—not that the state or county officials would decide that, not the normal way that it's decided—but he would decide that," Dhillon said.
"For the special election in May … a few days before the election, he decided that there were going to be extra in-person polling places put in Democratic areas of Congressional District 25. That's not how we run elections in this country," she said.
"Whatever the rules are, they need to be known in advance; they need to be fair; they need to be done according to some normal process, and they need to be transparent.
"And none of those things apply with a governor saying, 'I will mail ballots to people. I will spam everybody here with ballots whether they want them or not, and whether they're active voters or not, and then I'll tell them whether you can also vote in-person somewhere and I'll tell them at the last minute where I want it.' That's not fair, right, or appropriate. That's unconstitutional," she said.
She said that since the lawsuit was filed, Secretary of State Alex Padilla has "backtracked" and said ballots would only be sent to "active voters," rather than every registered voter as both Padilla and Newsom had publicly stated.
Padilla said in a May 8 media release that California would be "the first state in the nation to respond to the COVID-19 pandemic by mailing every registered voter a ballot."
"We are meeting our obligation to provide an accessible, secure, and safe election this November. Sending every registered voter a ballot by mail is smart policy and absolutely the right thing to do during this COVID-19 pandemic," Padilla said.
Dhillon said it's better that only active voters will be sent ballots, but it still doesn't address the problem of Newsom making these decisions without the legislature. "And it doesn't cure the fact that even active voters include people who are not eligible under California law," she added.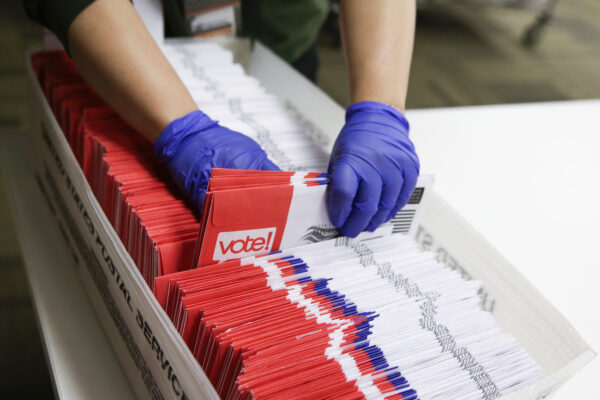 Addressing Security Concerns

Padilla's press secretary, Sam Mahood, told The Epoch Times that the state had never intended to send vote-by-mail ballots to every voter.
"The RNC has spent days lying claiming that vote-by-mail ballots would be mailed to voter registrations that had become 'inactive.' Sending vote-by-mail ballots to only active registered voters has been our plan from the beginning and long before the RNC filed this frivolous lawsuit," Mahood said via email.
Mahood laid out some of the state's measures to make vote-by-mail ballots secure. "California elections officials conduct regular voter list maintenance—using death records from the Department of Public Health, felon records, National Change of Address data, and DMV [Department of Motor Vehicles] change of address data. California county elections officials check each and every vote-by-mail ballot that is cast, so even if a ballot was somehow sent to the wrong voter it would be caught," he said.
"A voter's signature on the vote-by-mail ballot return envelope is compared against the voter's registration record. If a signature is missing or does not match the registration record, elections officials will reach out to the voter. If the voter does not respond and provide a missing/corrected signature, the ballot will not count."
Mahood said voters can also sign up for the "Where's My Ballot?" tool (wheresmyballot.sos.ca.gov) and receive automatic updates by text, email, or voice calls on the status of their vote-by-mail ballots.
"This allows voters to know their vote-by-mail ballot has been mailed to them and when their cast ballot has safely arrived to county officials and has been counted," he wrote.
Padilla said via Twitter on May 29, "Republicans have it wrong. California has a long successful history with vote by mail, as do many other blue, red and purple states. It is secure, convenient, and can protect lives in a pandemic environment."
Voting by mail is not the issue, Dhillon said.
"Look, I mean there is a health crisis here, and I think some people will choose to vote by mail. My husband already does that," she said. "In general, it's fine if the person who is expecting the ballot gets the ballot and votes with it themselves.
"The problem is that people who don't expect ballots are getting them when ballots are not secure, and ballots are being sent to people without any verification of whether they're actually voters or whether they're a dog or whether they're a fictitious person," Dhillon added, referring to cases of voter fraud cited in the lawsuit.
Item 65 in the lawsuit states that a 62-year-old man pleaded guilty for allegedly offering money and cigarettes to homeless people on L.A.'s Skid Row in exchange for "false and forged signatures on ballot petitions and voter registration forms" in 2016 and 2018.
The lawsuit also states that a Monterey County man successfully registered his four dogs to vote beginning in 1996, but was not stopped until 2018 when he "began the process of registering his deceased father."
While the Newsom administration may argue a few anecdotes don't add up to widespread voter fraud, Dhillon said, they are just a few examples to show the weaknesses in the voter registration system and that it is prone to abuse.
"And then you add ballot harvesting—paid gathering of ballots and dumping them off en masse … dropping them off a few hundred at a time. How do you verify who brought them in and any of that stuff?"
On May 24, RNC Chairwoman Ronna McDaniel announced the lawsuit on Twitter, calling Newsom's executive order "a recipe for disaster that would create more opportunities for fraud [and] destroy the confidence Californians deserve to have in their elections." She also accused Democrats of "trying to use this pandemic to redesign our entire election system for political gain."
Padilla responded via Twitter on May 27, accusing Republicans of exploiting the pandemic for "voter suppression."
California GOP Chairwoman Jessica Millan Patterson told The Epoch Times via email that the state's election system is already burdened with serious issues.
"The disastrous Motor Voter program arbitrarily changed voter registration for thousands casting doubt on the integrity and accuracy of our voter rolls. Using this pandemic in a unilateral power grab to change our election laws with an executive order will further put the integrity of our elections into question," Patterson said.
Watchdog Sounds Alarm
Election Integrity Project, California (EIPCa), a nonpartisan citizens' watchdog group, has repeatedly warned that the increased use of vote-by-mail ballots could compromise the integrity of elections unless the state cleans up its voter rolls.
Ellen Swensen, EIPCa's chief analyst, told the Epoch Times on May 29 there are still more than 450,000 ineligible voters registered to cast ballots in the Nov. 3 presidential election.
Just because they are listed as active voters, doesn't mean they actually are active voters, she said. "They have an 'A' by their names on the voter list, but they haven't voted or even updated their registration or had any communication with the registrar since November 2008 or prior. Some have never voted and they've been registered for years."
Hundreds of thousands of active-status registrants will be sent a vote-by-mail ballot "and they've probably died or moved away and just haven't been inactivated yet," she said.
Of the 450,000 ineligible registrants, about 30,000 are registered as permanent vote-by-mail voters, Swensen said.
"That 30,000 is bad enough, but now another 420,000 are going to be mailed ballots. They're not permanent active vote-by-mail voters, but now they are just going to get ballots automatically because they are on the active list," she said.
EIPCa has also alerted Padilla that there are currently thousands of people registered to vote twice in the Nov. 3 election. "There are 24,000 people who are going to get two ballots because they have two active voter registrations each," Swensen added.
According to the National Conference of State Legislatures (NCSL), double voting in California is a felony which can carry a prison term of up to three years.
In April, the Democratic National Committee (DNC) won a court battle in Nevada to have ballots mailed to all registered voters—not just those with active status—in the state's June 9 vote-by-mail primary election.