Republican lawmakers are blasting President Joe Biden for adhering to the Taliban-set Afghanistan evacuation deadline, with U.S. citizens and allies left behind, saying that GOP and Democrat members of the House are still receiving calls from citizens stuck in Afghanistan.
"I want to thank, also, so many congressional offices, so many of you, Republican and Democrat, where congressional offices, members of Congress and their staffs, have had to step up and step in with so many other veterans' groups to try to save Americans and to try to save our allies, and frankly have had to fill the void of this administration's leadership," said Rep. Mike Waltz (R-Fla.).
Republican members of the House held a press conference Monday evening and again Tuesday in an urgent attempt to get the Biden administration and Democrat leaders to give answers to how the administration will get all citizens and allies out now that the military has left.
"My question to the Secretary [of Defense] was, what is the plan? What is the plan now to get Americans out?" said House Minority Leader Rep. Kevin McCarthy (R-Calif.)
GOP lawmakers have been critical of President Joe Biden's handling of the Afghanistan withdrawal, with the closing of Bagram Air Base and allowing billions of dollars of military equipment to fall into the hands of the Taliban. And although Democrats have remained largely publicly silent on the issue, Rep. Mike Gallagher (R-Wis.) said privately they share the same concerns.
"Last week, I actually had a moment of hope because we had a briefing with the Secretary of State, Secretary of Defense, high-level officials in the Biden administration behind closed doors. And in that briefing, a lot of our Democratic colleagues actually pushed back quite forcefully on the Aug. 31 withdrawal date, pleading, in some cases, with the administration not to adhere to an arbitrary date and abandon hundreds if not thousands of Americans, leaving them behind enemy lines, leaving them with the threat of being taken hostage," said Gallagher at the Monday press conference on Capitol Hill.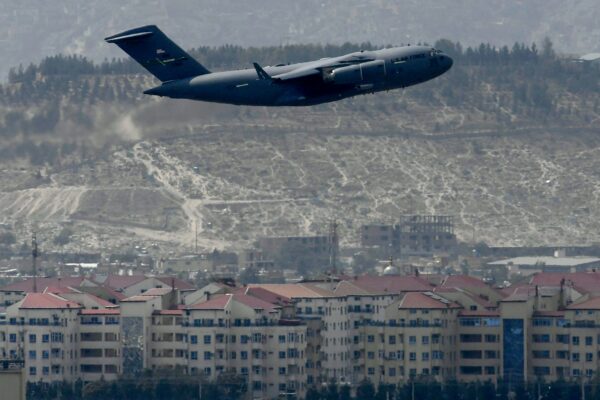 On the eve of the U.S. military's departure, Rep. Mark Green (R-Tenn.) railed against the Biden administration's ending the evacuation and handling of the withdrawal.
"President Joe Biden has failed. Joe Biden's arbitrary Aug. 31 deadline must be extended until the mission is complete. In war, we make a commitment to leave no one behind. Pulling our troops out of Afghanistan before every American citizen is out goes against every fiber of America's national character. This is shameful," said Green.
"After Thursday's terrorist attack, it's clear we're leaving Afghanistan worse off. Today, the Taliban controls more of Afghanistan than they did 20 years ago, and now they have billions of dollars worth of U.S. weapon systems. Their rule will once again make Afghanistan a haven for terrorists," Green continued.
McCarthy told reporters that he has asked Speaker of the House Nancy Pelosi (D-Calif.) to prioritize the Afghanistan crisis over other legislation and bring Gallagher's bill up for a vote.
Last week, Gallagher introduced H.R. 5071, which would have required daily reports to Congress with the numbers of U.S. citizens and allies still in Afghanistan and prohibit the pull of the military until all those people are safe.
Ranking Member of the Armed Services Committee Rep. Mike Rogers (R-Ala.) said Gallagher's bill will be amended to hold the Biden administration accountable for the chaotic withdrawal and the loss of life, and then presented to Pelosi to bring up for a vote.
"Right now, we have over 50 amendments filed by Republican members that are related to Afghanistan. We want to find out what happened to the equipment that was left behind, what was left behind. We want to know why specifically Bagram was abandoned. … We created a $250 million counterterrorism fund," said Rogers. "We want to know what the security impacts are for letting ISIS-K terrorists out. … We force the department to brief us on a regular basis, on the groups that were formed because of this withdrawal. There's a whole series of them."
Republicans say they will not stop pressing the administration until all U.S. citizens are accounted for and answers are given for what led to the death of the 13 service members at Kabul airport and why the withdrawal was not more safely executed.
Speaker Pelosi's office did not immediately return a request for comment.