Google Launches Anti-Aging Project
September 19, 2013 2:42 pm Last Updated: September 19, 2013 5:41 pm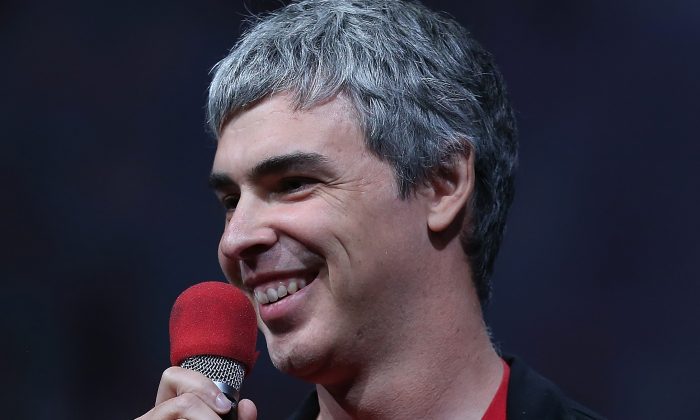 Google Inc. aims to defy aging with its new project Calico and says people should not be surprised.
Larry Page, Google CEO, wrote in a Google+ post: "As we explained in our first letter to shareholders, there's tremendous potential for technology more generally to improve people's lives."
"So don't be surprised if we invest in projects that seem strange or speculative compared with our existing Internet businesses," Page wrote, adding that these strange-seeming investments are in reality very small compared to their core business. 
So far, the company has little to disclose regarding the methods of Calico, an abbreviation for "California Life Company," its CEO Arthur Levinson explained in a Google+ post.
Google managed to recruit Apple's and Genentech's chairman of the board Levinson to head the project. 
"I've devoted much of my life to science and technology, with the goal of improving human health. Larry's focus on outsized improvements has inspired me and I'm tremendously excited about what's next," Levinson stated in a Google announcement.
Levinson joined Genentech in 1980 and served as a director of Google 2004-2009 as well. South San Francisco based Genentech is a research-driven company focused on cancer treatment, immunology, tissue repair, neuroscience, and infectious disease.
Levinson wrote that when Page and Bill Marris, managing partner at Google Ventures, approached him about the project he was deeply intrigued. With Calico, they aim to determine what's behind aging and which diseases affect aging. 
"We agreed that with great people, a strong culture and vision and a healthy disregard for the impossible, we could make progress tackling these questions, and improving people's lives," Levinson wrote in his Google+ post.
Part of Google's mission is to do one thing, "really, really well." It is doing this with its internet search engine. But In a recent interview with Times Magazine, Page addressed his concerns for not solving more problems given the resources Google now has.
"For me, it was always unsatisfying if you look at companies that get very big, and they're just doing one thing," Page told Times. "Ideally, if you have more people and more resources, you can do more things, get more things solved. We've kind of always had that philosophy."
"Are people really focused on the right things? One of the things I thought was amazing is that if you solve cancer, you'd add about three years to people's average life expectancy," Page said. 
"We think of solving cancer as this huge thing that'll totally change the world. But when you really take a step back and look at it, yeah, there are many, many tragic cases of cancer, and it's very, very sad, but in the aggregate, it's not as big an advance as you might think."