Eleven citizens received commendations from the Illinois Highway Patrol for rescuing a drowning woman from her overturned car.
The Good Samaritans risked their own lives to pull a woman from her submerged car after she lost control and flipped and skidded into a retention pond. The bystanders waded into the pond, pulled the woman out from underwater, and revived her on the side of the road.
Illinois State Police Illinois District 15 Commander Robert Meeder said: "These citizens standing here today acted heroically by working together with one goal: the goal of preserving life," at the ceremony in Naperville, where the 11 were given letters of commendation, the Daily Herald reported.
The 11 citizens who were recognized for their bravery were Mark and Derek Fivelson, of Gilberts; Jesus Flores, of Roundlake; Patrick Gaughan, of Marengo; Frankie Gonzanez, of Sandwich; Ismael Gutierrez, of Aurora; Donald Hataway, of Machesney Park; Army National Guard Cpl. Nathan Jennings, also of Machesney Park; Nicholas Mason, of Sycamore; Evelyn Pgan, of Hampshire, and Matthew Worden, of Belvidere, according to CBS News.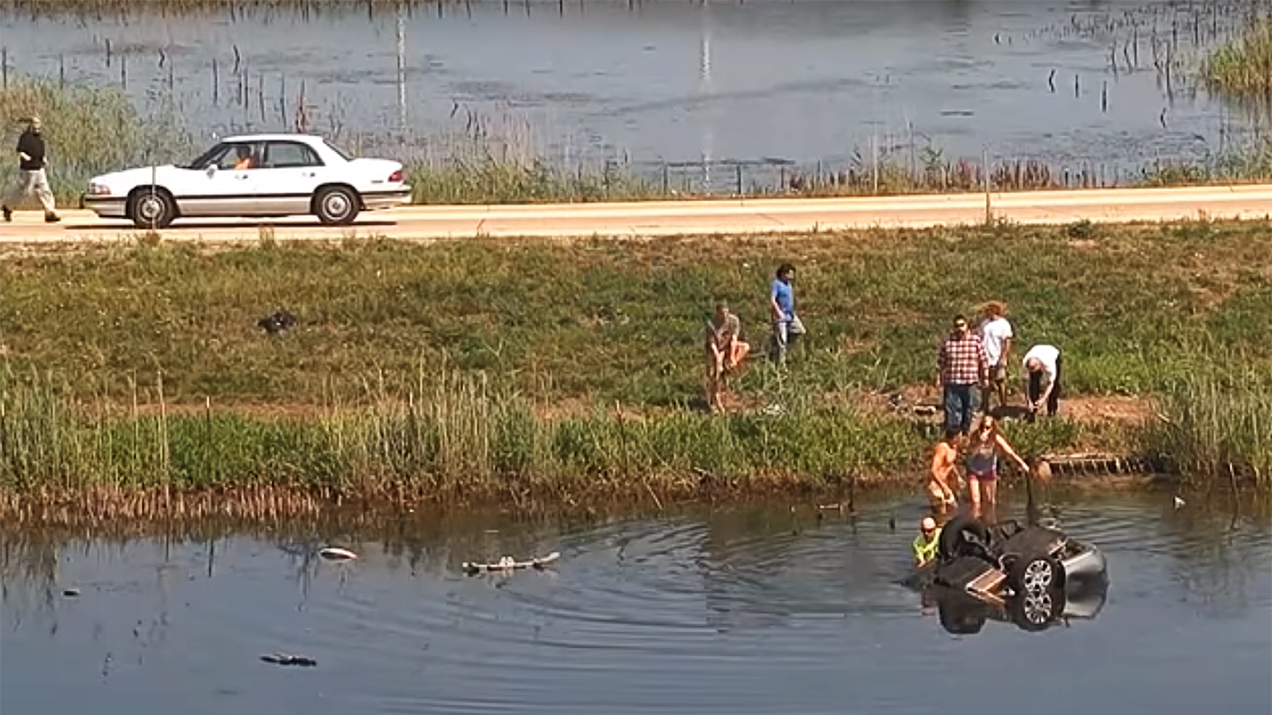 "You have to have something special inside of you to stop and do what needs to be done," Illinois Tollway Chairman Robert Schillerstrom said to the recipients, according to the Herald.
The rescued woman, Joanna Girmscheid, 26, of Wildwood, addressed her rescuers.
"That was the most terrifying thing I've ever been through," she said. "And I fought like hell, which is why I have a broken hand, to get out of that car. And my body just couldn't hold on any longer, and when it couldn't, they were there. They were there and they saved my life."
"Every one of them was there that day to make sure that I did not drown in this car."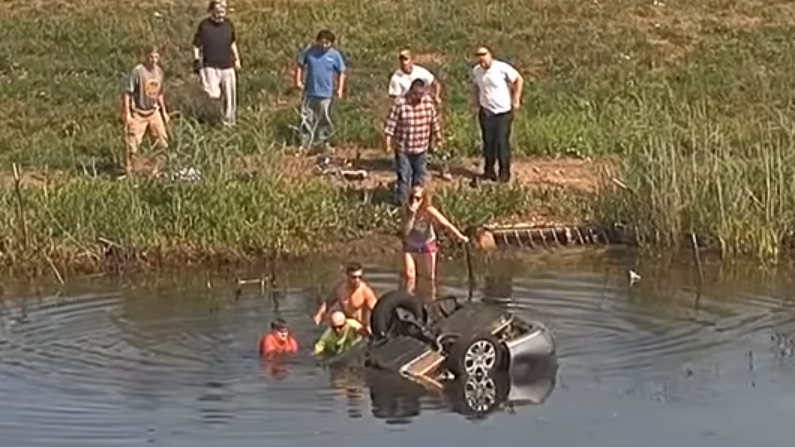 Near-Fatal Mishap, Uncommon Bravery
Girmscheid's 2010 Hyundai was pulling off the Jane Addams Memorial Tollway (I-90) and onto Illinois Route 47 in Huntley, Illinois around 3:18 p.m. on Aug. 3, when she lost control of her vehicle, the Herald reported. The car flipped over and slid into a retention pond filled with about four feet of water.
A number of people saw the accident and pulled over to help.
"What we all saw was an enormous splash. You couldn't miss it," rescuer Matthew Wordon told WIFR.
"Instinct takes over. You pull over and you spring as fast as you can go. All I saw was the tire sticking out upside down. It was horrifying," said Worden.
Illinois Army National Guard corporal Nathan Pratt Jennings, 26, didn't see the car go off the road, but he heard the splash, and he knew it had to have been made by something big. When he reached the crash site there were already a few people there.
"I asked them if they saw anyone come out. They indicated that they hadn't, it was then that I realized that someone had to be in the car," he told the U.S. Army website.
Jennings plunged into the murky chest-deep water and managed to get the passenger door open. He couldn't feel the driver so he asked another man, who had followed him into the water, to hold his feet while he crawled into the submerged car.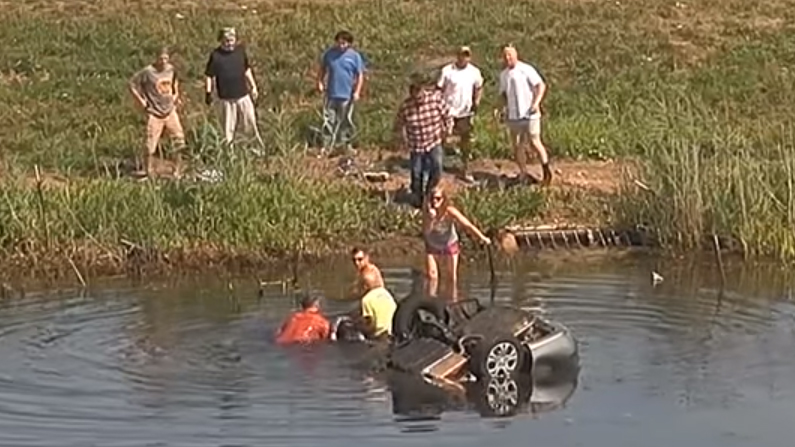 "I groped around looking for a seat belt thinking maybe they were strapped in. I couldn't see anything. It was like swimming in a big bowl of gravy. There wasn't anyone on the passenger side. Then my hands grazed something and I realized it was someone floating in the car."
Jennings grabbed Girmscheid by the ankle and dragged her from the car.
"Her ankle is what I grabbed and pulled and she broke free a little bit. That's when I looked at Matt and said I need you to pull her the rest of the way out, and he reached down under water and grabbed her foot and brought her out," said Jennings told WIFR.
"I thought she was dead," Jennings said. "It seemed like she was underwater for about five minutes."

Reviving the Rescued Victim
The growing group of impromptu rescuers carried the unconscious Girmscheid to shore. By some quirk of fate, two of the group were certified to do CPR. The two took turns trying to revive the still-unresponsive victim.
Molly Fivelson, a graphic designer from Gilberts, took the first shift. When she tired, Ismael Gutierrez, of Guanajuato, Mexico, who was visiting relatives in Aurora, took over.
After a while, Jennings told the Army website, Girmscheid started to moan, and then to move. Eventually, paramedics arrived and loaded Girmscheid into an ambulance.
"One of the EMTs, opened the door to the ambulance before they took off and yelled that she was conscious and knew who she was. I couldn't believe it," Jennings said.
Girmscheid was transported to Advocate Sherman Hospital in Elgin, the New Herald reported.
"The Illinois State Police would like to recognize these citizens for their quick thinking, bravery and lifesaving actions," ISP Director Leo Schmitz said in a statement quoted by the New Herald. "There is no greater reward than saving the life of another human being. They were all heroes that day."
From NTD.tv