Good Opportunity for Democracy in China, Says President of Foundation for China
November 13, 2007 12:00 am Last Updated: November 13, 2007 12:00 am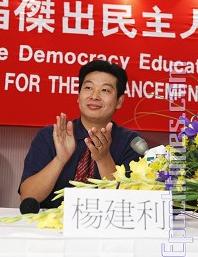 SAN FRANCISCO—Dr. Yang Jianli, President of Foundation for China in the 21st Century, recently said that the Chinese Communist Party (CCP) is on the defense and now would be a good time to develop pro-democracy grassroots political forces in China.
Time to Form Grassroots Political Forces
Dr. Yang told The Epoch Times that after the 17th National Congress, the CCP is now a dictatorship that is lacking legitimacy and resources. Politically it has also been on the defense.
He said, "Because [the government officials] aren't able to divide the gains from corruption evenly, there are internal conflicts within the government. From the outside, it's hard to see their struggles, but you can tell that these conflicts are intensifying. The government can no longer arrest people just because it suspects [activities to promote democracy]. It has lost that ability. Now it's on the defense."
Dr. Yang also said that in order to reduce pressure on people, such as Wang Zhaojun who is brave enough to appeal for those who are persecuted, others need to establish a system to protect and rescue them.
More People will Step Forward
Dr. Yang said he read the open letter Wang Zhaojun, a standing member of the Anhui Province Political Consultative Commission, wrote to President Hu Jintao. Dr. Yang thought Mr. Wang's suggestions were excellent.
"I read his letter and have his phone number. However, we have not had any direct contact because I did not want to bring him extra pressure. I could tell that he had a clear conscience. It takes a clear conscience, courage, and understanding of the current situation to write a letter like that. That is why I am very supportive of what he did. He represented a middle class in China who rely on themselves and not the government's power. I believe more people like him will step forward," he said.
Dr. Yang said that how the government reacts to Mr. Wang's letter is also an indicator of the post-17th Congress political situation.
CCP Committed Crimes Against Humanity in Persecuting Falun Gong
"On the issue of Falun Gong, I am certain that the CCP committed crimes against humanity. Persecution cannot be based on one's faith. I am not a Falun Gong practitioner myself, but I have a deep understanding of this type of persecution. I will support their rights under any circumstances. This is for sure," he said.
"I hope there will be a special tribunal that can give a final judgment on all these crimes against humanity. This will be a good legal foundation for the rule of law and social harmony in a future China."
Politburo Lawsuit Indicates CCP's Internal Conflicts
Recently The Epoch Times reported that the Beijing Second Intermediate People's Court accepted a civilian's lawsuit against a current standing member of the regime's Political Bureau.
Regarding this lawsuit, Dr. Yang said, "Most people in China aren't really fond of Zhou Yongkang. He represents police brutality, government-backed persecution, and restriction to press freedom. Even members of the CCP don't like him. He is also viewed as a residual of the Jiang Zemin faction. If that is the case, there is sure to be political struggles between him and the Hu Jintao/Wen Jiabao group." Yang believes that the Zhou Yongkang case is likely to represent the intensified political struggles within the CCP. Zhou Yongkang was the former Minister of Public Security in China.
Dr. Yang also believes that groups inside and outside of China should fully use the occasion of the 2008 Olympic Games to express their concerns to the CCP. Chinese people should follow Wang Zhaojun's footsteps and tell the truth, which they have not dared to tell for decades. If everyone can do something, the situation of human rights and democracy in China will surely change.