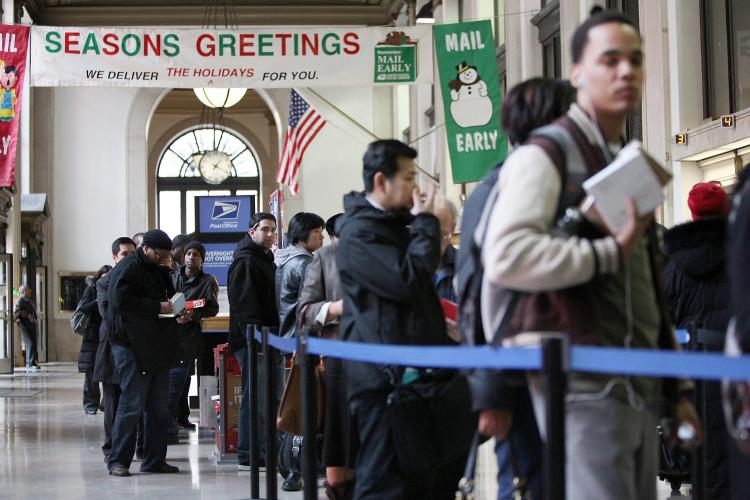 NEW YORK—I eyed the peach-colored notice on the mail table in my Harlem apartment building and read with both joy, and dread, that there was a package waiting for me at the post office. Joy: who doesn't like getting a package at Christmas time? Dread: the post office—need I say more?
I moved to Harlem in the summer of '08 to a limestone row house built around the turn of the previous century. The two express subway lines a couple of blocks away, the friendly neighbors, the gorgeous architecture, the tree-lined streets and the floor-to-ceiling oak mantle in my living room have all become favorite parts of the neighborhood I now call home. That, plus the 500 square feet I now inhabit would cost twice as much 100 blocks south of here. The neighborhood post office, however, has become something I intentionally avoid. I plan ahead for any post office business and try to take care of it while on forays into other parts of the city.
The last time I went to the local branch I needed a single postage stamp to get something mailed, and it needed to be post-marked on that day. In a rush and hoping to avoid the long line of misery that snaked around the waiting area, I looked around for a vending machine. There were none to be found. One clerk was open for business; the stamp-only window was closed.
I resigned myself to the long wait and joined the slow-moving line. After investing the better part of an hour I finally arrived at the front of the queue. I felt like a racehorse at the starting gate. I was going to descend on that window with such speed and grace that this whole one-stamp operation would be over and done with and I would be out the door quicker than you can say "par avion."
When I approached the window a pleasant clerk met me with a wide smile. I returned the same and prepared to hand her 50 cents. Just as I opened my mouth to speak, the reason for the long wait became painfully apparent to me. She stopped me mid-sentence and began to recite a menu of options, listing every possible service the Post Office offers: "Do you need any money orders today?" "Are you shipping any packages today?" and the list went slowly on and on. As I tried to shortcut the process I was again stopped mid-sentence and forced to hear her out. Over her shoulder a supervisor beamed proudly, she was performing the ridiculous ritual to the delight of her boss. So this was a sanctioned protocol, no doubt dreamed up by the postmaster general to help customers like myself marvel at the many and varied services the post office provides. Maybe it is a marketing concept to underscore the incredible list of services that only the U.S. Post Office offers, and not those ninnies over at FedEx and UPS.
I glanced behind me and realized that the sad faces 50 deep in line had no idea what bureaucratic idiocy was keeping them from their money order, postage stamp, or whatever small piece of business they had. I looked back at the lady in front of me and, staring through the one-inch bullet proof glass, I wondered if it was also reason-proof glass, if on the other side of the protective barrier reason and rational thought were not permitted, and that this poor woman was trapped in there with only U.S postal thinking from which to operate. The poor sad woman finished her rehearsed speech, I bought my stamp, and she mailed my letter. She smiled at me, I smiled back, and I left there wishing for an hour of my life back.
The Dreaded Return
And so the dread, that peach-colored invitation to return the local post office. This was business that could not be carried out at any other postal branch, they had me and they knew it. Besides, I needed to find out what my brother and his family in Colorado had sent me for Christmas, at least that was my guess as to who the sender was.
I set off to the 146th Street post office. I had in hand a small package to send to Colorado, a sweet mix CD of holidays tunes that I had put together with the help and convenience of iTunes. It was an awesome blend of classics (Frank Sinatra with Cindy Lauper with a straight-ahead version of Here Comes Santa Claus), jazzy tunes (Louis Armstrong doing the Cool Yule), some Charlie Brown piano Christmas music, and a few rock versions (Springsteen, Sheryl Crow, and the Pretenders) to keep things moving.
When I arrived at the post office there were two lines, one for retail and one for package pickups—and one clerk at the end of each line. I got in the package pickup line and it looked to be a good hour's wait, so I broke out my phone and looked through a few emails, did some reading from a favorite book, and tried my best to make good use of the time. A man standing at the table next to me was using official post office tape to completely encase a sizable and misshapen cardboard box; the repetitive sound of the taping had captured everyone's attention. The line crawled along at a predictably slow pace.
When I picked up my package I asked, somewhat naively, if I could also mail my envelope. I was told that this line was for package pickup only, and that I would have to wait on the other line to mail my awesome CD of Christmas music. I tried appealing to the clerk with holiday cheer. "Where is your Christmas spirit?" I said with a smile. She rebuffed me, and repeated that I needed to go to the other window.
By this time most people waiting on line were paying attention, seeing which way this would go. I got a little edgier and took a slightly more aggressive tack. I had somehow convinced myself that I was now fighting for the rights of all the oppressed that were standing in the long lines, but my attempts to mail the envelope were going nowhere.
I resigned myself and turned around to survey the situation. Everyone was looking at me as I stood there looking at the long line to the other window. A woman standing in front of me said loudly, "Welcome to Harlem, baby!" She let out a belly laugh in a tone that sounded slightly chiding but sympathetic. I decided that there was no way I could wait in another line, and as I headed for the door others joined in the laughter and it began to sound more like a vicious cackle, or at least like, "Now you know how we feel."
A friend had recently posted on her Facebook page the simple statement: "The Post Office is the ninth circle of hell." I now knew what she meant. I guess things are not much better all the way out in Oregon.
Seeing the Light
I forged ahead with my day, some last-minute shopping at the Union Square holiday market, a few trinkets from Chinatown, a box of Christmas-in-New York holiday cards from Duane Reade. Then I ventured into the main post office on Eighth Avenue. I was determined to get that CD mailed, and a few Christmas cards as well.
I bounded up the long staircase to the James A. Farley Post Office, named for the nation's 42nd postmaster general. Inscribed in the building above the long row of classical columns was the mail carrier's credo, "Neither snow nor rain nor heat nor gloom of night stays these couriers from the swift completion of their appointed rounds." I felt encouraged.
I stood behind one person in line for the automated mailing machine; we agreed that the line was wonderfully short. I purchased postage and mailed my package in under five minutes. It was like a postal Christmas dream come true.
I stepped over to one of the many marble tables to write a few Christmas cards. As I stood under the pleasant glow of a green glass desk lamp I looked out the window to Eighth Avenue and watched as a snowstorm blanketed Manhattan. My father called and we discussed the weather, Christmas plans, and that I would see him soon.
A man standing next to me, also writing Christmas cards, overheard my phone call and we discussed the preciousness of time with family. He was mailing cards and gifts to family and asked me about postal rates to Algeria. Another man nearby was mailing out wedding invitations for his May wedding on the Island of St. Martin. He had a large stack of thick envelopes with ornate calligraphic handwritten addresses. Another man asked to borrow my pen. He was sending a package to his family in India. It was one of those moments of community among strangers that makes one slow down, and give thanks for simple peace among men.
I walked out the front door and into the blowing winter wind. As I walked down the long staircase I was finishing a day that began and ended at the post office. It ended considerably better than it began. Maybe next year my brother will use UPS.