The GoFundMe seeking to build the U.S.-Mexico border wall reached $16 million on Dec. 23 as a competing campaign raised just $135,000 to buy ladders to climb the wall.
After six days, the pro-wall campaign, "We The People Will Fund The Wall," exceeded $16 million with more than 264,000 donors. The page, created by triple-amputee Air Force veteran Brian Kolfage, has a goal of $1 billion.
"It's time we uphold our laws, and get this wall BUILT! It's up to Americans to help out and pitch in to get this project rolling," Kolfage said on the page.
Kolfage's GoFundMe could become the top campaign ever on the crowdfunding website. The No. 1 GoFundMe, the "Time's Up Legal Defense Fund," raised $22 million after it was started in December 2017.
The "Fund The Wall" campaign is already at No. 2 with $16.1 million, surpassing a fundraiser for families of the Humboldt Broncos team involved in a fatal crash. That one raised $15 million. The next biggest one is a fund for victims of the Parkland, Florida, mass shooting earlier this year, which raised $10 million.
'Ladders' GoFundMe Started
Meanwhile, a new GoFundMe was created several days later by "Ladders for Migrant Siblings" to buy ladders to get over the wall.
"Seems like a bad idea on countless levels for everyone involved," the page reads.
About $135,000 was donated from 6,000 people Sunday after the GoFundMe page was created on Dec. 19.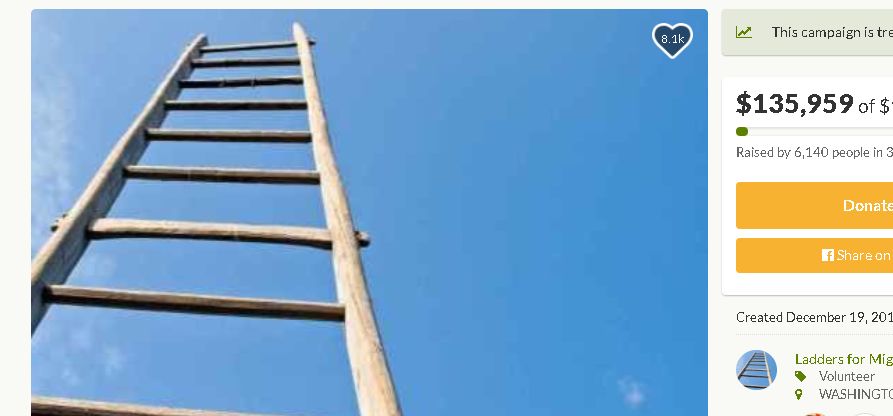 "The amount of support behind this wall is a lot more than the liberal media, CNN, and all of them want you to believe," Kolfage said. "That's why I was shocked when I got tons of emails from Democrats. It blew my mind because you don't hear anything about that, you don't think Democrats want this wall, but clearly they do want this wall."
Kolfage explained the average donation to his fund is around $60 per contributor, but his page recommends an $80 donation.
If 60 million people donate $80, he added, the $1 billion will be met.
A design of our Steel Slat Barrier which is totally effective while at the same time beautiful! pic.twitter.com/sGltXh0cu9

— Donald J. Trump (@realDonaldTrump) December 21, 2018
President Trump has yet to comment on the GoFundMe, but he tweeted an image of the proposed wall.
"A design of our Steel Slat Barrier which is totally effective while at the same time beautiful!" the president wrote in a caption of the tall steel fence.