The recent nationwide protests against COVID-19 mandates and other restrictions, especially the weekslong one in downtown Ottawa, have largely been characterized by the Liberals and NDP as being racist and hateful, with several politicians implying, without having met with the protesters, that the main premise of the movement was to bring down the government.
"What we are dealing with is not a protest. It is not peaceful," NDP Leader Jagmeet Singh said in the House of Commons on Feb. 17.
"The organizers of this illegal occupation have been clear from the beginning. They have not shied away from this; they have been brazen about it. They came here to overthrow a democratically elected government. It is a movement funded by foreign influence and it feeds on disinformation. Its goal is to disrupt our democracy."
Prime Minister Justin Trudeau, who repeatedly linked the protests with Nazism and extremist movements, said that protest is lawful in Canada but that if those involved in the protests want change, they should get involved in politics.
"What you can do is vote, what you can do is run for office. That's how change happens in a democracy," Trudeau said at a press conference on Feb. 21. "We're all tired of the pandemic, but that doesn't mean you have the right to participate in illegal blockades or occupations, or to put others in danger."
However, many of the protesters The Epoch Times talked to merely wanted what one described as the "God-given" right to make their own health choices, including what to inject into their bodies, since in free societies there are certain safeguards to protect citizens' fundamental rights, regardless of who formed the government as the result of an election.
Before the federal government imposed the COVID-19 vaccination mandate for truck drivers crossing the Canada-U.S. border on Jan. 15, data had already shown that those who are fully vaccinated can still contract COVID-19 and transmit the disease, which bolsters the contention that the decision to get vaccinated or not should be a personal health choice, since both the vaccinated and the unvaccinated can pose a risk of transmission to others.
Below are some accounts from protesters The Epoch Times talked with over the past few weeks, who gave their reasons why they think it was important to participate in the Freedom Convoy movement.
'We Just Want Our Freedom'
Windsor resident Sue Samir said she suffered major side effects after getting her first COVID vaccine dose, so she didn't want to get a second shot. However, that cost her her job as well as the benefits she was entitled to, all because of her personal health choice, she said.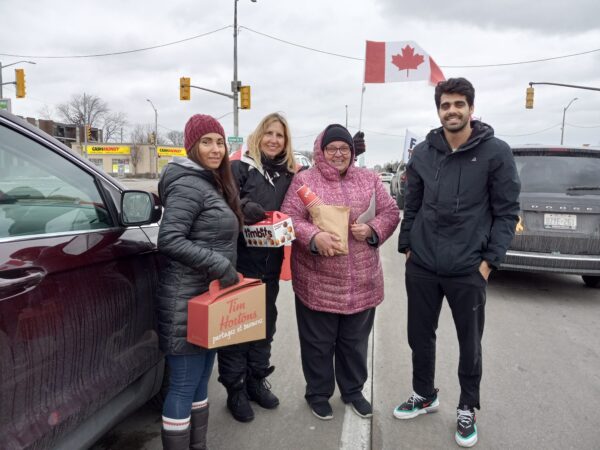 "Your workplace is giving you extortion, pretty much, to get the vaccine or not, and then you're not eligible for your unemployment benefits that you paid all your life for," she said.
She had attended the Ambassador Bridge convoy protest at the Canada-U.S. border crossing, which ended on Feb. 13.
"We just want our freedom, we want nothing else. … That's your God-given rights. That's your health choice. … Enough is enough," Samir said.
Disability, Adverse Reaction to Vaccine
Ottawa resident Ashley Miller frequented the protests in the nation's capital before they were cleared by police. (The Epoch Times agreed to use a pseudonym for Miller because she fears reprisal.)
Miller says she has several long-term disabilities and immune disorders, and in the past had bad reactions to vaccinations, such as flu shots. That's why she decided not to get vaccinated for COVID-19. But after she fell into depression following an extended period of separation from her family and friends due to the pandemic, she wanted to travel to spend Christmas with them, so tried to get a medical exemption.
But she says her doctor wouldn't provide her with an exemption because he was afraid "one wrong move in that sense would threaten his job or licence," because of directives from the physicians' regulatory body.
"Feeling like I had no other option, I got the first dose of the COVID-19 vaccine. Immediately I was faced with muscle weakness and fatigue that was so severe I was almost completely bed-bound for weeks. I had chest pain on a daily basis from day one of the first dose," she said.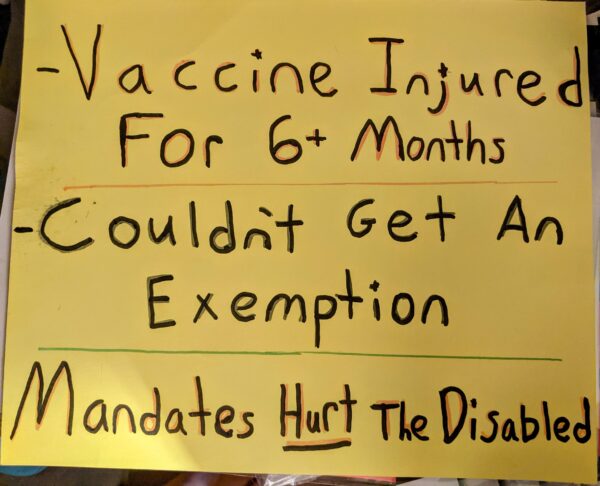 "But my doctor was still not permitted to provide exemptions, and I was desperate to spend Christmas with my family, so I went for the second dose. Within 12 hours, I experienced severe head and muscle aches, a fever, swollen lymph nodes, worsening chest pain, vertigo, and nausea. Within a couple of days, my resting heart rate was continuing to climb, and the fatigue and pain was only worsening."
Miller said she had to be hospitalized due to the problems she experienced.
She said she is also unable to wear a mask due to her medical conditions, adding that she often gets yelled at by people for not wearing a mask.
"Never in my life has being disabled in Ottawa felt so demeaning," she said.
"More than six months later and I am still on these medications, still suffering daily side effects, and still unable to go out without fearing backlash over my face shield. I have barely been able to socialize for two years and my mental health is worse than it's been since I was 15 years old. The recent protests in Ottawa were the first time I'd felt real hope in two years."
Truck Drivers
Sandor Szollosi, a truck driver from Calgary, came to Ottawa on Jan. 29, the first day of the trucker convoy protest in the nation's capital.
Szollosi said he leads an active life and is involved in different sports. But with the mandates and restrictions in place, he hasn't been able to go swimming or do other sports activities because he didn't want to get the COVID vaccine.
"For the past eight years, I've been going swimming every morning. I am 65 years old. I am doing these kinds of sports to maintain my immune system. I run marathons. I go skiing," he said.
Ever since the COVID-19 mandates came in, however, he says he has had to stay home.
"I feel frustrated because I feel that my freedom is just … taken away from me," he said. "I'm happy that I have the choice to be here [in Ottawa]."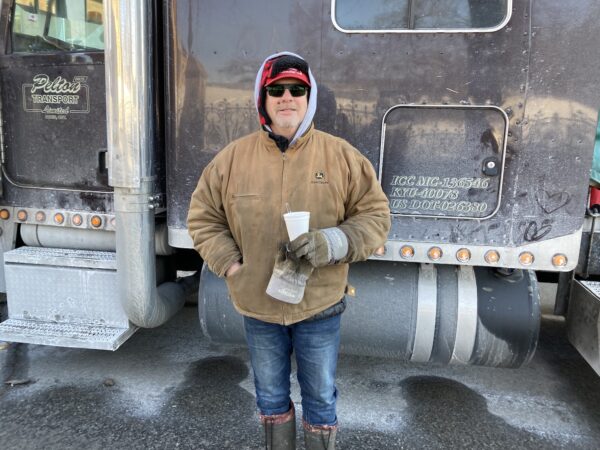 Truck driver Bill Dykema, 71, from Grimsby, Ont., who stayed in Ottawa throughout the protest, said he decided to participate to ensure freedoms are upheld for the next generation.
"I have 19 grandchildren. [It's] for them, and to give them their freedom," he said. "My grandson wants to go to university, but he can't because he's not shot, not injected."
Scott Holt, a truck driver from Tillsonburg, Ont., who also went to Ottawa to protest, said he can't continue working as the company he works for runs cross-border loads, which now requires COVID-19 vaccination due to government mandates on both sides of the border. But he said his manager supported him to join the protest convoy.
"It's about freedom for me. It's about an overreach of the government," Holt said.
Lisa Lin, Richard Moore, Limin Zhou, Rahul Vaidyanath, and Noé Chartier contributed to this report.