GMOs in Kenya: Facts At a Glance
July 21, 2013 7:03 am Last Updated: July 22, 2013 2:49 pm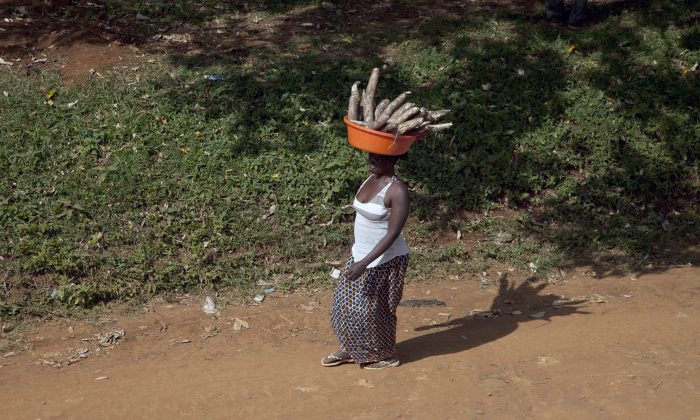 Are GMOs allowed in Kenya? Are they grown?
Genetically modified (GM) crops have been allowed at times into the country—principally during drought periods. Some posit that despite commercial cultivation of GM crops never really being allowed in Kenya, and the current ban on all GM imports, GM food is still present in the country, because such widespread enforcement is very difficult to enforce.
Right now, GM crops aren't grown outside of field trials, and research in Kenya into genetically modified organisms (GMOs) includes looking at its use to develop medicines and vaccines. The Kenya Agricultural Research Institute plans on submitting an application sometime this year for a strain of GM cotton that it has been testing. 
Why aren't GM crops allowed to be grown commercially?
Legislation to allow growing of such crops passed in 2009, but framework to establish a regulatory system never seemed to be put into place before the ban on imports and cultivation was suddenly announced in November 2012.
The ban came after the release of a controversial study by French scientist Gilles-Eric Séralini that linked cancer in rats to consumption of GM foods. The study recommends that GMOs and related pesticides be evaluated in the long-term to measure toxic effects.
Read more: GMOs, A Global Debate: Kenya, Where GMOs Are Banned
When did the testing of crops in field trials begin?
Scientists and others started testing GM sweet potatoes, maize, a vaccine, and cotton in 1998.
Information about the tests is scant. The Jomo Kenyatta University of Agriculture and Technology, which has been involved in the research, as well as the National Biosafety Authority created in 2009, did not respond to emails from Epoch Times. 
Researchers at the Kenya Agricultural Research Institute feel confident enough in their testing of a GM strain of cotton that they plan to submit an application sometime this year to the authority for commercial cultivation approval.
Are GMOs labeled in any way in Kenya?
Labeling of any product with more than one percent GMOs has been required since a May 2012 regulation, according to Dr. Willy Kiprotich Tonui, CEO of the National Biosafety Authority, but it doesn't appear to be in effect. The authority opposes the ban on GM commercial cultivation and imports implemented by Kenya's cabinet. 
How many hectares/acres of land are GMO crops grown on?
Very few, since GMOs are only grown in field trials, according to the biosafety authority. The International Service for the Acquisition of Agri-biotech Applications, which tracks the amount of GM crops grown in countries across the world, doesn't count crops grown in field trials, only crops grown commercially.