Illegal GMO Rice Widely Available in Hubei Province
April 6, 2010 6:46 pm Last Updated: October 1, 2015 8:26 pm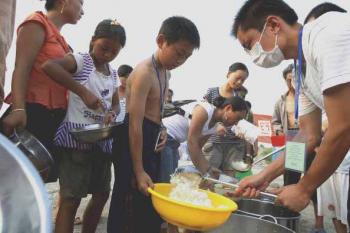 On April 1, China Newsweek reported widespread cultivation of illegal genetically modified pest-resistant rice in Hubei Province.
The Chinese Ministry of Agriculture had approved the genetically modified organism (GMO) security certificate for two types of rice and one type of corn for experimental use only in August 2009.
Greenpeace, however, discovered that the GMO rice was being sold in 19 supermarkets in eight Chinese cities in Hunan and Hubei Provinces in October and November, 2009.
On March 2, an official from the GMO Safety Management Office of the Ministry of Agriculture stated that making the GMO security certificate available does not mean that commercialized production is permitted.
He also further stressed that a genetically modified seed strain has to go through strict regional and production testing to receive a seed-strain certificate before it can be used for mass production and sales. In other words, any sales and commercial cultivation of GMO rice is illegal, according to China Newsweek's article.
Villager Dong Kejiang and his neighbors in the town of Tuditang, Jiangxia district, in Wuhan,know that it is illegal to plant GMO rice crops. But they have long been familiar with these "crops that don't need pesticides."
He was interviewed by China Newsweek in late March. He said, "Our village has been planting them for three years; someone can always purchase them." Villager Hu of Tangtu village, in the town of Wulijie, told China Newsweek that their town has been planting the pest-resistant crops since 2004.
Around 2005, a species of pest-resistant and high-yielding GMO rice appeared in Hubei Province. The farmers in these areas were enthusiastic; however, Mr. Dong said they didn't know that this was the GMO rice, and thought it was a hybrid rice that the government was promoting.
"The seed company said the seeds were pest-resistant and high-yielding, so many people tried them out," Dong said. This Bt-transgenic rice was created by the addition of a new gene into the rice, thus creating Bt proteins. The protein causes intestinal paralysis in rice borers, killing them. This special pest-resistant ability reduces the amount of pesticides used and results in high crop yields.
"Seed companies with agricultural technical stations and private seed companies are all selling these seeds," Dong said. The seed packages are not labeled as GMO crops, but are marked with Hubei's secret GMO code—the picture of a little bug.
"It started with a few families, but gradually everyone began pursuing these seeds." Many villagers in Mr. Dong's town have been planting these pest-resistant crops. Villager Hu told China Newsweek that in 2004, he planted three mu (about half an acre) of the pest-resistant rice himself. "At first, we didn't know that this rice crop was illegal; the seed company said that it was developed by the government."
Farmers Won't Eat Them
Though many farmers plant GMO rice, they are cautious about eating it themselves. Villager Hu from Tangtu village said that he sold all three mu of the pest-resistant rice to private rice factories or the Grain Bureau, and his neighbors fed all the unsold rice to their chickens. He also planted two mu of traditional rice crops for his own family's consumption.
According to Greenpeace's investigative reports, "Xiaogan, Xianning, and Jiangxia districts in Hubei have all planted GMO rice widely; these crops have been sent from Hubei to cities such as Guangzhou, Zhongshan, Shunde, and Zhuhai in Guangdong Province."
In the Dec. 20, 2004 issue of Newsweek, Zhang Qifa, an academician from the Chinese Academy of Sciences, a professor at the Huazhong Agricultural University, and the recipient of the 2009 Bt GMO rice security certificate, said, "In Wuhan, the center of China's greatest GMO rice experiment, a seed company has accessed GMO seeds and has been selling them to local farmers; over 100 hectares (250 acres) have been planted."
On March 2, 2010, however, the Ministry of Agriculture had this response to reporters' questions regarding GMO technology and biological safety: "As of now, the Ministry of Agriculture has not approved the commercialization of any GMO crops, and there are no GMO crops planted in China."
Though the world has not come to a unanimous decision about the safety of GMO crops, Hsien Ping (Larry) Lang, a professor at the Chinese University of Hong Kong, has shared the following information on genetically modified crops:
In 2007, a French scientist proved that Monsanto, the world's biggest seed company, had produced GMO corn that is toxic to the human liver and kidneys. In 2008, a United States scientist discovered that feeding GMO corn to white mice harms their immune system. The latest data was made public on Dec. 22, 2009, when the French Biotechnology Council announced that the harmful effects of consuming GMO corn outweighed the benefits.
Rice is the major staple in China. The public has criticized the regime for not communicating with people before granting the GMO rice certificates, for planting GMO rice crops behind closed doors, as well as for disregarding the food safety of billions of Chinese people, according to a report by Taiwan's Central News Agency (CNA).
During the "two sessions" in last March, some members of the National Committee of the Chinese People's Political Consultative Conference proposed an objection to the commercial cultivation of GMO grains that have not gone through thorough food safety tests.
Despite strong objection and concern from the public, the Chinese government is expected to spend 24 billion yuan in the research of cultivating crops with new GMO strains in the next 10 years, according to China Newsweek's report.
So far only Hubei Province is reported to have cultivated commercial GMO rice. It is possible that GMO rice will be on the dining tables of billions of Chinese in the next three to five years.