GM Alfalfa: Coexistence Won't Work, says Farmers Union
Plan to keep non-GM crops free of contamination panned by critics
September 18, 2013 12:35 pm Last Updated: September 18, 2013 12:35 pm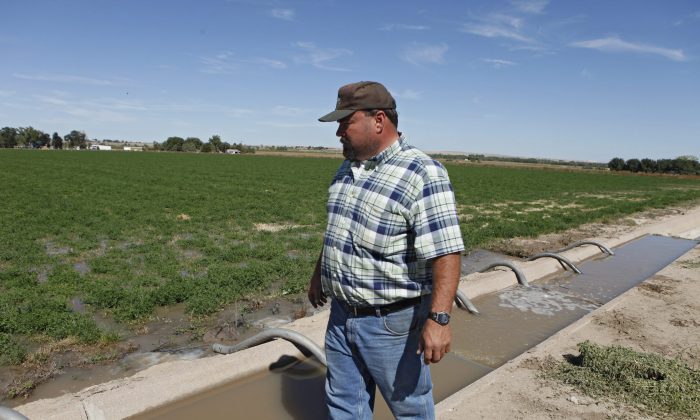 The National Farmers Union is up in arms over a "coexistence plan" released by an industry group that aims to prepare farmers for the introduction of genetically modified (GM) alfalfa in eastern Canada.
Devised by the Canadian Seed Trade Association (CSTA), a lobby group representing large seed companies, the plan includes a list of best management practices to keep GM alfalfa crops and non-GM strains separate.
The CSTA says it aims to provide farmers with "freedom of choice and opportunity to pursue diverse markets."
But the plan was greeted with derision by the NFU, which maintains a lengthy legal disclaimer on the first page of the document that protects the CSTA from liability is proof that the organization knows coexistence is doomed to fail.
"The CSTA's disavowal of any liability indicates they have zero confidence in the plan themselves, and are seriously concerned that when—not if—it fails, they could be sued," says Phil Woodhouse, president of the Grey County Local of the National Farmers Union.
The NFU, which has long opposed genetically engineered crops, says introducing GM alfalfa would benefit a small minority of farmers while putting the industry's export market at risk.
The plan ignores the high risk of GM contamination due to the realities of farming, says the union, which alleges it was developed to pave the way for large companies like Monsanto and Forage Genetics International to introduce GM alfalfa in Canada without opposition.
"After the Canada-wide protests against GM alfalfa in April, Forage Genetics International said it would not start selling GM alfalfa seed until a coexistence plan was in place," says Woodhouse.
"It is unacceptable for them to use this plan—which the seed industry has patently disclaimed—to justify the sale of GM alfalfa seed which, once planted, cannot be recalled."
If put on the market, GM alfalfa will be the first GM perennial crop released in Canada. Critics have called for a ban on the product, saying if it contaminates non-GM alfalfa it will have a domino effect and cause losses to farmers who rely on multiple non-GM markets for export—hay, livestock, dairy, and others where alfalfa is part of the crop rotation.
"It could affect the western Canadian alfalfa seed industry. They export to China, Russia, and Europe—a lot of jurisdictions that require GM segregation and GM labelling. It could affect our hay export business and it could affect the integrity of the organic livestock industry," says Woodhouse.
Contamination 'inevitable'
Two suspected cases of GM contamination are currently under investigation in the U.S. A Washington farmer's alfalfa was rejected for export last week after testing positive for genetic modification. In May, GM contamination was found in an Oregon farmer's wheat, which also led to export bans.
The NFU and the Canadian Biotechnology Action Network (CBAN) say GM alfalfa contamination is also "inevitable" in Canada because the plant's pollen is carried long distances by insects—something impossible to prevent.
"The reality is that GM alfalfa will contaminate farmers' fields and no plan can stop it. The industry has made up a list of impractical measures for farmers to follow and called it a plan," says CBAN's Lucy Sharratt.
But the CSTA says that because Forage Genetics, the company leading development of GM alfalfa in Canada, is only planning to commercialize alfalfa hay production, not seed production, it can ensure "minimal risk" of contamination.
"Given that the product would only be available for hay production, the timing of hay cutting is one of the best ways to ensure minimal risk of gene flow from pollen," says CSTA CEO Patty Townsend.
"Avoiding gene flow from pollen was a primary concern in the process to develop the coexistence plan."
The coexistence plan also makes suggestions around location of GM alfalfa hay fields as a measure to address the potential risk of pollen flow.
Townsend says the plan aims to give farmers as much choice as possible, but whether to follow its guidelines is ultimately up to the individual.
"We believe that farmers should have the choice to use the production system that best suits their farms and their markets," she says.
GM Rapeseed Contamination
Meanwhile, GM monitoring agency TestBiotech on Tuesday published a list of countries that have experienced what it called "an uncontrolled spread" of genetically engineered rapeseed (canola): Canada, U.S., Japan, Australia, and Europe.
According to the report, in many cases the plants have escaped far beyond fields into the environment. In some instances, the transgenes have moved into populations of wild relatives, and new DNA combinations were found that have never been approved for release.
"Canada grows genetically engineered oilseed rape on a large scale. For about 10 years it has been known that these plants are spreading uncontrolled into the environment. But so far no measures have been taken to stop them," says Testbiotech's Christoph Then.
"What we are observing is a lack of accepting responsibility, especially on the part of industry."
The report noted that although there was never any large-scale growing of GM rapeseed in Europe, harvests have been contaminated repeatedly because of the transgenic rapeseed produced by Bayer which was authorised by the EU Commission for seed production.