Different work roles that involve promoting tolerance can have a spill-over effect toward creating a better world. This is what respondents from Colombia to Spain told Epoch Times reporters when they asked locals: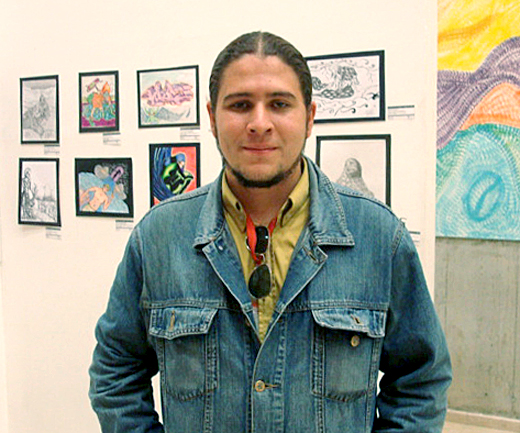 Colombia
Adonay David Garcia Jaramillo, 28, Artist and Teacher

Promoting tolerance among people around me is my role as a teacher, as a professor of fine arts since it has to do with painting and drawing. And within this artistic language young people can cross the identity barriers because many of them are from different urban cultures, beliefs, and ideologies, but with a common language that is called drawing. In a sense, I am constantly promoting the understanding of the other person—an understanding and respect for others. That is, to respect what is different—the nature and appearance of another person—has a way to express and speak through art.

Madrid, Spain
Manuel, 60, Parking Attendant
I think that nowadays we are not very tolerant. For myself, I'm not very tolerant with people I have not met in advance. It is different with fellow coworkers because we know each other and you can trust. With family and friends it depends, sometimes we are not very tolerant, but when time passes if you notice, you ask to be forgiven for being so intolerant.

Lima, Peru
Sofia Heredia, 37, Odontologist

In general, with my patients, I have a lot of tolerance. I treat them with the best care, so they can feel understood and heard; they talk about their problems, and leave very confident and calm. As for my little girls, I try to teach tolerance, because they can learn from an early age. I've always been demanding with myself; I am not intolerant [of myself]. I try to accept people as they are and that costs me a bit. I also know that I will not change people.

Harlem, New York, U.S.A.
Michael Lowney, 26, Actor
Yes, I do. I feel like especially in a city like this; it is important to be as accepting, and tolerant as possible to survive.

Puerto Montt, Chile
Eduardo Parada Coronado, 31, Student
I do believe I promote tolerance in my circles. For instance, if I feel insulted or attacked by insults, or in exchanging strong dialogue, I take a moment to reflect and try to find the right words to respond, to calm the situation, and maintain harmony, from my point of view that is promoting tolerance. The other day, I had a very strong experience in this regard. I came to visit my mother, who loves me as much as does my partner, and between them, there is a kind of jealousy over my love, and I was faced with a situation where I had to exercise great tolerance to avoid a big conflict.

Maroochydore, Australia
Trish Smith, 32, Nurse
I would like to believe that I nurture tolerance in those around me, especially with the children. To be more compassionate to other people, and to help when people need help. I think more of the world needs to be like this. I'd like to believe we do. I don't think it's necessarily something we all do; we can become selfish and very self-absorbed in life, I suppose.

Aneby, Sweden
Barbro Safstrom, 61, Project Manager
Yes, I have witnessed it many times. Everything I've worked with in my entire life has been for others. I have a very good tolerance with other people. It can be seen in what you do; others find it in me, and I notice it in others. Talking with other people is extremely important, nothing can compare with that, no matter how many information sheets you give out. All [people] are individuals—not any group. For example, I have helped young people to become involved in associations, and migrants to understand that they could cooperate with others.

Santa Costa, SP, Brazil
Jenifer Rodrigues, 24, Students' Inspector

I believe that kindness generates kindness and tolerance generates tolerance; even when a rude person gets faced with a tolerant person, there is a tendency that posture changes and it becomes more neutral. As difficult as this transformation can be, showing an obvious resistance, in the end, the demeanor becomes more civilized and polite. But I must confess; I am a human being; and I have my ups and downs, but there's nothing like a few minutes of reflection to come back to my tolerant self and be level headed once again.

Dubai, United Arab Emirates
Marko Den Bour, 40, Business Development Manager
Yes, I believe I can nurture tolerance in others. If we all tolerate each other the world will be a much better place—by being more accepting and not judging each other.
Look for the Global Q&A column every week. Epoch Times correspondents interview people around the world to learn about their lives and perspectives on local and global realities. Next week's global question: "Do you ever play the lottery?"