Giggs May Become the Irreplaceable Hero Due to 'United' Mindset
COMMENTARY
April 26, 2014 11:06 am Last Updated: April 27, 2014 4:23 pm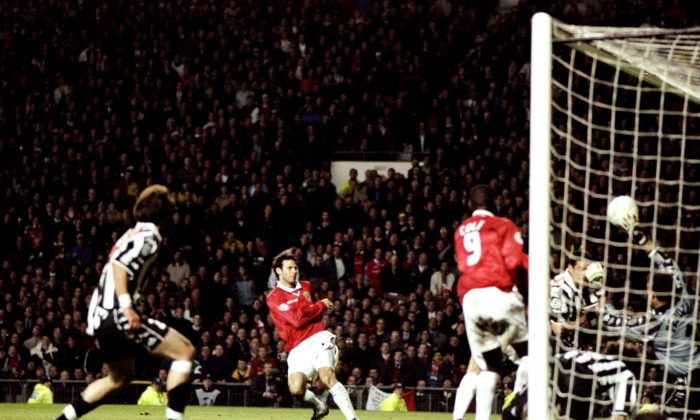 Manchester United are down and out. They are not just out on their feet, they are on the floor with nothing to play for. They are at the eighth second of the 10-second count. What could possibly happen in the last four games of the season? For most men, very little, but for Ryan Giggs a new era of football at Manchester United could be born.
The fans were loyal to David Moyes beyond belief. This wasn't just from the top down; it was from the bottom up. Fans wanted to believe, they wanted another successful 20 years, and they were willing to accept some teething problems to get it. But they were the last to see what everyone could see, Moyes was missing something.
It wasn't his knowledge of football, his ability to manage super-rich young football stars, or even his ability to sit on the huge stage that is Manchester United. If the results went his way he could have sat comfortably. It was something else that time couldn't fix. David Moyes didn't have the Manchester United winning mentality.
"Fergie time" became a phrase in the English language not because Sir Alex Ferguson seemingly had some deal with the referees. It was because he had a firm belief he should never lose, the team believed they should never lose, and the tens of thousands of fans siting in the stadium believed they should never lose. It was such a fierce and potent belief that opposing fans and teams bought into it, and were often afraid of facing Manchester United.
Giggs was core to this belief, and his name comes up in the history books at key moments. 
When United were enjoying success with the class of 1992 and Roy Keane, the honor in the trophy case that seemed to elude them was the European Cup (Champions League). 
In the 1999 semifinal United were down 1–0 to Juventus at home, but tw0 minutes into injury time, Giggs popped up to slot home for United, meaning it was all to play for in the second leg. 
The second leg had an even more disastrous start for united, 0–2 down in 11 minutes. 
For a Moyes team you would never imagine them coming back, but for a team that didn't contemplate giving in, there was 79 minutes to play for. 
Whether they would actually pull it off or not didn't matter, for the next 79 minutes the team, the manager, and the fans believed they could. And as the minutes wore on, so did Juventus. And so it happened, United won 3–2. And they went on to beat Bayern Munich 2–1 in the final with another come-from-behind win to complete the treble.
If all that is needed to be successful as a football manager is a belief that you should win every game, then why did Roy Keane struggle for consistent success at Ipswich and Sunderland? No doubt he had the skill and football knowledge to bring to the table, and he definitely knew how to win. What was he missing? 
According to Ferguson in his autobiography, when frustrated about losing, "The hardest part of Roy's body is his tongue.'' Managing people involves criticizing and motivating your team in bad times, while also managing to keep them on side. When Keane left United, Ferguson claimed he had become alienated from the team. 
Being a leader means showing an example from the front for others to follow, and Keane did that to perfection in the 1999 Juventus comeback in the second leg. Being a manager however involves motivating and encouraging from the side lines, and getting the best from every man on the pitch. It's a different skill set as Keane found out, and continues to learn.
Manchester United's next four games are against teams they are expected to beat. Don't be surprised if they get some fantastic wins with flowing amazing football that will again encourage the fans to believe. Winning with no pressure against weak teams should be no challenge to a team managed by Giggs.
Managing his team following a string of bad results will be a different challenge altogether, a challenge he will face next season.