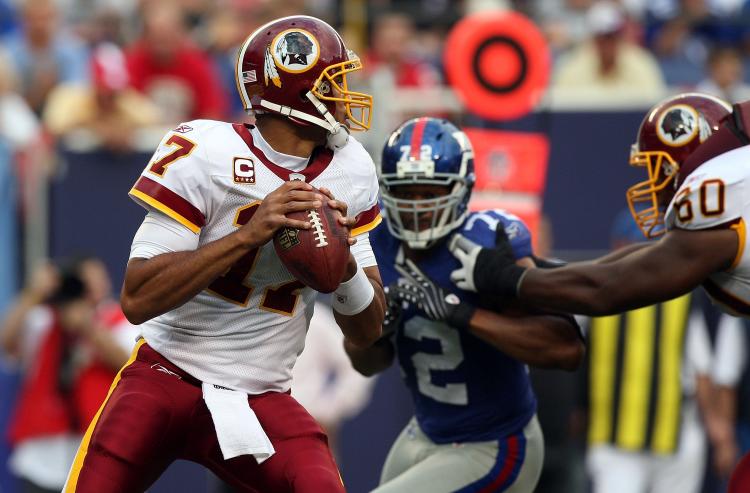 The New York Giants (7–6), with practically no margin for error, visit FedEx Field to take on the enigmatic Washington Redskins (4–9) this Monday night.
The Giants are coming off a disappointing loss to the Philadelphia Eagles while the Redskins will be trying to build some momentum after last week's 34–14 drubbing of the Oakland Raiders.
Washington may be the doormat of the NFC East but they have been playing very well lately. Prior to beating the Raiders, Washington had lost three straight to Dallas, Philadelphia, and New Orleans. In those games, the Redskins played very competitively and lost only because they gave up leads late in the game.
The Giants on the other hand have been slumping ever since their 5–0 start and the defense has been hampered by poor execution.
Last week, the Giants surrendered 45 points to Philly and couldn't create any type of consistent pass rush against Donovan McNabb. With the lack of pressure, McNabb torched the Giants secondary and made big throws to his receivers who routinely took advantage of blown coverage.
This week against the Redskins will be no easier task.
Against Oakland, Washington's seventh ranked defense sacked quarterback JaMarcus Russell six times, while their offense put up 295 yards passing and churned out 100 yards rushing.
Redskins quarterback Jason Campbell had an efficient game, completing 16 of 28 passes with two touchdowns.
Washington has a solid ground game and a talented group of wide receivers led by Santana Moss, Antwaan Randle El, and tight end Fred Davis who hauled in both touchdown passes last week.
Against the Saints and Eagles, the Redskins scored 30 and 24 points respectively, proving they can move the ball on just about anyone.
Redskins Defense
Defensive ends Andre Carter and rookie Brian Orakpo, each have 11 sacks this year, and lead a strong unit that is giving up only 305.5 yards per game.
Speaking with www.giants.com, Giants head coach Tom Coughlin knows his team must be prepared, "They have always been a very aggressive defensive front. They play extremely hard. They do a good job of attacking."
Monday night's game will be exciting for both teams. The Giants need the win badly in order to keep on track for a playoff berth.
Coach Coughlin knows his team was down in spirit after that tough loss to the Eagles but is assured they will be ready to play, "Everybody is disappointed. Everybody wants to win."
Defensive end Justin Tuck agreed, "This team has always had high spirits about whatever situation we have been in. We are not down, we are excited about this week and hopefully we can go out and get a win."
Redskins head coach Jim Zorn knows the Giants will be tough opponents. He said, "They [Giants] are coached well, they play with heart and they just have come out at the short end of some of the situations."
As for the Redskins, they may no longer be in contention for a playoff spot, but behind their embattled head coach, they will definitely be playing their best against a long-time NFC rival. Coach Zorn realizes both teams will be playing for a lot of pride, "I think both teams continue to improve, continue to fight."
"What's exciting about this game is it is a division opponent, it has a lot of meaning just because it is a division opponent, and it's a Monday night game."
Recent History
In Week 1, New York defeated the Redskins 23–17 at Giants Stadium.
Last year, the Giants swept the Redskins beating them 16–7 at Giants Stadium in the home opener and then winning 23–7 at FedEx Field later in the season.