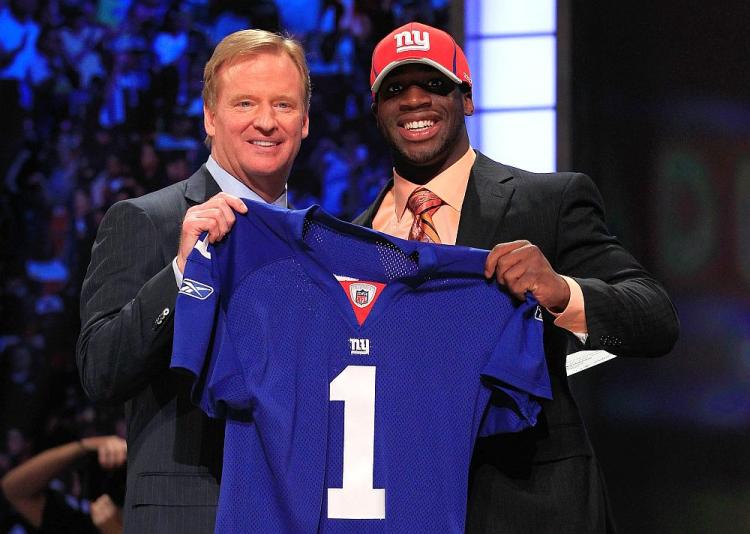 After coming off a bye week after a four-game losing streak, the New York Giants (5–4) have been thrust into a must-win situation against the Atlanta Falcons (5–4) this Sunday.
Should they lose to the Falcons, New York will drop to .500 with upcoming games against the Denver Broncos (6–3), Dallas Cowboys (6–3), and Philadelphia Eagles (5–4)—not a situation they want to find themselves in.
The good news is that Atlanta are a team they should be able to beat at home. And with an extra week to prepare, the Giants have fewer excuses not to win.
Giants quarterback Eli Manning is confident that his team will be ready to play. Speaking with www.giants.com, Manning said, "It is an important game for us because we have to get back on track. I think everybody is excited about what is ahead of us.
"We know we've got to play well and it starts this week with Atlanta. Everybody is looking forward to playing this game and getting back to winning and having some fun."
After a stellar rookie campaign, and being named the NFL Offensive Rookie of the Year last season, Falcons quarterback Matt Ryan has struggled lately completing less than 55 percent of his passes over the past five games. So far this season, Ryan has thrown 14 touchdowns and 12 interceptions—he threw only 11 interceptions the entire 2008 season.
What may hurt Ryan too this Sunday is the likely absence of his running back Michael Turner, who suffered a high ankle sprain during last Sunday's loss to the Carolina Panthers. Turner (10 touchdowns, 831 rushing yards) had been playing lights out for Atlanta and his injury could have a major impact on their running game.
If Turner is out, the Falcons will likely substitute him with Jason Snelling (two touchdowns, 183 rushing yards). Snelling is a solid north-south runner but he is not as effective as Turner in making the big play. However, Atlanta still has a very effective running game in place, so the G-Men cannot take anything for granted.
Giants defensive coordinator Bill Sheridan knows that as well. "This is really an exceptional rushing offense," he said. "I think they put a lot of time and thought into their running game each week. You see little different kinds of schemes and formations that they use and that is a challenge in itself."
If the Giants defense can come up big and limit Snelling (or Turner if he is able to play) and force the Falcons to become more one-dimensional, this strategy could allow them to hone in on Atlanta's talented receivers and force Ryan to beat them through the air.
Should that happen, it will all come down to how much pressure the Giants are able to get on Ryan and how effectively they can confuse him with their defensive schemes.
Failing to pressure Ryan would be asking for trouble because the Falcons have two very special receivers in All-Pro tight end Tony Gonzalez (four touchdowns) and wide receiver Roddy White (six touchdowns, 668 yards), both of whom can put up impressive numbers.
White in particular has great athleticism and if he gets going, it could be problematic for the G-Men. Coach Sheridan knows the Giants must respect his play-making ability. "He [White] is an excellent receiver and he is as explosive as anybody we have played so far," said Sheridan.
Giants' Ball
When the Giants have the ball, they have to get more consistent in the red zone and score touchdowns instead of settling for field goals. They must also start protecting the ball better than they have the last few games and limit the interceptions.
Over the last few games, Manning had thrown several errant passes that were intercepted. He must play better against Atlanta if the Giants' passing game is going to be effective.
Likewise, the Giants' offensive line must give Eli time to throw. Against San Diego and Philadelphia, Manning was running for his life for most of the game. That must improve this Sunday against a defense known for its speed and pursuit to the ball.
Manning knows facing Atlanta's defense won't be easy. He said, "They are very smart, they don't make many mistakes. Their front four is very active, a lot of movement. They can get to the quarterback without bringing pressure, without blitzing the linebackers. They are quick."
Last week the Dallas Cowboys and Philadelphia Eagles both lost, giving New York a chance to get back in the race for the NFC East Division. But the Giants must rely on their own playing instead of hoping for losses to their divisional rivals.
Giants running back Brandon Jacobs agreed, saying, "We still have to come out and play ball on Sunday, and if we don't take advantage of it, then those guys losing doesn't mean anything."