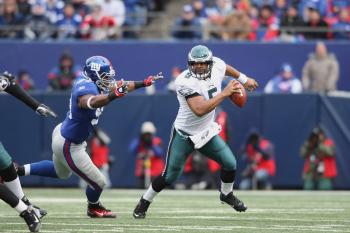 If you're a Giants fan, this is the game you've been waiting for all season.
On Sunday afternoon the New York Giants will take on their arch NFC East rival, the Philadelphia Eagles, at Giants Stadium in what amounts to a classic NFC battle of epic proportions.
Winning four of their last five games, and factoring in the loss of troubled wide receiver Plaxico Burress, most sports pundits are picking the "hot" Eagles to prevail in this one, and comparisons are already being made to last year's Giants team which rode a wave of momentum all the way to the Super Bowl.
There's no doubt that Burress tormented the Eagles in past games. When he was arrested for gun possession in late November, QB Eli Manning lost an important weapon. On the Dec. 7 weekend, the Giants hosted the Eagles and lost. There are folks who expect a similar result this time around.
However, even though Burress's absence hurt the Giants in that game, you also have to look at the play of the offensive line and the play selection. Not to mention the defense, which looked extremely slow-footed and gave QB McNabb enough time to tie his shoelaces.
The G-Men's problems were compounded by Eagles running back Brian Westbrook, who shredded the Giants for 203 yards from scrimmage and had two touchdowns. Philly's tough defense limited the Giants offense to less than 250 total yards.
But since their recent win against the Carolina Panthers, the Giants have picked themselves up and are looking almost as good as they did when they were riding that mid-season seven game winning streak. They are playing with gusto again—particularly the offensive line.
Giants linebacker Antonio Pierce seemed confident in his team for this Sunday's showdown. "They know what it takes to win the championship. So what we have this year is experience. And that is what we are going to use this Sunday," he told reporters.
Pierce also spoke about the two teams' familiarity with each other, saying, "After playing this team now for eight years, twice a year, almost 20 games, we have met in playoffs and everything else, so we know them well. But at the same time it doesn't matter how well you know them, it is how well you go out there and perform."
As a fan, one cannot have blind optimism, and rightfully so—all Giants fans should have some concerns heading into this game.
Your main worries are Eagles running back Brian Westbrook, the absence of Plaxico Burress, and the injury concerns of both Brandon Jacobs and Justin Tuck.
All About the "D"
This game will showcase probably the two best defensive coordinators in the NFL—the Eagles Jim Johnson and his longtime understudy Steve Spagnuolo of the Giants.
During the regular season, the Giants were fifth in the league in points allowed per game (18.4), while the Eagles were fourth (18.1).
The Giants defense was ninth in the league in rushing yards allowed (95.8) and eighth in passing yards allowed (292 yards). The Eagles were fourth (92.3) and third (182.1 yards), respectively.
Both defenses play a similar blitzing style and love throwing everything, including the kitchen sink, at opposing quarterbacks.
Pierce commented on the defense's approach to the upcoming game and the benefit of having coach Spagnuolo on the sidelines: "He has a lot of insights on a lot of [Eagles] players and different techniques and match-ups. So you take all of the information and use it."
By the same token, on the other side of the ball, Giants offensive coordinator Kevin Gilbride spoke about the task at hand for his offense: "You do have the confidence that comes from being in situations similar to this before. But it's going to come down to how we play this Sunday against a very, very good football team."
History Repeats Itself?
The last time these teams met at Giants Stadium in the playoffs was January 2001. The Giants defeated the Eagles 20–10 and went on to face the Baltimore Ravens in Super Bowl XXXV.
With a record of 12–4, the Giants were also the NFC's top seed that year. They hold that same record now as the NFC's top seed.
Giants rookie safety, and first-round draft pick, Kenny Phillips said it best, "Nobody here wants to go home so I expect things to be more fast and more physical. It's going to be a tough game. It's win or go home."
Sunday can't come soon enough!