Giant Rock 'Faces' Found in the Western Tianshan Mountains
August 14, 2008 10:01 am Last Updated: October 1, 2015 10:55 pm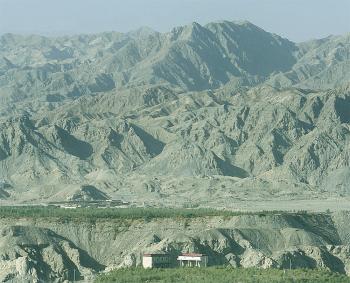 A Chinese archaeological team recently discovered "faces" carved into giant rocks in the Western Tianshan Mountains.
According to August 10 reports on Xinhua Net, found on grassland in Wenquan County within the Xinjiang Uyghur Autonomous Region, these rocks on which the mysterious faces were carved are gray-black, and measure 3 meters (9.8 feet) tall and 3.5 meters (11.5 feet) wide.
Due to erosion, the westernmost side of the rock is caved in and forms a natural shrine, which is white inside and contrasts greatly with the dark outer side. Approximately 10 huge "faces" appear to be carved into the caved-in walls. Each carving is approximately 20 to 30 centimeters (7.9 to 11.8 inches) in diameter, and has the characteristics of a large round face with butterfly ears, a broad mouth and empty round eyes.
The location of the rocks is very inaccessible, and the side of the mountain with the carvings faces a deep stream in which snow and water pass rapidly. How they were carved remains a mystery.
Zhang Tienan, an associate researcher at the Xinjiang Provincial Institute of Cultural Relics and Archaeology, expressed shock at the discovery of the rock faces, saying, "It is the first time we have encountered anything like this in Xinjiang." However, this is not the first time that the Tianshan Mountains have been noticed.
Legendary History of the Tianshan Mountains
According to an old Chinese legend, a dragon lived in the Tianshan Mountains, and the dragon ate little children until a Uighur hero slew the dragon and cut it into eight pieces. The dragon's blood turned into a scarlet mountain of blood and the eight pieces became the eight valleys in these mountains, known as the "Flaming Mountains."
Part of the Tianshan Mountains received their name, "Flaming Mountains," from the fantasy account of a Buddhist monk, accompanied by a Monkey King with magical powers, who ran into a wall of flames on his pilgrimage to India in the 16th century novel, The Journey to the West, by Ming Dynasty (1368—1644 AD) writer, Wu Chengen.
Not long after the recent discovery, archeologists discovered more carved rock faces on a group of rocky hills in Wenquan. Zhang Tienan said that these stone carvings are probably from the same time period as the thousands of carvings previously found in the area of Wenquan. As all the carvings face the east, they may be an expression of worship toward the sun.
Zhang Tienan says that these new discoveries are of great significance, and through the interpretation of the rock faces, they can help reveal the culture, social life, and the religion of the "horse nomads" of northern Xinjiang Province.
Is it possible that these modern discoveries will one day become another part of the already rich legendary history of the Tianshan Mountains?