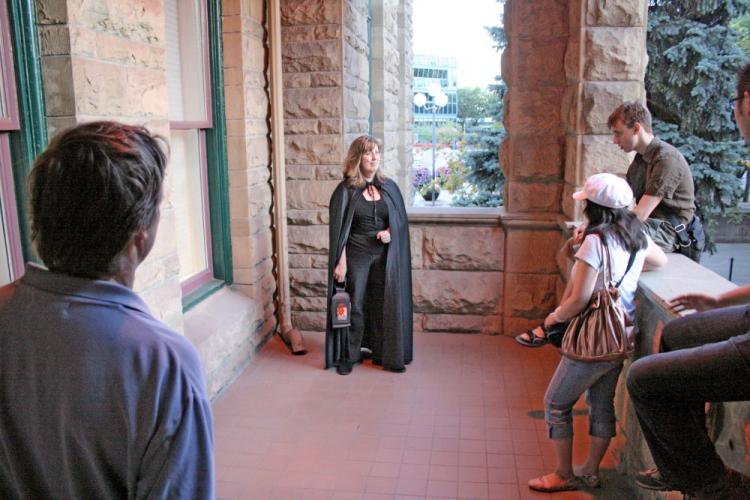 After taking a trip to Boston 2 years ago, Johanna Lane learned much about the city's heritage and history through several historical tours.
She returned to Calgary, her home for the past few years, and realized that she didn't know anything about it—besides that it's a cowboy town.
Lane says that when she went looking for tours in Calgary she was told, "You're in Calgary. Nobody wants to take tours here."
That was when she decided to create Calgary Ghost Tours.
Originally Lane had the simple idea to create a historical tour of some of Calgary's oldest communities such as downtown, Inglewood and Kensington. The idea for ghost stories came from some experiences she went through during a tough time in her life.
"I've just been fascinated by it, and although it sounds kinda morbid but my husband was killed in a motorcycle accident four years ago and people kept telling me they see ghosts and things have happened to them. It made me want to see something. When you go through a loss, you really want that to happen," she said.
"Things just started popping up. People would give me books on ghosts and stories in Inglewood. They didn't know I was trying to put together a tour or even thinking about a tour at the time. So I thought 'hmmm, there's something here.'"
She gave the tour a shot with some friends during a big event where they needed something to entertain their guests and it was a hit all around.
The 90-minute tours feature Lane dressed in a black cape and carrying a black lantern. As she takes a group through various sites she cheerfully tells some of the stories behind the historical buildings, cleverly linking them together with the rumours of ghosts and haunting that many who have worked and lived in the establishments have claimed.
Lane says the cape and lantern provide excellent recognition for the tours. "It's a great way for people to recognize us when they see us walking around. People go 'ghost tours? I didn't know we had ghost tours in Calgary.'"
Business is booming for Ghost Tours and results almost entirely from word of mouth. Lane says she didn't do any advertising in her first year, but the response was great and this season is even busier
"We've got so many stories that it's never the same the second time you take it. So I just find it wonderful that people will come out two or three times."
Lane adds that the tours are becoming quite popular with groups such as schools, scouts, girl guides and even large corporations who sign up as part of staff training events or social nights.
Several people have booked well in advance for Halloween night — so many in fact that she has had to add an extra tour guide for that night.
Lane says that what she enjoys most is being able to share Calgary's history. "It's just fun to share Calgary with people, especially with people who have been here for a long time and go 'Well, I didn't know that!'"
She adds that although the company is called Calgary Ghost Tours, they try to stay away from the whole "woo woo psychic" thing and stick to history rather than emphasize the paranormal.
"We try not to make it a psychic tour, we're not that tour, we're more the historical ghost stories."
But sometimes "we overlap. Last year we had a gentleman come out and do some EVP's (Electronic Voice Phenomenon) in the fall which was kind of cool," she said.
The company has generated and uncovered so many stories that they're hoping to publish a book that covers the historical sites they visit and the stories surrounding them before November, says Lane.
Tours run Wednesday-Sunday evenings and cost $13 for adults and $9 for children. For more information: www.calgaryghosttours.com.