Toyota Canada Inc. (TCI) has been a strong fixture in Canada since founded in 1964.  To date, Toyota has sold more than 4 million vehicles in this country through a national network of 285 Toyota and Lexus dealerships.
In 2014 an astounding 50.0 percent of all Toyota vehicles sold in Canada were built at Toyota Motor Manufacturing Canada, Inc. (TMMC) in Woodstock, Ontario while 83.0 percent of all Toyota vehicles sold in this country were produced at one of Toyota's 14 plants throughout North America.
With Toyota's Canadian bona fides established, we recently spent a little time with Mr. Stephen Beatty, vice president, Corporate and had a far-reaching conversation on everything and anything Toyota.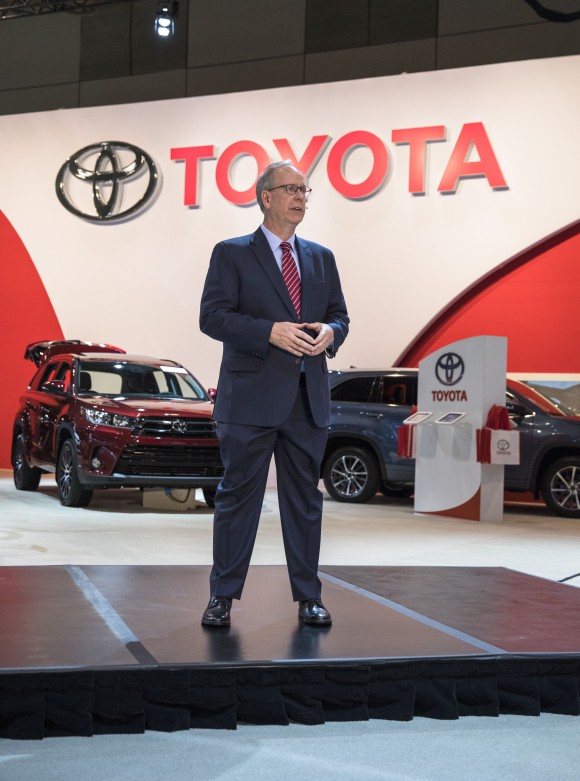 Epoch Times: Calendar 2016 saw overall Canadian sales for the Toyota brand of 195,283 units—easily the best overall results since 2008. What factors continue to contribute to the Toyota success story?
Stephen Beatty: 2016 was an extremely exciting year of growth for Toyota, thanks to the robust Toyota lineup of cars, SUVs, trucks, and hybrid vehicles. It was the best year ever for Toyota brand truck sales with 112,931 (up 10.8 percent compared to last year), and that is thanks to vehicles such as the powerful and efficient RAV4 Hybrid. In fact, with a total of 19,787 hybrid vehicles sold, we're up 45.2 percent compared to last year. 
Moreover, we continue to standardize the "Toyota Safety Sense" suite of safety features across the line that includes our made-in-Canada Corolla, RAV4, plus several other models.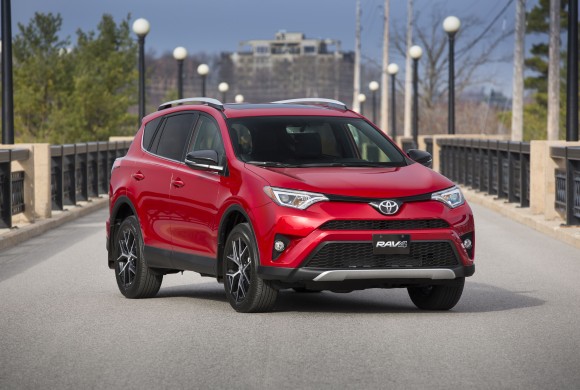 Toyota Prius
Epoch Times: The Prius "marque" sales results for 2016 in Canada were just over 8,000 units—the best results since 2012. For a niche vehicle, this continues to be impressive—yet 2012 saw the best year, sales-wise of slightly more than 10,000 units. Was 2012 an anomaly? What contributed to that apparent "blip"?
Mr. Beatty: The all-new Prius introduced last year demonstrates the next stage in Toyota hybrid technology efficiencies. High level, the new Prius is the most fuel efficient ever. It takes on Toyota New Global Architecture (TNGA), a striking new design and for 2017 adds standard Toyota Safety Sense. The 2016 sales numbers demonstrate Canadians' attraction to the iconic Prius nameplate. In 2012, sales were very high as that was around the time when we had just introduced two all-new members to the Prius family: the versatile Prius v and the city savvy Prius c. Keep in mind, we are also well-poised to attract more members to the Prius family with the introduction of the Prius Prime Plug-in Hybrid Electric Vehicle this year.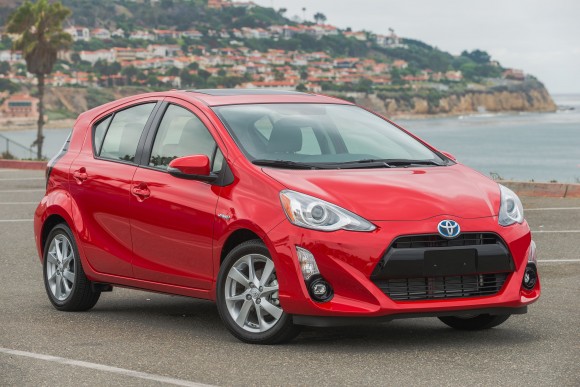 Epoch Times: Toyota as a brand is generally perceived by the public as the most successful manufacturer of eco-friendly/green cars. Let's discuss why Toyota continues to maintain relevance in this field, especially with EV-type (electric) vehicles—pure EV, HEV (hybrid electric vehicle), PHEV (plug in electric vehicle), and now FCEV (fuel cell electric vehicle) using hydrogen as fuel.
Mr. Beatty: Toyota's vision is shaped by the desire to constantly move toward a better future. Toyota has taken on a long-term global Environmental Challenge 2050, which includes the New Vehicle Zero Emissions Challenge, aiming to reduce CO2 emissions of new vehicles by 90 percent compared to 2010 levels, plus five other climate change and natural resource recycling initiatives. We are committed to developing vehicles that not only work toward a sustainable future, but vehicles that deliver no compromise to Canadians when it comes to performance, design, and comfort.

We like to say 'right vehicle, right application'.  For instance, COMS is an EV that is perfect for one person who only needs a vehicle for short urban drives.  Mirai, a Fuel Cell Electric Vehicle, offers a long range for drivers who need a vehicle that feels and performs like an ICE vehicle.  Both vehicles are zero emissions, but they respond to two entirely different needs.
Alternate Fuel Sources—Hydrogen  
Epoch Times: Toyota is one of the few major manufacturers that is doing something with additional fuel sources specifically hydrogen. How important is it to Toyota to explore alternate fuel sources?
Mr. Beatty: It's important that we continue to explore alternate fuel sources without focussing on one single solution, however, we fervently believe in the role hydrogen will play in the future of sustainable mobility and helping us reach our goal of reducing greenhouse gas emissions by 90 percent by the year 2050. Toyota tried something unique almost 20 years ago with the first Prius.  With 10 million global Toyota hybrid sales, we have definitely seen its success, but it still represents only about 10 percent of our sales and it was definitely not an overnight sensation. It takes a long time for consumers to accept new technology and that's why we are in this for the long haul.  We have the potential to do the same with FCEVs.  We've seen hydrogen at work in Japan, California, and parts of Europe and while no single action will be sufficient to eliminate fossil fuel use, or deliver cleaner transportation overall, with the right mix of technologies, the right infrastructure to support and facilitate change and the flexibility and willingness of society to adapt to the times, we can accomplish our goals.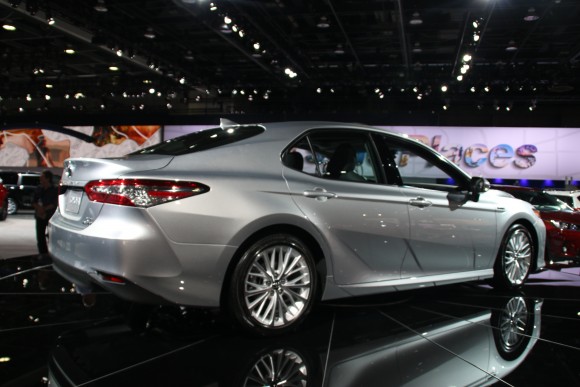 Not only is it important for us to continue on our path of research and innovation, but it's important to share that knowledge within the industry, and expand the conversation on the diversity of electric powertrains and future-friendly mobility alternatives.
Epoch Times: Is the overall acceptance of EVs waning or will it continue to increase? How will EVs remain relevant in an economy where, in certain jurisdictions, the cost of using electricity as a fuel source fluctuates wildly?
Mr. Beatty: Toyota believes that EVs have their place in the market and we don't think we need to only offer one or the other technology. There will always be factors limiting the adoption of any given technology across the board. BEVs for example, have limitations such as range and refuel time whereas hydrogen-powered FCEVs lack infrastructure to support adoption. Toyota believes in the importance of offering choices that provide long-term and flexible benefits for our customers. Our broad portfolio of advanced powertrain technology and our commitment to reducing overall greenhouse gas (GHG) emissions through increasing fuel efficiency in all of our vehicles—meets the unique needs of Canadians.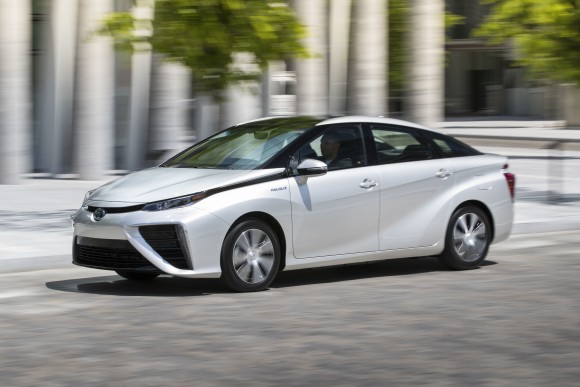 Are Internal Combustion Engines Relevant?
Epoch Times: Is the internal combustion engine dead or will we see variations on a theme in the future?
Mr. Beatty: Internal combustion engine vehicles continue to lead sales: what is great is that they have become more and more fuel efficient.  For example, vehicles like the new 2017 Highlander have adopted Start and Stop technology to reduce emissions, something that began with our hybrid vehicles. Toyota believes that when it comes to motoring there is no single solution to reduction of GHGs—the solution is what we refer to as "right vehicle, right place, right time".  
Epoch Times: With the introduction of the all new Camry into the lineup, do you foresee an uptick in sedan sales for the future without any cannibalization of CUV/SUV sales?
Mr. Beatty: We believe Camry will attract buyers with its evocative styling, intuitive technology, enhanced driving dynamics with TNGA, and expected improvements in safety and fuel efficiency ratings.
Epoch Times: In your opinion, why do Canadians love CUVs/SUVs?

Mr. Beatty: For a variety of reasons—their utility and cargo space, their solid stance, and ability to meet a wide variety of Canadians needs whether that means loading up athletic gear for a tournament weekend, getting off the beaten path for some adventure, or shuttling the kids around to their extra-curricular activities in comfort and style. While Canadians continue to migrate to SUVs—especially compact SUVs we believe there's still plenty of opportunity in the sedan market. From a hybrid perspective, we're also looking forward to seeing how the Camry Hybrid (traditionally our best-selling hybrid) will perform against the RAV4 Hybrid (the current leader in our hybrid vehicle sales), and a force to be reckoned with in the compact SUV segment. 
Epoch Times: In 2016, the RAV4 "won" the small/mid-size CUV/SUV category with just over 49,000 units sold. In fact, the RAV4 hybrid sold around 6,000 units—more than any Prius: was this a welcome surprise?
Mr. Beatty: I think it demonstrates that we're delivering the vehicles that Canadians want. RAV4 now has two powertrain options with great styling, comfort, and standard Toyota Safety Sense, plus amenities like available Bird's Eye Monitor. 
Epoch Times: What steps need to be taken to build "re-fuelling" infrastructures—be it for EVs, FCEV, and the like?
Mr. Beatty: Knowledge-sharing within the industry and expanding the conversation on the diversity of electric powertrains and future-friendly mobility alternatives are key. The more awareness we can create, the more demand there will be for an investment in the right refuelling infrastructure. We've gone to many lengths to create this momentum, like the previously mentioned releasing of more than 5,600 royalty free fuel cell-related patents, including critical technologies developed for the Toyota Mirai in January 2015 and our recently announced awareness campaign that brought three Mirais to Canada to demonstrate to Canadians what this cold-weather friendly, easy-to-fuel, range-anxiety free future technology looks like first hand.  We are also working with a coalition made up of multiple fuel cell electric vehicle manufacturers to encourage the federal government to build policies to encourage hydrogen fuel infrastructure investment across Canada.  Finally, we are also working with private and public partnerships in BC, Ontario, and Quebec on near-term construction of hydrogen fueling stations, such as lending our global experience and expertise with hydrogen and FCVs to inform a Quebec steering committee that will study the feasibility of the Quebec government's proposed multi-fuel station project.
Epoch Times: It sounds as if Toyota is on the right track. Thank you.
David Taylor is an independent automotive lifestyle writer, producer, and editor based in Barrie, Ontario who is fascinated by innovation and technology which enhance the overall driving experience. He's also a member of the Automobile Journalists Association of Canada (AJAC). Follow him on Twitter @Omemeeozzie or on Instagram @hugoscaroftheweek.