Get Your Green On
May 13, 2013 6:30 pm Last Updated: June 24, 2015 8:42 pm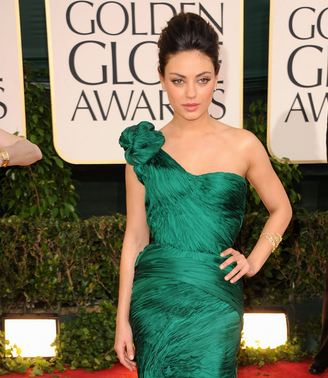 In January, Pantone named emerald green the color of the year for 2013, and we couldn't be more thrilled! 
Now, with the changing of the season, this earthly hue is the perfect color to energize and refresh your look with the greens of springtime. 
Here's a look at its many simple applications in fashion, beauty, decor, and design.
Wear It
We were pleased to see some amazing emerald hues hit the runway during New York Fashion Week Spring/Summer 2013. From Vera Wang to Nanette Lepore and Vivienne Tam, it seems like every designer had green on the mind. 
Even stars like Natasha Bedingfield and Olivia Munn were seen sporting this hot color to Fashion Week events. 
However, if you're looking to work this trend on a budget, you can find versatile emerald shoes from ModCloth and more fun ideas on the website's blog in an interview with Leatrice Eiseman, executive director of the Pantone Color Institute and author.
Live It 
Whether you add some plush greenery to your space or some new emerald pillows or vases, it's very easy to update a room with this vivacious color. 
If you're bold enough to try it, you could even try painting an accent wall in your living room or bedroom with a green hue like Highlands Green paint color from Benjamin Moore. 
Many of Benjamin Moore's paints are also eco-friendly. The company offers products with some of the lowest VOC emissions of any national paint brand.
Nail It
Updating your beauty case with some touches of emerald is another way to stay on trend this year.
You can easily update your look with an at-home manicure, using an Essie nail polish color called Trophy Wife. 
If you're feeling really courageous this year, try the eye shadow duo by NARS cosmetics called Misfit or Real Purity's eye shadow, aptly named Emerald Green, a medium green with a blue undertone. 
Whatever you choose to try, it's good to know that a rich jewel tone can be flattering for just about everyone regardless of skin tone or hair color.
Accessorize With It 
Wearing emerald jewels is an outstanding way to feature 2013's color of the year, but some of us aren't willing to drop major dough on a piece of jewelry that's only on trend for 12 months. However, I like the idea of getting a green iPhone case, like the Barely There case from Case-Mate.
Watch It 
Whenever I think of the color emerald, I automatically envision the wonderful world of Oz and the Emerald City. 
I always love to kick back on a Sunday night to watch the 1939 classic. Lucky for us, Disney released "Oz The Great and Powerful," starring James Franco and Mila Kunis.
Eco18 is a collective of creative-writing individuals from different backgrounds with a common goal: to live a healthier, more natural lifestyle. Their combined expertise, humor, and opinions explore green and sustainable in a practical, fun way. www.eco18.com