Get Rid of Harmful Products at SAFE Disposal Events
April 3, 2014 4:56 pm Last Updated: April 4, 2014 6:40 am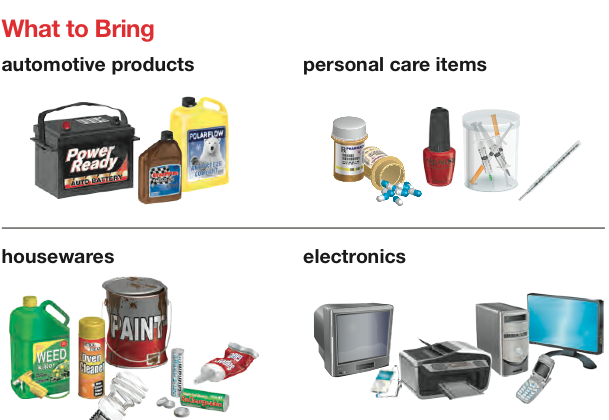 The city's sanitation department is hosting their annual SAFE Disposal Events, one in each borough, to help residents dispose of potentially harmful household products.
Department of Sanitation (DSNY) will accept products labelled DANGER, WARNING, POISON, or CAUTION. These can include auto products, batteries, cell phones, electronics, fluorescent lamps, latex paint, pesticides, strong cleaners, mercury-containing devices, and syringes.
The agency will only accept NYC's residential waste.
"We provide NYC residents with an easy way to safely dispose of potentially harmful products that often end up stored in their closets, cabinets, storage areas, basements, and garages," said DSNY Commissioner Kathryn Garcia in a statement.
Last year over 7,000 attendees brought in almost 700,000 pounds of materials cross the five boroughs.
Materials collected during the DSNY SAFE Disposal Events will be recycled, blended for fuel, or sent to licensed hazardous waste treatment facilities.
All events will be held from 10 am to 4 pm, rain or shine.
Locations:
Queens: Saturday, April 26, 10AM–4PM. Cunningham Park, Ball Field parking lot cars enter on Francis Lewis Blvd between Union Turnpike & Grand Central Pkwy.
Brooklyn: Sunday, May 4, 10AM–4PM. McCarren Park, Bedford Ave between N 12th St and Lorimer St cars approach from Driggs Ave & Lorimer St.
Bronx: Saturday, May 10, 10AM–4PM. Orchard Beach parking lot follow Park Dr to the end.
Manhattan: Sunday, May 11, 10AM–4PM. Union Square, North Plaza south side of 17th St between Park Ave & Broadway cars approach from Park Ave and 20th St.
Staten Island: Saturday, May 17, 10AM–4PM. Midland Beach parking lot Father Capodanno Blvd and Hunter Ave cars approach from Midland Ave.
For additional information on the SAFE events, visit www.nyc.gov/safedisposal or call 311.