The British alpaca made famous by his owner's dogged high-profile attempts to save him from being killed despite testing positive for bovine tuberculosis, has finally been put down.
It ends his owner's four-year-long legal battle with authorities over the validity of the test.
The Department of Rural Affairs on Aug. 31 announced that Geronimo the alpaca had been killed by vets—with a police escort—under a court order, after being removed from his home at a farm in near Wickwar, South Gloucestershire.
A positive test for bovine tuberculosis automatically triggers a death sentence for animals as part of a policy to stem the spread of the disease. Last year alone, some 27,000 were slaughtered after being diagnosed with the disease.
Geronimo's owner, veterinary nurse Helen Macdonald, however, had insisted that the test was fundamentally flawed and that it was picking up a TB protein derivative she had given him.
He had tested positive twice in 2017 after being brought to the UK from New Zealand.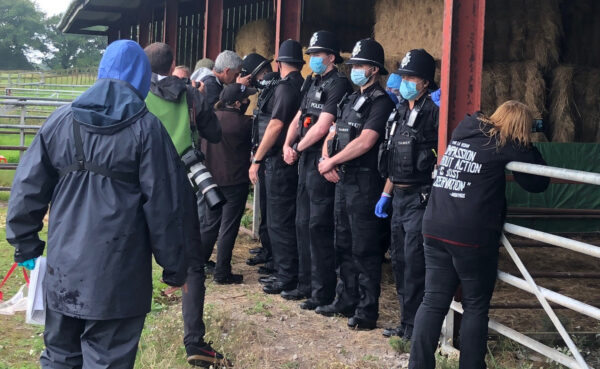 Although several veterinarians backed her cause, after four years of challenges in the courts, the legal road appeared to run out for Macdonald this summer, when a judge dismissed her request for a temporary injunction to stop the killing order and reopen the case.
That sparked a frenzied publicity campaign over the summer, during which Macdonald garnered over 140,000 signatures in an online petition and generated much media attention.
Supporters had been camping out at Macdonald's farm hoping to block officials, who were in the end accompanied by police officers.
Geronimo was loaded onto a waiting trailer with little incident, other than a woman spraying one police officer with a water pistol.
In a statement Chief Veterinary Officer Christine Middlemiss said it was "a terribly sad situation."
"No one wants to have to cull infected animals if it can be avoided," she said. "But we need to follow the scientific evidence and cull animals that have tested positive for bTB to minimise spread of this insidious disease and ultimately eradicate the biggest threat to animal health in this country.
"Not only is this essential to protect the livelihoods of our farming industry and rural communities, but it is also necessary to avoid more TB cases in humans."
A post-mortem examination will now be undertaken by veterinary pathologists from the Animal and Plant Health Agency.
Macdonald told the BBC that the government had refused to act in good faith, describing the killing as "barbaric."
"We know now they have been stringing us along for the last week, fobbing us off by saying people are on holiday and would get back to us this week," she said.
PA contributed to this report.