News Analysis
Part of Germany's new coalition government espouses values and human rights, but economic ties may prevent Chancellor Olaf Scholz from siding with the United States or taking a harsher stance on the Chinese regime.
"Germany stays committed to developing a stable partnership with China, will continue to pursue the one-China principle, and … deepen exchanges and cooperation between the two countries," according to a statement published by China's Ministry of Foreign Affairs, commenting on the first virtual meeting on Jan. 20 between Germany's new foreign minister, Annalena Baerbock, and Chinese Foreign Minister Wang Yi.
Germany has repeatedly demonstrated that it values its economic interests with China more than it values its commitments to the European Union, the United States, or democratic partners.
When Lithuania allowed Taiwan to add the name "Taiwan" to its representative office in Vilnius, the Chinese Communist Party (CCP) threatened to boycott German products that contained components manufactured in Lithuania. While the United States, the EU, and other democracies stood by Lithuania, German companies reacted by pressuring Lithuania to back down.
More recently, the German government did not follow the United States in its diplomatic boycott of the 2022 Beijing Olympics. Although two German officials had announced that they were not attending the Games due to COVID-19 and diplomatic protocols, Germany is reluctant to stand up to China because of its trade dependency.
China was Germany's leading import partner in 2021 and number two overall trade partner in 2020. The CCP is happy to maintain the status quo with Germany because China needs German capital as well as its technology and innovation.
When Chinese Premier Li Keqiang spoke with Scholz during their first phone call on Jan. 17, he suggested that Germany and China could be bound together by the 2,000 Chinese companies in Germany and the 7,000 German firms in China.
Germany's most important investment in China is the BMW plant in Shenyang, which is the company's largest manufacturing base in the world with 20,000 employees and 400 suppliers. China is also BMW's top market.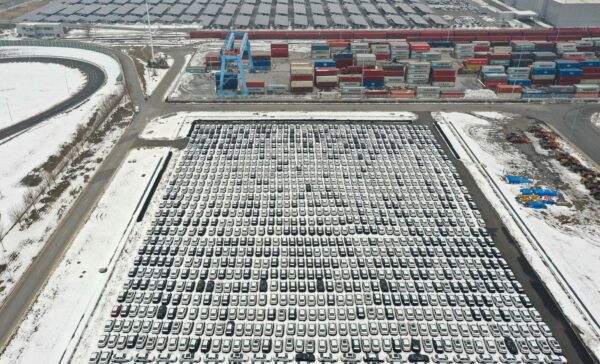 Germany's foreign policy has long been based on the precept of Wandel durch Handel or "Change through trade." This is essentially the same theory America was acting on when then-Vice President Joe Biden pushed for China's admission to the World Trade Organization, and when the Clinton administration granted China the Most Favored Nation status.
It was believed that by opening China to trade, the world would convince the CCP to adopt a rules-based, democratic system of freedom and civil liberalization. While the rest of the world has suspected for some time that this transformation will not take place, until very recently, it seemed Germany was still clinging to the old paradigm.
Scholz's Social Democratic Party formed a three-way coalition with the Greens and the free market Free Democratic Party, determined to promote a values-based foreign policy, focusing on democracy and human rights. The coalition's goals are meant to be a departure from the trade-based policies of the former chancellor, Angela Merkel. Baerbock, the Greens' co-leader, said that while it is important to cooperate with China on climate change, values must be defended. She also said that the new government is looking to coordinate with the EU and the United States.
For all of the talk of values, Scholz never mentioned the genocide of Uyghur Muslims in Xinjiang during his first phone call with Chinese leader Xi Jinping on Dec. 21, 2021. The chancellor did, however, tell Xi that he hoped their 2020 investment treaty would be ratified. The EU had paused the treaty due to the human rights abuses in Xinjiang. Scholz's priorities seem to be at odds with those of his coalition partners.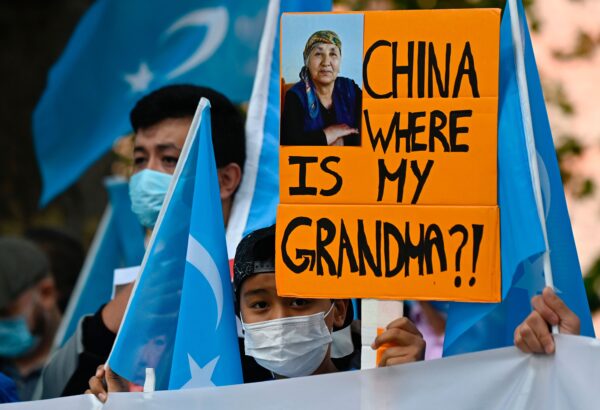 A KPMG survey of the German Chamber of Commerce in China found that 71 percent of German firms were planning to increase their investment in China, while only 4 percent were considering to leave the country. Although large manufacturers, such as auto firms, are dependent on China, the smaller German companies have reported the same complaints as U.S. companies in China—namely rising costs, intellectual property theft, and an inability to compete with Chinese firms favored by the CCP.
Although Baerbock made international headlines when she warned Beijing about "fundamental differences" on human rights, President Joe Biden may be disappointed if he is waiting for a shift in German foreign policy based on statements released by the coalition government.
In Germany, the foreign policy is set by the Federal Chancellery. There is a faction of Scholz's Social Democratic Party that wants continued economic engagement with China, no matter what. The chancellor may be unwilling to expend energy and political capital, fighting with his own party to appease the coalition.
The previous administration, under Merkel, came under fire from the Christian Democratic Union (CDU) for failing to criticize the CCP directly. Similarly, Scholz has already been accused of taking a passive approach to the Ukraine crisis, which may encourage him to be more dynamic on China issues in the near future. Additionally, despite Scholz having told Xi and Li that he wants to strengthen relations with China, Scholz has also pledged to prioritize Germany's engagement with the democracies of the Indo-Pacific.
Furthermore, Baerbock has said that Germany would take a more proactive approach with China, supporting EU initiatives on supply chains, due diligence, and anti-coercion. During the phone conference between Baerbock and Wang on Jan. 20, both discussed sensitive topics such as Taiwan and Xinjiang. The two are scheduled to have an official meeting later this month, where it is expected that even contentious issues will be up for discussion.
There have been some promising signs of a possible shift in Germany's China policy. The economic affairs ministry asked German firms in Lithuania to resist CCP pressure to shift their production out of the country. Furthermore, the German foreign ministry is also expected to send a message to other government departments instructing them to regard China as a "systemic rival."
If Scholz were to alter his policies to more closely align with the mandate of his coalition government, this would be detrimental to Beijing. As a leader of the EU, a shift in Germany's China policy could bring the whole EU closer to the U.S. position. The question is whether business ties with China will prevent Germany from altering its policies. This would be tantamount to change in spite of trade, the exact inverse of Germany's previous China policy of change through trade.
Views expressed in this article are the opinions of the author and do not necessarily reflect the views of The Epoch Times.