German Chancellor Olaf Scholz said Germany would support the admission of Finland and Sweden if they applied to join NATO.
He made a statement to the media along with the prime ministers of Sweden and Finland, Magdalena Andersson and Sanna Marin respectively.
"If these two countries decide that they want to join NATO, they can count on our support. The members of the government made that clear here in the talks, and I think that is an important signal. In any case, both countries can always rely on Germany's support, regardless of NATO membership and in the period before a decision is made on such membership," he said.
The two leaders joined the German cabinet for the start of its two-day retreat in Schloss Meseberg just north of the capital to discuss Europe's security situation.
Both countries have not decided to join NATO for now but are considering it as one option to guarantee their security, the prime ministers said.
"That is the discussion we are having now in our national parliaments. Whether Finland's decision will be joining NATO or not, it will be based on our will to contribute to our common security," Marin said.
The Swedish government and parliament are carrying out a supplementary security policy analysis with a discussion of NATO membership on their agenda, Andersson stated.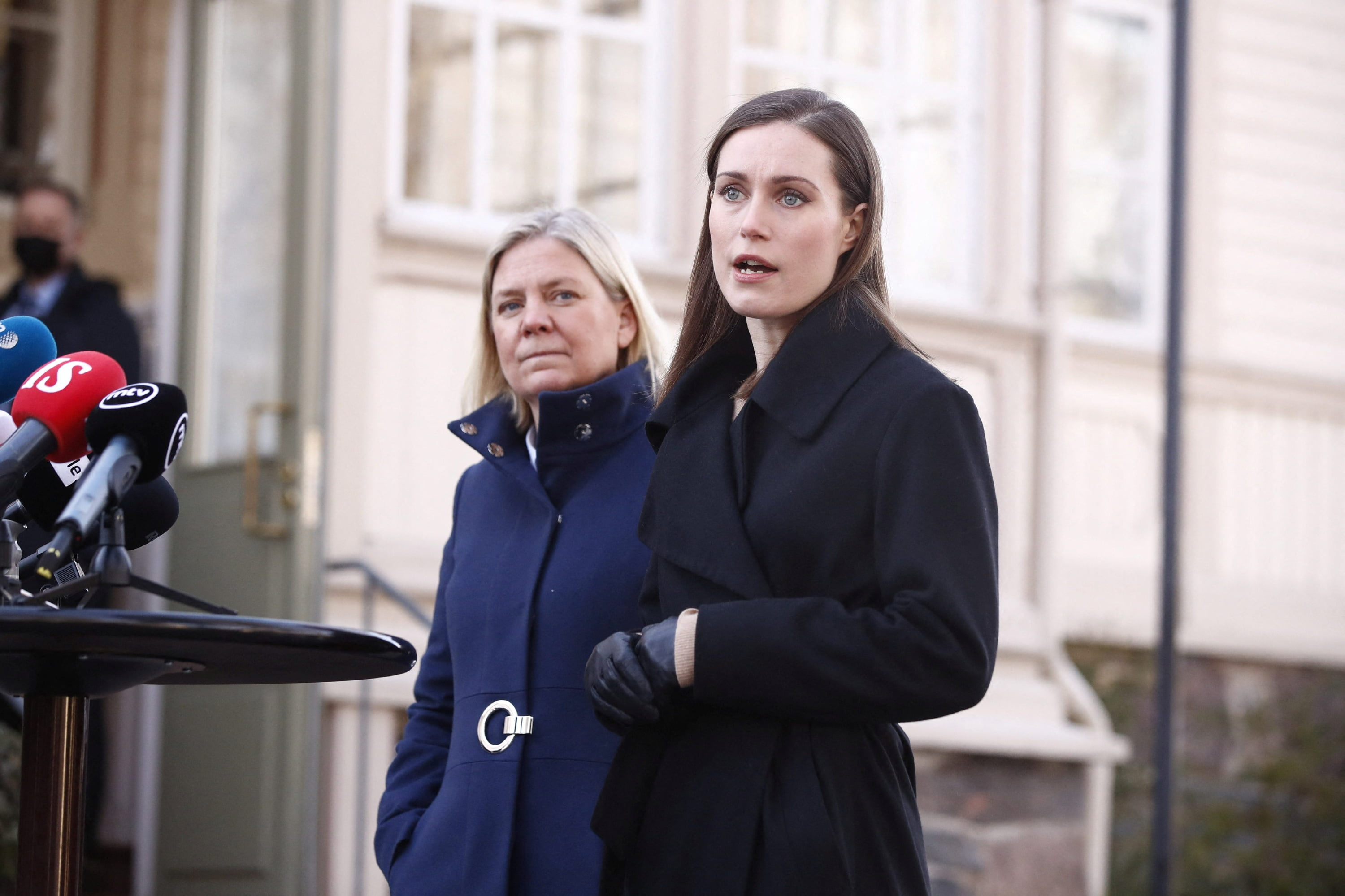 Finland has the EU's longest border with Russia, an 832-mile frontier. The ongoing war in Ukraine has triggered a surge in support for joining NATO in Finland and Sweden, two traditionally militarily nonaligned Nordic countries.
However, the admission of Finland and Sweden to NATO is likely to trigger retaliatory moves from the Kremlin.
Former Russian President Dmitry Medvedev on April 14 warned that the Baltic Sea region could no longer remain "nuclear-free" if Finland and Sweden join NATO.
Medvedev, one of President Vladimir Putin's closest allies who now serves as the deputy chairman of Russia's Security Council, made the nuclear threat one day after Finnish Prime Minister Sanna Marin said Helsinki is edging closer toward possibly joining NATO and will come to a conclusion "within weeks."
"In this case, it would not be possible to talk anymore about the Baltic non-nuclear status. The balance has to be restored," Medvedev said on his personal Telegram channel.
"If Sweden and Finland join NATO, the length of the alliance's land borders with the Russian Federation will more than double," Medvedev said, noting that Moscow would be forced to "seriously strengthen" ground, naval, and air defenses in the waters of the Gulf of Finland.
The Associated Press, Reuters, and Lorenz Duchamps contributed to this report.