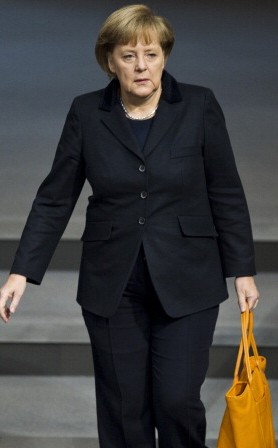 MUNICH—The German government is known for high tax policies, but according to the latest analysis, some experts are wondering if the authorities are going too far.
Analysis, done on officially published data by Federal Statistical Office for the years 2009–2011 and forecast for 2012, shows that the German economy has grown between 2009 and 2012. Out of that amount, 43 percent is retained by the state by means of taxes, only 30 percent benefits people's salaries, while the remaining 27 percent slips to large companies and investors.
"The state benefited the most from the upswing in the economy," said Michael Gromling, economic expert at the Institute of German Economy (IW) in Cologne.
Economists have been stunned how the government is able to amass such a large profit and increase wage tax to such heights.
The losers of the tax game are the ones who earn a bit more money, as they automatically slip into higher tax-paying bracket, where most of their earnings go to social security, other multiple tax programs, and government fees.
The average income tax in Germany is around 45 percent, which is one of the highest in the world—behind Belgium at 54.9 percent and Finland at 46.6 percent. The United States, in comparison, has an average income tax of 27 percent, one of the lowest in the world.
This year, Germany introduced multiple new taxes, and increased previous taxes to new heights, among them are the aviation tax, fuel tax, unemployment tax, and health insurance, just to name a few.
The gasoline tax in Germany is currently 65 percent and it costs 1.55 euros per liter ($8.20 per gallon).
This practically means that employees, whose salaries have not significantly increased in the last two years, will see a lower net income due to higher taxes and inflation.
As a response to high-tax criticism, Merkel's coalition agreed to decrease taxes starting in 2013. However, she faces lots of pushback from the opposition socialist parties that have right to veto the final decision.
"People deserve some tax relief," said Merkel's General Secretary Hermann Grohe. "This is a step toward more justice in taxes, but it also strengthens growth in Germany," said Angela Merkel on a news conference last week.
The opposition party, Social Democrats, view this minor tax break as an offense against the rest of Europe, where Germany demands harsh austerity programs with higher taxes and budget cuts.
Sigmar Gabriel, the leader of Social Democrats, is of the opinion that tax breaks during a time of debt crisis are a bad example to set for the rest of Europe. He said that higher taxes should be first used to pay off the debts.
"Meaningless tax presents produce unnecessary high costs for the country and don't bring much benefit," said Gabriel.