German pool officials have created etiquette cartoons for male asylum seekers after a series of incidents across public swimming pools in the country, including immigrants defecating in one pool and groping women in another.
The cartoon leaflets have been issued across pools in Bornheim and other area cities following the series of incidents, and in the wake of the hundreds of sex assaults in Cologne on New Year's Eve.
The illustrations feature what would be common knowledge in Western countries, telling immigrants not to grope women, not to push people into pools, not to force people underwater, and to wear proper bathing suits as opposed to underwear to go swimming.
There are 13 cartoons in all, featuring German captions with subtitles in English and Arabic.
A spokesman for Munich public services said the leaflets contained bathing rules and "intercultural subjects," developed in cooperation with the equality office, the anti-discrimination office and the Centre for Intercultural Cooperation of the City of Munich.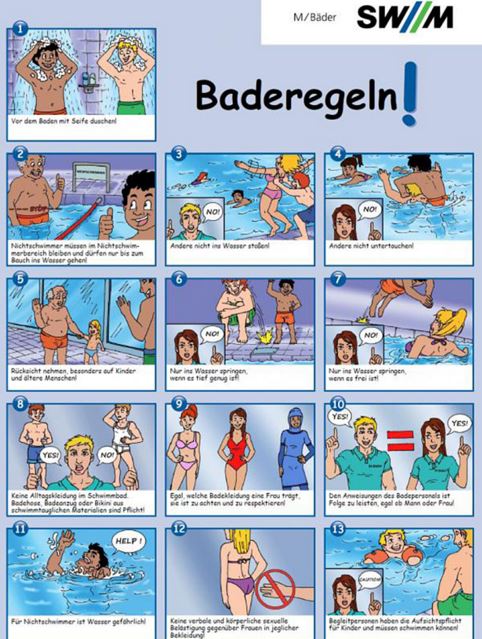 "We had a number of incidents in swimming pools with migrants who could not swim and do not understand our language, written warnings, bans or instructions," the spokesman told the Daily Mail.
"The principle of acceptance of women—no matter what clothes they're wearing—was not respected by all visitors, hence the explicit indication. The multilingual information helps the staff communicate and is helping them in prevention work."
Related Coverage
The distribution of around 20,000 leaflets came after several men were seen "emptying their bowels" in a pool in Zwickau and after migrants were banned from another bath in the town after a gang of them were caught on camera masturbating in a hot tub and sexually assaulting women. There have been other incidents across the country in recent weeks.
Markus Schnapka, head of the social affairs department in Bornheim, a town 20 miles south of Cologne, told the Telegraph that women have been complaining of men from a nearby asylum seeker shelter harassing them.
Officials then decided to temporarily ban migrants from using pools and baths until the leaflets were produced.
"There have been complaints of sexual harassment and chatting-up going on in this swimming pool … by groups of young men, and this has prompted some women to leave (the premises)," he said. "This led to my decision that adult males from our asylum shelters may not enter the swimming pool until further notice."