Following news of the United States' proposed tariffs on Chinese goods, other nations have been watching how this trade war between the world's two biggest economies will unfold.
In recent days, German media have called for the European Union to align with the United States in fighting China's unfair trade practices.
Leading German newspaper Frankfurter Allgemeine Zeitung published an editorial on March 22 titled "Fighting Alongside Washington," which championed taking China to task for its overproduction of steel, achieved through government subsidies. This led to global oversupply and falling prices, which are the primary impetus for the United States punishing China through imported steel tariffs.
The initial list of targeted import countries included China and European nations, but the White House administration has since issued exemptions to the European Union, Canada, Mexico, Australia, and others.
Video: How Industrial warfare has occurred between USA and China'
Uniting Against the Chinese Regime
Instead of intensifying trade tensions, "Europe should draw close to the U.S.," the editorial read. It suggested making a trade agreement with partners across the Atlantic similar to the Comprehensive and Progressive Agreement for Trans-Pacific Partnership signed by mostly Asia-Pacific countries.
"Western nations should unite together to fight for free trade and their own socioeconomic models," it read.
The following day, the newspaper published another editorial, titled "Fruitless Hopes," that supported using tariffs to punish China for stealing Western intellectual property.
It lamented that the West had hoped allowing China into the global economy would, in turn, push China to become a more open society—an effort that failed. "China has publicly stated its demand to become a hegemony. To counter such a country, the West needs to stop it from obtaining key technology. Punitive tariffs are one such countermeasure," it read.

Another leading newspaper, Handelsblatt, published an editorial on March 22 that urged Europe to oppose China. "The EU has consistently petitioned [China] for equal treatment. But if China does not change its policies toward foreign firms in China, Europeans should increase obstruction to Chinese investments in European businesses," it read.
And that is seemingly what happened with China's bid to buy stakes in the German energy network operator 50Hertz. On March 23, 50Hertz's majority shareholder, the Belgian firm Elia, announced that it would exercise its preemptive right to buy a 20 percent stake and edge out State Grid Corporation of China, the Chinese state-owned utility company. Reuters reported that when the Chinese first expressed interest in December 2017, German lawmakers were concerned that the Chinese bid would allow the regime to get its hands on "key technologies."

Back in February, Matthias Machnig, German state secretary for economic affairs, urged stricter EU laws to scrutinize Chinese acquisitions of European companies. "It is essential that we get a tougher law in the European Union this year to resist takeover fantasies or outflows of technology or know-how," he told German newspaper Die Welt.
U.S. officials have also expressed the desire to work with allies in the EU and Japan to tackle China's aggressive trade tactics.
White House trade adviser Peter Navarro said during a March 22 press call that the United States hoped to work with "like-minded trading partners" that also face issues of intellectual property theft. "Everyone that trades with China faces this problem," Navarro said.
China Has More to Lose
Media commentators have also made predictions about which side will have more to lose in an all-out trade war.
Hong Kong economic analyst Liao Shiming said the Chinese regime has been relatively passive in this recent trade dispute because most Chinese analysts and experts had not expected the United States to take serious action. Most thought Trump would use trade with China merely as a platform to win votes in the election, Liao told The Epoch Times.
China has publicly stated its demand to become a hegemony. To counter such a country, the West needs to stop it from obtaining key technology. Punitive tariffs are one such countermeasure.
Meanwhile, a longtime Chinese blogger who frequently comments on domestic economic news, with the pseudonym Manzu Yongshi, penned a recent article dissecting how China relies on the American market.
Looking at what goods China depends on the United States to provide, one can see that China has little wiggle room to retaliate by restricting U.S. imports, the blogger wrote.
Citing Chinese customs data, the article listed the top categories of goods China imports from the United States, with the top category being electromechanical and audio equipment. Without those U.S. goods, China would have to import from South Korea or Japan, but China's relations with those countries have long been rocky.
The second is aircraft, cars, ships, and other transportation. The Chinese regime would want such goods to be made with high safety standards, such as those from the United States. Its only other option would be the EU, which may take that opportune moment to raise prices.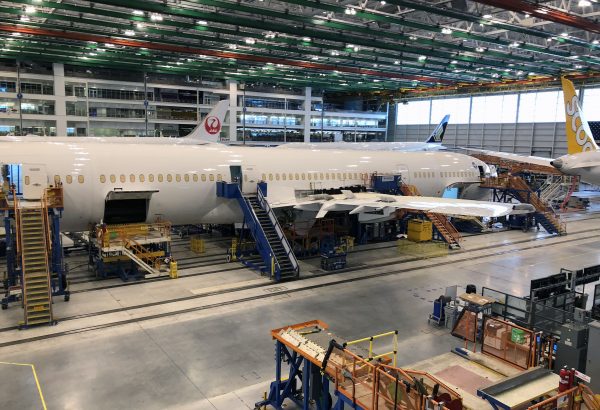 The third is agricultural products. Imported food products accounted for more than 20 percent of food production. The Chinese regime has relied on cheap imports to stifle the rising prices of domestic agricultural goods, which led the blogger to conclude that it is unlikely the Chinese regime would risk increasing food prices to fight a trade war.
The fifth category—medical devices—are critical for patient survival.
For the United States, by contrast, the top categories of electromechanical equipment (No. 1 import from China) and cheap metals (No. 4) are already being targeted by announced tariffs, while the other categories of toys and textiles are nonessential.
The Chinese regime has also softened their initially hostile rhetoric. Chinese Ambassador to the U.S. Cui Tiankai told Bloomberg News in an interview on March 23 that the Beijing authorities were willing to make efforts to minimize the trade deficit and were "ready to buy more" U.S. goods.