The German economy exceeded growth expectations in the second quarter, fresh data from the Federal Statistics Office (Destasis) revealed.
Figures published on Tuesday, Aug. 14, show that the Gross Domestic Product (GDP) grew by 0.5 percent quarter on quarter, and by 2 percent compared with the same quarter a year earlier.
Experts cited by Deutsche Welle said the reason for the surprisingly good economic performance between April and June was strong spending by both government and households.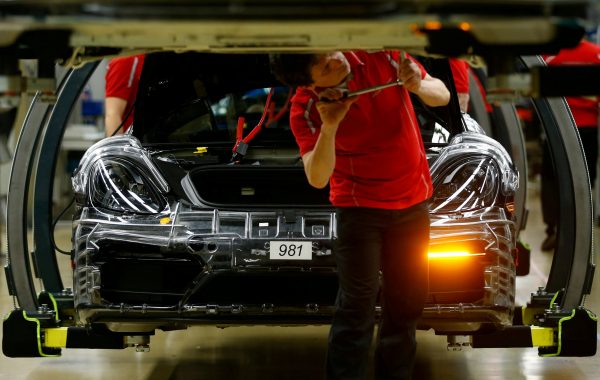 Strong domestic consumption was supported by rising wages and historically low unemployment figures. German lawmakers approved new legislation last month to help long-term unemployed, earmarking 4 billion euros ($4.65 billion) to prompt employers to hire people stuck on welfare for at least seven years.
Fears of an all-out trade war between the European Union and United States eased last month after U.S. President Donald Trump met European Commission President Jean-Claude Juncker.
Obviously the European Union, as represented by @JunckerEU and the United States, as represented by yours truly, love each other! pic.twitter.com/42ImacgCN0

— Donald J. Trump (@realDonaldTrump) July 25, 2018
Trump hailed the meeting as a "very big day for free and fair trade" and a "new phase" in U.S.-EU relations, adding that the two agreed to work toward "zero tariffs" on industrial goods, apart from cars.
Juncker said there would be no additional tariffs, including on cars, while the two trading partners negotiate. He also said that existing U.S. tariffs on European steel and aluminum would be re-examined.
"I had the intention to make a deal today. And we made a deal today," Juncker said.
German investor morale was buoyed more than anticipated following the Juncker-Trump meeting, according to the ZEW.
"Despite all of the prophecies of doom, the upswing is not only alive, it's also kicking," Bankhaus Lampe economist Alexander Krueger said. "For the time being, the upswing is unlikely to be stalled by the global trade dispute or overheating."
But both the German Federal Ministry for Economic Affairs and Energy and ZEW researcher Achim Wambach cautioned that as long as the threat of tariffs persists, Germany's growth outlook will remain clouded.
Economic Growth Forecasts
The government forecast 2.3 percent economic growth this year and 2.1 percent for next. This would be well above Germany's average pace of the past 10 years.
Exports also grew but were outperformed by even stronger imports, suggesting that net trade did not contribute to overall economic growth, the statistics office said.
The figures underpin a gradual shift in the German economy away from its traditional export-oriented growth toward a more domestically driven upturn, propelled by record-high employment, rising wages, and booming construction.
"Contrary to the national football team, the German economy did not have a rude awakening at the start of the summer," ING analyst Carsten Brzeski said, referring to the side's early exit from the World Cup. "Instead, the economy has returned as an outperformer of the eurozone."
A separate release from the German statistics office showed consumer inflation, harmonized to make it comparable with other eurozone data, remained at 2.1 percent on the year in July.
It was the third month in a row that German headline inflation exceeded the European Central Bank's price stability target of close to but below 2 percent for the whole bloc.
Reuters contributed to this report.
Watch Next:
Business is War