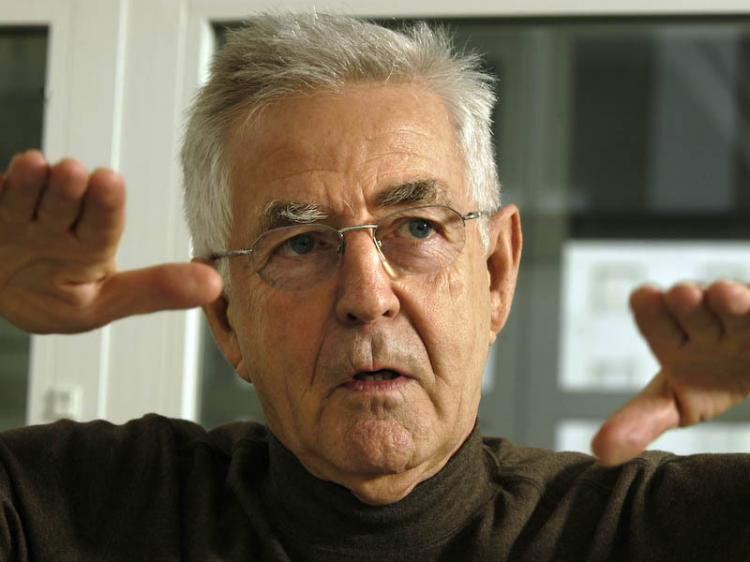 "China is a closed culture for us, but was way ahead of us in the West." This is a clear admission professor Albert Speer presented recently. He is an internationally recognized architect and city planner from Frankfurt am Main. The remarks came during his presentation in Frankfurt at the Chamber of Commerce and Industry last Friday. His theme was, "Thoughts regarding the development of Chinese cities." It seemed to animate the 74-year-old.

He called proof of early China's development "completely unexpected and fascinating" from his discovery of historic data and archeological discoveries. He compared the arrangements of the clay warrior army to the exactness of length and breadth. The terracotta warriors are said to contain chromium that modern people say was first discovered in Europe in 1920.
A City as Symbolism of Cosmic Order and Harmony
Speer quoted Confucius who had spoken of the city as a symbol of cosmic order and harmony. The architect's thoughts revolved around the Chinese concept of living in "quarters," to be derived from "li," a square approximately measuring 400 x 400 meters. Each of these was in former times surrounded by a protective wall and gates that were locked every night. The whole city was based on this principle of "squares." They were laid out in a definitive north-south axis around a main thoroughfare. According to tradition, the emperor was the only permitted to look south during large ceremonies while the subjects had to look north, toward the emperor.

This north-south axis traverses the center of the city. In Beijing this axis originates in the north, at the Forbidden City and goes to the Temple of Heaven in the south. This leads to the written symbols for middle and city, a rectangle, broken by an axis running north and south, what the Chinese call "Zhong." That is the name he gave his Frankfurt/Chinese architectural bureau in 1964. Meanwhile the company, the founder's partners, and 120 employees have major clients in 20 Chinese cities, including Shanghai, Changchun and Chongqing. Continuing his speech, he mused about the habit of looking toward the future instead of glancing back toward the old values.
Integral Urban Planning
Speer stated that China had adhered to a practical rule: a city must only be as large as the surrounding area allows the inhabitants to be fed and watered and to maintain the city's infrastructure. This is an ecologically sound principle that needs to be reintroduced into modern city planning. But it is not happening in mega cities. "Once you drive from Beijing or Shanghai for about two hours, you find yourself in medieval surroundings."
The first Chinese Emperor, Qinshi Huangdi, developed the unified street system, which has ever since been a basis for Chinese city planning. Orienting oneself in a mode of right angles is helpful. Speer cites examples, i.e. the city of Chang'an (Xi'an), Beijing and the Greek city of Milet, and refers to old blueprints of Rome, Barcelona and other modern cities that this system works well even today.
"Cityscape Typically German"
An order came from Shanghai to build an automobile town in the Anting section, an automobile sales hub, and home to car manufacturers/sellers for 20 years, including VW. The Chinese demanded a cityscape that would look typically German, or at least European. The development is meant for 50,000 people, and must not contain high rises. China is looking toward private ownership (of residences).



Among other automobile firms, Volkswagen has had a subsidiary there for the last 20 years. The demands Chinese make of the planners cause certain people to smile: the cityscape ought to look typically German, or at least European. Speer calls it "not huge," but still a project for 50,000 residents. The structures hopefully are not too tall, because in China now another idea has taken hold: instead of subsidized housing the Chinese are promoting apartment ownership! Another project sees him flying to Changchun to meet with the mayor, to sign a planning contract. Nothing is being built there between the end of October and April due to the cold temperatures.

Speer muses about the sometimes less than expected financial return for his labors, but is philosophical, stating that after a time span of two years perhaps 20% of his planning has been ratified, and who has done the work does not matter to him, as long as it turned out well. But he considers it important for Hu Jintao's policy voiced in the People's Congress, to give equal weight to development and the environment. So far this is only a dream on paper, but if Hu is serious about it, everything else will take care of itself.
Chinese Think in Pictures, and Europeans Along the Ideas of Processes

But why is China interested in European know-how? He likens it to the headline, above. In addition, there is a certain prestige associated with structures designed in Europe, and to adhere to the five-year plan until 2010. Also, 60 years of Chinese communist rule has done away with much that is worth keeping.
The resurgence of traditional Chinese cultural values has to come from the outside.
Read original article in German