MACON, Ga.—Voters trickled into polling locations throughout Georgia on May 24 after record-shattering early voting turnout.
With mild weather and a lack of lines, casting ballots seemed easy.
It was a sense of duty that brought some to the polls. Others said they showed up because they're gravely worried about how election results could affect their state.
All approached by a reporter for The Epoch Times said they believed cheating could occur. And most had serious concerns, worrying that fraud had affected outcomes in 2020 and 2018 elections.
At 11 a.m., Judge Brandon Rivers cast the 44th ballot of the day at Arabi Baptist Church. Because he's a magistrate—at 28, the youngest currently serving in the state—it's frowned upon for him to talk politics, he said.
But he wanted to be sure to vote, no matter what.

In 2020, "I was really busy that day with work, and I didn't have a chance to come and vote. I just kind of regretted it," Rivers said.
He's heard of races being decided by just a few hundred votes. So he knows every vote matters.
Today, he chose a Republican ballot, but doesn't always vote the party line. He prefers to vote for the candidate he feels will serve best, without regard for party affiliation.
He's been concerned about allegations of voter fraud coming from voters aligned with both major parties for at least six years.
"I did read where we had a few deceased people vote here in Georgia in 2020," Rivers said, a bit wryly. "I definitely don't want anybody to vote for me. I think I can do that myself."

No particular issue brought Carrie Reese, 31, to the Crisp County Agricultural Center in nearby Cordele to vote. She plans to support Stacey Abrams for governor in November.
"But as a young, black female, it's important for me to come out and vote, because of all the work that my ancestors did to allow us to have that right to vote," Reese said.
She hates to hear people say that "voting doesn't matter," she said. People who don't vote shouldn't complain about the results, she said.
"You have to do your part."
Four voters who said they'd be requesting a Republican ballot in Cordele declined to give their names.
But when asked if they felt recent elections had been fair or not fair, all four bristled and emphatically said, "Not fair!"
And one, who said she'd just finished serving a long stint as an elected official said, "I think we're lost if everybody doesn't vote Republican."
Rebecca Stillwell, 47, of Cordele agrees. She fears the way the world is changing because of how it will affect her teen daughter and her nieces in college.
The chance to vote for University of Georgia Heisman Trophy winner Herschel Walker brought her to the polls to vote in the Republican primary. She hopes he'll advance to take on and defeat U.S. Senator Raphael Warnock in November.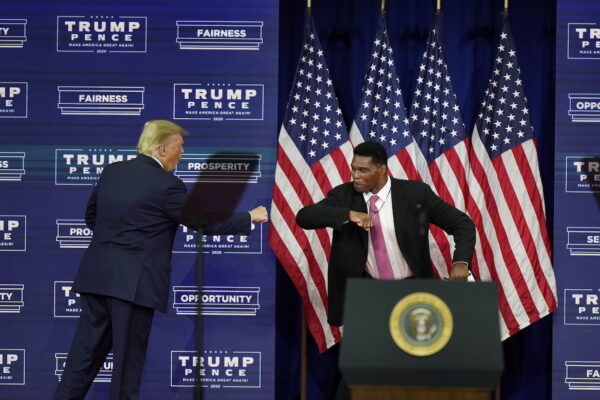 "I just think he is down to earth, and he still relates to the people he would work for," Stillwell said. "He knows all types and walks of life, and he seems to be fair."
And she hoped that, in voting for former U.S. Senator David Perdue for governor, she picked the candidate most likely to defeat Democrat Stacey Abrams in the upcoming general election.
Abrams didn't have an opponent in the primary, so she automatically advances to take on the winning Republican in the gubernatorial race.
Four years ago, Stillwell voted for Gov. Brian Kemp when he defeated Abrams in the general election. This time, she felt former president Donald Trump's endorsement of Perdue gave him the needed edge.
"We just need the strongest one that can beat Stacey Abrams," she said. "I wish one of them would have bowed out. I feel like our state does not need Stacey Abrams. She scares me—too radical."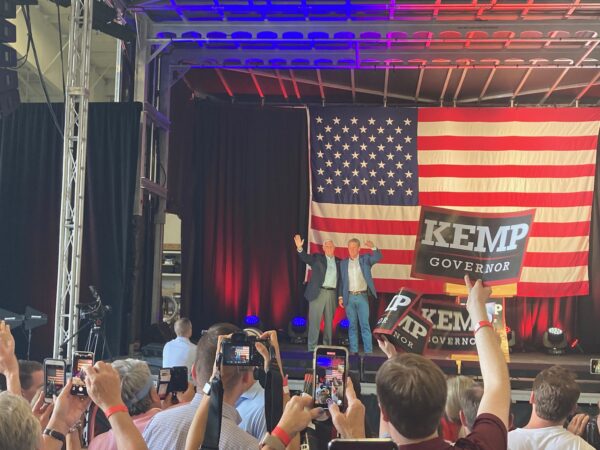 Others felt a nod from former vice president Mike Pence meant more. Pence stumped for Kemp at a rally on May 23 in a hangar at Cobb County International Airport.
"It was fabulous," Tonya Wilbanks, of Jackson County, gushed as she left the rally.
What she most appreciates about Kemp and Pence are that they are "men of integrity," she said. "I'm excited, even more excited" about the election after attending the rally.
Pence is "such a gentleman," said Rena Opel of Acworth, Georgia, and is all about "faith, family, and freedom."
She and her husband, Michael, said they voted for Kemp four years ago. They doubled down on supporting Kemp again in the primary.
Both believe there was "corruption" surrounding the 2020 election. But they don't blame Kemp.
He's "bound by the law," they said. "And he did what he could do."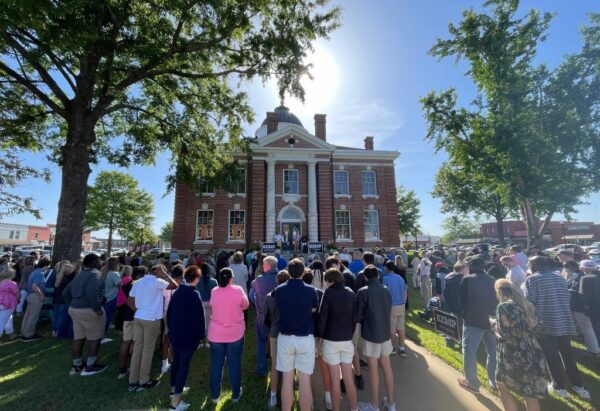 Nyiefa and Jeremy Cumberbatch of Macon planned to vote on the Democratic ballot at Macon Wimbish Road Seventh-day Adventist Church. As millennials, both said, they don't like to be labeled as people likely to vote one particular way.
Nyiefa Cumberbatch said she'd voted for Republicans once or twice in the past. And she strongly approved of the job Macon-Bibb County's Republican mayor was doing, even though she didn't vote for him.
But she and her husband expressed frustration with what they believe to be efforts to suppress black voting in Georgia.
Both said they'd heard whispers and seen posts on social media expressing surprise that so many black people would show up to vote. That was hurtful, they said.
She said that when she stood in line to vote at age 18, she felt so uncomfortable hearing whispering in the line behind her, that it made her consider not voting in the future. She's over that, now.
"As a woman and a person of color [voting has] not always been an opportunity afforded to us," Nyiefa Cumberbatch said. That's why she's voted in every election since.
"It's important to take advantage of something that so many people worked so hard for us to be able to do."
She's concerned about Georgia's new voting regulation that prevents people from handing out water to voters waiting, sometimes in the blasting heat, to vote.
She's also been wary of new Congressional districts that appear gerrymandered, and she objects to polling locations "moved to areas not on the public transportation line."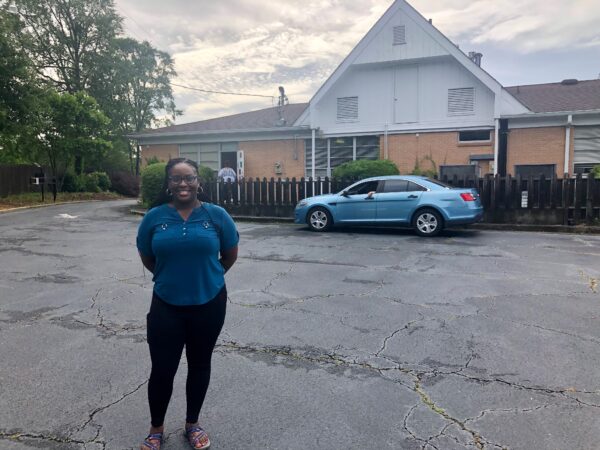 She wants candidates elected who will make sure "votes are going to be fair, and when the results come out, we'll all be able to accept them because we know that they'll be fair."
She's suspicious that when Democrat Stacey Abrams ran in 2018 against Brian Kemp—then Secretary of State—the election may not have put the right candidate in the governor's office. Abrams never conceded, and has said for the past 3 1/2 years that the election was stolen.
She and her husband marveled at the lack of unity of Republicans heading into the primary.
"This guy [Congressman Jody] Hice—I feel like he was specifically put in place by Donald Trump to pretty much just bring chaos," Jeremy Cumberbatch said. "When you look at Donald Trump's presidential sitting, I mean, wasn't that chaos?"
Trump-backed Hice has challenged incumbent Secretary of State Brad Raffensperger. Hice and Trump have blasted Raffensperger with blistering criticism for not doing more to investigate claims of widespread cheating in elections.
It's better to have a mix of good candidates from both parties, Nyiefa Cumberbatch added.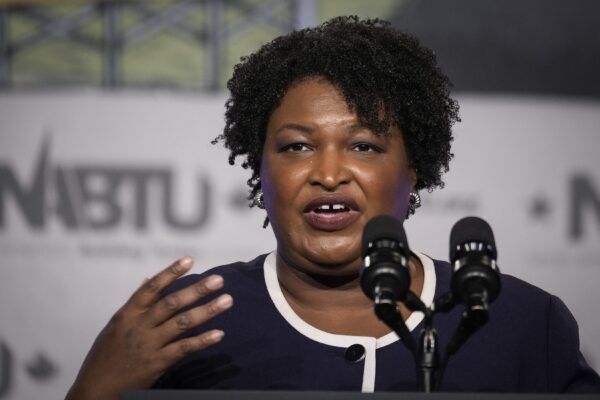 Republicans, she said, "know how to find the resources and get money. Democrats know how to spread it out fairly. So you have to have a balance."
Lanita James, a 50-year-old nurse practitioner in Macon, Ga., hopes her top candidates will help with issues that matter most to her.
As the cost of living soars, she struggles to make payments on the $100,000 balance on her student loans.
It's only right for the government to eliminate student loan debt, she said, especially for health care workers, who've risked their lives for two years fighting COVID-19.
"People just need a break—a break meaning a reset button to start over, to be able to get themselves and their families up to a better standard of living."
When she borrowed money for her education, she intended to pay it back. But with the cost of living going up, "if there is some sort of debt that the government can step in and eliminate, that would be a huge feat for a lot of young people and old people."
She's also concerned about the rising cost of medications. A diabetic patient called in a panic recently, saying he couldn't pay the $400 for a month's supply of insulin.
There's already a shortage of providers, she said. The rising cost of medication "puts extra burden on the provider to now have to stop and figure out, 'Where can this patient get their medication from?'"
Warnock "did a lot with trying to decrease the cost of medication," she said. So she showed up to vote for him in today's Democratic primary.
He was elected on Jan. 5, 2021, in a special election runoff to fill the vacancy caused by the resignation of Senator Johnny Isakson.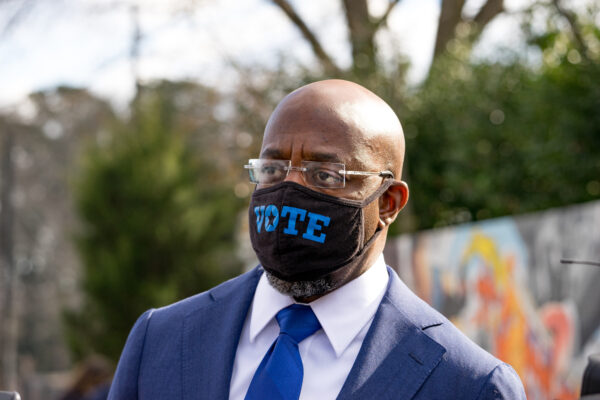 James also supports Abrams for governor.
"I have been impressed with her commitment and involvement directly into the community, particularly for small business."
But can she trust this election? She just doesn't know, she said. She has faith in local poll workers.
"Now," she added, "what happens to that ballot once it's slid into the box? You don't know."