Undecided voters and an endorsement from former President Donald Trump could tip the results in the May 24 Georgia primary elections for secretary of state, recent polls suggest.
Researchers with Survey USA found that 60 percent of those planning to vote in the Democratic primary still hadn't made up their minds about a favorite, so a clear leader was almost impossible to pick.
Results from two polls analyzing the Republican race likewise conflicted with each other.
One poll conducted between April 22 and April 27 suggested that incumbent Brad Raffensperger was ahead with 30 percent of the vote. In second place was Congressman Jody Hice with 20 percent. Nine percent of the remaining voters were split almost equally between two other candidates.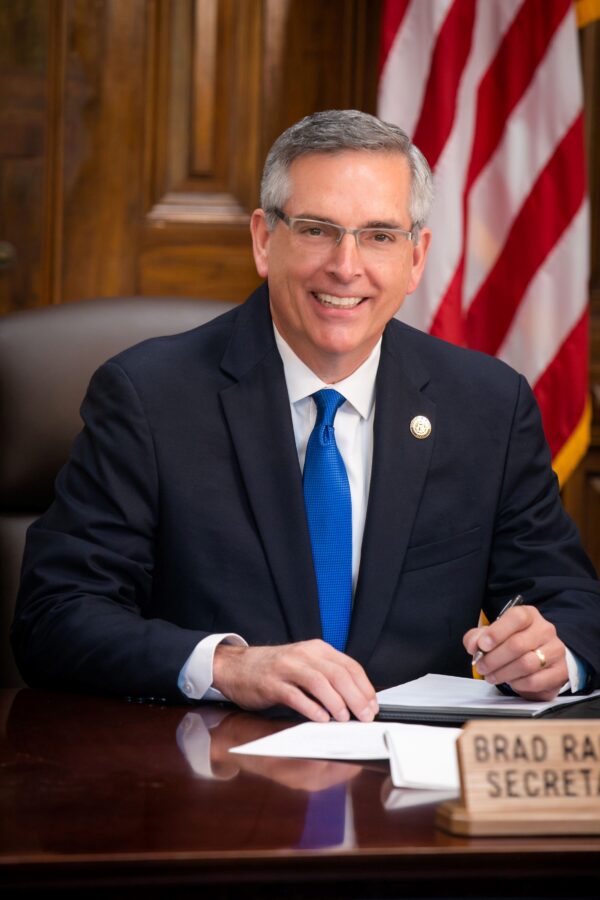 But with 40 percent of voters still undecided, the final result could swing in any direction, the poll suggested.
Another poll suggested that Hice was ahead in the Republican contest with about 30.3 of the vote. Raffensperger trailed with 22.7 percent, according to the polling by M.V. Hood III, a professor of political science at the University of Georgia's School of Public and International Affairs and director of the school's Survey Research Center.
Hood's poll seemed to confirm what's been illustrated by primary contests around the country: The endorsement of former President Donald Trump could change everything in a race—but only if enough voters know about it.
When respondents in the April 12 study learned that Trump has endorsed Hice, his lead doubled. Hice has joined Trump in alleging the 2020 election results were swayed by widespread fraud, including in Georgia.
Raffensperger's office oversees elections, so that has made him a target for criticism from Trump and his supporters.
Trump has repeatedly complained that Raffensperger didn't do enough to investigate allegations of voter fraud in the 2020 election. The results of that election removed Trump as president and installed Joe Biden in the White House.
"In essence, President Trump, along with his supporters' grievances from the 2020 Presidential election, is on the ballot," said national politics expert Peter Bergerson, a political science professor with Florida Gulf Coast University.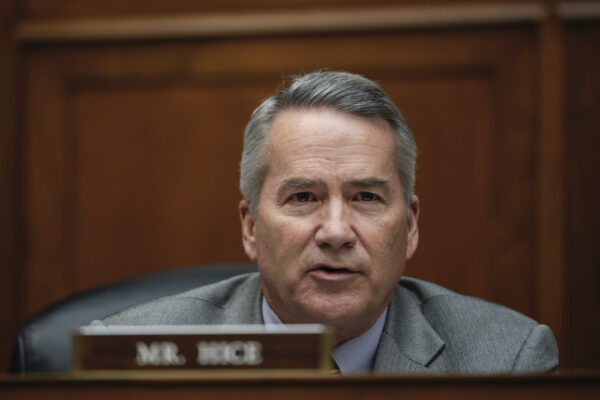 Raffensperger has vigorously defended the record of election integrity in the state, standing up to cries about stolen elections by both Republicans and Democrats.
That led him to publicly condemn the appointment of Karine Jean-Pierre as White House press secretary four days after she took the role.
Before taking the job as White House spokeswoman, Jean-Pierre was a frequent guest on cable news programs. There, she frequently argued that Democrat voting rights activist Stacey Abrams lost her 2018 bid to be Georgia's governor because the election was stolen.
In light of that, Raffensperger "called on President Biden to refuse election deniers prominent positions in the White House" on May 9.
"President Biden has repeatedly cast doubt on Georgia's elections: first in his claim that the 2022 elections would not be legitimate unless his federal elections takeover passed, then by nominating a 2018 stolen elections conspiracy theorist to the Federal Election Commission, and now by appointing a stolen elections conspiracy theorist as Press Secretary," Raffensperger said in a written statement. "By giving a megaphone to individuals who undermine election results they don't like, President Biden is doing great damage to American democracy."
Pundits predicted that Georgians might shirk voting because of frustration over fraud claims. And Raffensperger's staff was concerned that might be true.
But those worries disappeared as Georgia voters streamed in to cast early ballots and mailed back ballots in record numbers. Early voting ended on May 20.
That enthusiastic turnout was split almost equally between voters requesting Republican ballots and those requesting Democratic ballots. That presumably quashes Democratic claims that the state's new voting regulations would suppress the vote.
In Georgia primary elections, if one candidate doesn't win at least 50 percent of the vote, the top two finishers advance to a June 21 runoff.
Then the winning Democrat and Republican will move on to the Nov. 8 General Election, where they'll face Libertarian Ted Metz and nonpartisan candidate Brenda Nelson-Porter.
Among respondents planning to vote on the Democratic primary ballot, 12 percent said they would vote for Bee Nguyen for secretary of state, the SurveyUSA poll shows.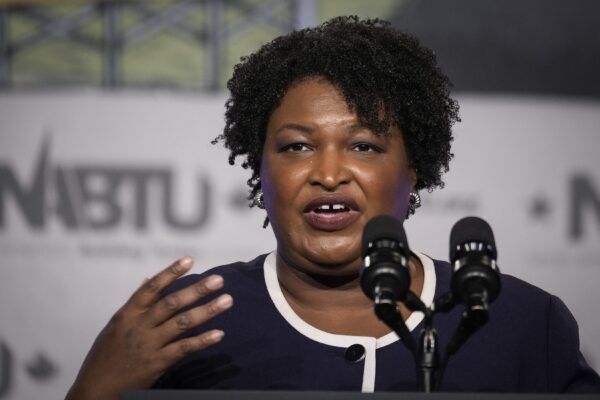 Nguyen has served in the Georgia House of Representatives since 2017. She was elected to replace Abrams, who resigned to focus on her run for governor. Abrams lost to Brian Kemp, who's facing challengers in the May 24 Republican primary.
Abrams is running for governor again and doesn't have an opponent in the primary. She'll automatically advance to the Nov. 8 General Election.
Polling suggested that Michael Owens might be just behind Nguyen with 9 percent of the vote.  He's a Marine veteran, cybersecurity expert, and former chairman of the Cobb County Democratic Party.
Also running are Dee Dawkins-Haigler, a former member of the Georgia House of Representatives; John Eaves, former chairman of the Fulton County Board of County Commissioners; and Floyd Griffin, a former state senator.
With 60 percent of poll respondents still undecided, the top finishers could be any of the five.