MARIETTA, Georgia—A Georgia homeowner accused of shooting two electricians working at his home has since been charged with murder.
News outlets report 68-year-old homeowner Larry Joel Epstein was charged with murder late last week after one of the electricians, 21-year-old Jake Horne, was taken off life support and died.
PD WANTS MURDER CHARGE: 68-year-old Larry Joel Epstein is facing four felony charges including Aggravated Assault w/ intent to murder and Aggravted Battery after @cobbpolice1 say he shot 2 contractors working at his home. Police are now working to UPGRADE those charges to murder. pic.twitter.com/nxj1NAv5ox

— Alexa Liacko FOX 5 (@AlexaLiackoFOX5) March 8, 2019
Police responded Wednesday afternoon, March 6, to a reported shooting at the home and found Horne shot in the head and his boss, 37-year-old Gordon Montcalm, suffering multiple gunshot wounds.
Police say Epstein shot the men "as they attempted to leave his home after completing their work day." The motive is unclear.
Police are working with the DA to upgrade Larry Joel Epstein's charges to murder after 21-year-old Jake Horne, who police say Epstein shot in the head, died from his injuries. Horne was working at Epstein's house as a contractor right before the shooting. pic.twitter.com/VFeS1QtBwK

— Alexa Liacko FOX 5 (@AlexaLiackoFOX5) March 8, 2019
Epstein was initially arrested on charges of aggravated assault and battery. He's being held without bail at the county adult detention center and is set to appear in court March 26.
Gun Sales Up
Gun sales increased more than 80 percent between 1999 and 2017, according to The DataFace, a San Francisco data analysis company, which based its estimates on FBI background check data.
There have been reports that far fewer households now own a gun—31 percent in 2014 compared to over 47 percent in 1980, according to surveys by the National Opinion Research Center (NORC) at the University of Chicago (pdf).
Yet several other polls contradict the NORC numbers. An NBC News/Wall Street Journal Survey revealed 47 percent of households with a gun on the premises in March 2018 (pdf). Gallup reported 46 percent with a gun on premises in October.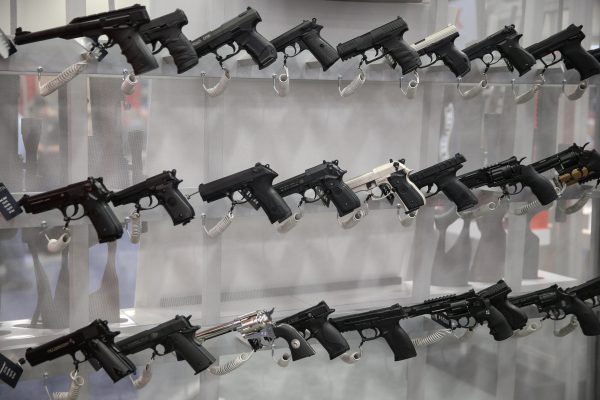 There was an estimated 11 percent decline in gun sales in 2017 accompanying the election of President Donald Trump, who has largely supported gun rights, The DataFace reported.
"With the prospect of relaxed gun laws for the next four years, demand has diminished and guns sales in the U.S. have waned," the company stated.
It's not clear though how long the phenomenon persevered. The Trump administration moved on Dec. 18 to ban bump stocks, which allow semi-automatic rifles to fire almost as rapidly as automatic ones. At least some gun rights advocates opposed the ban.
Accidental Gun Deaths Down
Despite the abundance of guns, deadly shooting accidents have diminished over the past several decades.
Accidental firearm discharges killed 486 people in 2017, down more than 50 percent since 1997, according to mortality data collected by Centers for Disease Control and Prevention (CDC).
Decreased popularity of hunting, improved trauma care, and gun safety education campaigns have likely helped decreased the fatalities.
The Epoch Times reporter Petr Svab contributed to this report.