Mandatory evacuation in Georgia has started for the entire 15-mile-wide strip that runs between Interstate 95 and the Atlantic ocean, where the now-Category 4 Hurricane Dorian threatens to buzz the coast.
After declaring a state of emergency on Aug. 29, Gov. Brian Kemp announced that mandatory evacuation of all six coastal counties would begin at midday on Monday, Sept. 2, to be overseen by the Georgia Emergency Management and Homeland Security Agency.
The declaration said that the network of roads and bridges that link up the barrier islands on the coast could be rendered impassible due to downed trees, power lines, debris, and flooding, "isolating residences and persons from access to essential public services."
Starting noon tomorrow, individuals east of I-95 in Bryan, Camden, Chatham, Glynn, Liberty, and McIntosh Counties must evacuate due to Hurricane #Dorian. @GeorgiaEMA and @GADeptofTrans will start westerly contraflow on I-16 at 8 AM on Tuesday, Sept. 3. Stay vigilant and be safe. pic.twitter.com/njw2ffCoLT

— Governor Brian P. Kemp (@GovKemp) September 2, 2019
On Tuesday morning, the flow of traffic on the east-bound lane of Interstate 16—the main artery from the coast—will be reversed to speed up evacuation.
Evacuation reminders: 1. Know where you are going before getting on the road. 2. Be patient as heavy traffic expected on Interstates and major highways. 3. Wear Seat Belts. 4. Drive with 👀 on road & not 📱. 5. Watch for & slow down for law enforcement officers directing traffic.

— Georgia Governor's Office of Highway Safety (@gohsgeorgia) September 2, 2019
Hurricane Dorian is currently heading slowly from the Bahamas towards Florida but is forecast to make a sharp right turn, grazing the U.S. coast in the next few days.
According to the latest forecast by the National Hurricane Center (NHC) at 11 a.m. on Sept. 2, "A slow westward to west-northwestward motion is forecast during the next day or so, followed by a gradual turn toward the northwest and north."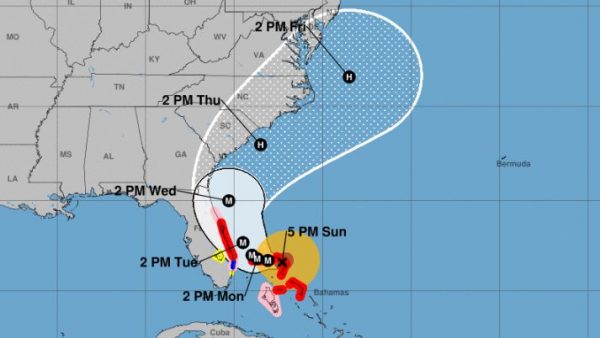 "On this track, the core of extremely dangerous Hurricane Dorian will continue to pound Grand Bahama Island through much of today and tonight."
According to the NHC, Dorian will then move "dangerously close to the Florida east coast late tonight through Wednesday evening," before again moving "dangerously close" to the Georgia and South Carolina coasts on Wednesday night and Thursday.
Dorian was downgraded to a Category 4 hurricane in the NHC advisory, after grinding through the Bahamas with sustained winds of 185 mph, the second most powerful storm ever recorded in the Atlantic.
Dorian's maximum wind speeds have since dropped to 155 mph, dropping it down a category, but only blunting its potentially devastating power.
South Carolina Gov. Henry McMaster issued an order Sunday for an evacuation of the entire coast, where about 830,000 people live.
Parts of Florida are already being evacuated.
According to a local report, a 7-year-old boy became the first fatality of monster hurricane Dorian as it crawled over the Abaco Islands at just 1 mph, grinding the Bahamas with record 220 mph winds.
Dorian hit the Bahamas as a Category 5 hurricane, packing sustained winds of 185 mph, making it the second most powerful hurricane on record, tied with the Labor Day storm of 1935 as the strongest hurricane to make landfall in the Atlantic basin.
The Bahamas Press wrote on Twitter that the death of 7-year-old Lachino Mcintosh had been confirmed.
"Lachino Mcintosh, drowned after his family attempts to relocate their home," wrote the news outlet in a tweet showing a picture of the boy. "Mcintosh's sister is missing."