Georgetown Prep alumni, former classmates of Supreme Court nominee Brett Kavanaugh, have supported his explanation of the term "Devil's Triangle." It came up during the Senate Judiciary Committee public hearing on Sept. 27. Kavanaugh had written the term in his high school yearbook.
A number of Kavanaugh's detractors have accused the judge of lying about the term.
Kavanaugh told Senators that "Devil's Triangle" was a drinking game that he and his friends played.
The alumni said in a letter sent to the committee that he was correct.
"'Devil's Triangle' was a drinking game we came up with in high school. It was a variation on the game 'Quarters.' When we played 'Devil's Triangle,' four people sat at a table. On the table, three small glasses of beer were arranged next to one another to form a triangle. Each of the four participants took turns being the 'shooter.' The shooter attempted to bounce a quarter into one of the glasses," wrote the alumni, DeLancey Davis, Bernard McCarthy Jr., Paul Murray, and Matthew Quinn.
"We do not remember the exact origin of the name, but none of us used the phrase 'Devil's Triangle' in our yearbook to refer to any kind of sexual activity. To us, it was just a game with glasses in the shape of a triangle. If the phrase 'Devil's Triangle' had any sexual meaning in the early 1980s, we did not know it."
MYSTERY SOLVED: It turns out that "boofing" and "the devil's triangle" aren't so scandalous after all and Judge Kavanaugh was completely honest in his descriptions of both. Another swing and another miss from Senate Democrats. #SmearFails #ConfirmKavanaugh #SCOTUS pic.twitter.com/A8QF3QQK3T

— Senate Judiciary (@senjudiciary) October 4, 2018
Lending further credence to the alumni, two other men, who attended Boston College with Quinn, said he had taught them the game and they played it.
"We knew Brett socially back in the '80s and '90s and consider him a friend but haven't spoken to him in more than 25 years. We are not from the Washington, D.C. area," they wrote.
"However, during our first year at Boston College, we lived with Matthew Quinn, who is an alumnus of Georgetown Prep and was a classmate of Brett's. Matthew taught us a drinking game called 'Devil's Triangle' that he had played with his friends in high school."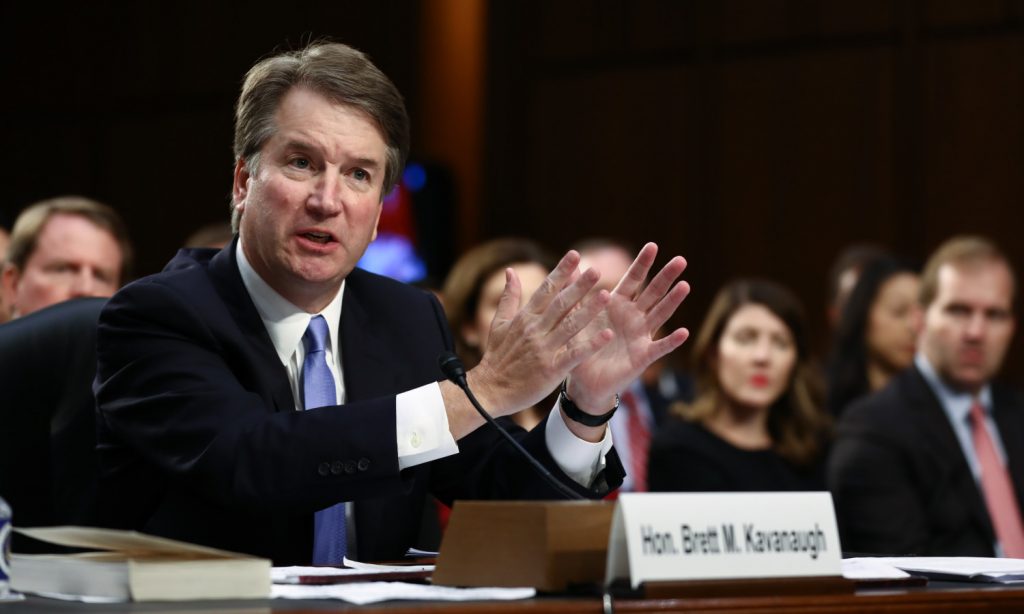 'Boof'
The word "boof" has also been closely examined by detractors of Kavanaugh, who say it refers to another sexual act.
Kavanaugh said during the hearing that it refers to farting.
"That refers to flatulence," Kavanaugh responded. "We were 16."
A former classmate, Donald Urgo Jr., wrote the committee to say that in addition to the "Devil's Triangle" being a drinking game, "boof" also referred to flatulence.
"Brett's testimony about the meaning is entirely correct and consistent with my independent understanding," he wrote.
Noting the focus on the various inside jokes, terms, and phrases he used in his yearbook, Kavanaugh told the committee during the hearing: "Many of us went along in the yearbook to the point of absurdity."
From NTD.tv