George Zimmerman's Mother: Zimmerman Arrested 'Solely to placate the masses'
April 11, 2013 3:02 pm Last Updated: April 11, 2013 3:06 pm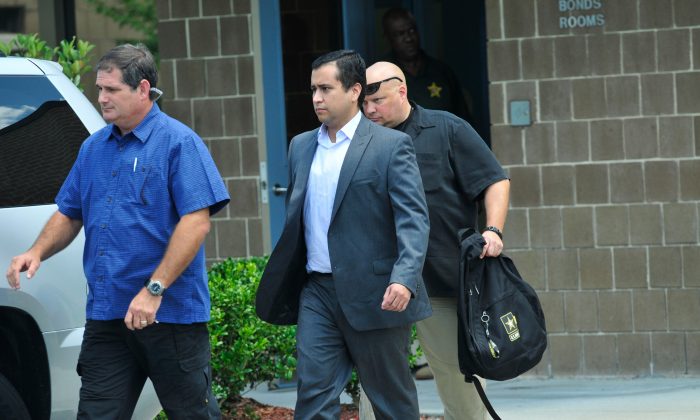 George Zimmerman's Mother: The saga involving Trayvon Martin and George Zimmerman took another turn on April 11, when Zimmerman's mom published a letter.
It's the one-year anniversary of Zimmerman's arrest. He was charged with second-degree murder, accused of killing Martin, but has said it was in self-defense.
Zimmerman was a neighborhood watch volunteer, and said Martin was beating him up following a nighttime confrontation in the Florida neighborhood Zimmerman lived in and Martin's girlfriend lived in.
Gladys Zimmerman said in her two-page letter, published online, that April 11, 2012, when Zimmerman was arrested, "will be forever remembered by the Zimmerman family as the day the justice system failed us as Americans, and as a consequence an innocent man was arrested for a crime he did not commit, solely to placate the masses."
The trial has taken several twists and turns, including Martin's girlfriend lying under oath. Zimmerman is awaiting the trail, which has been postponed and is supposed to start again on June 10.
Mrs. Zimmerman said that the media "made it their prerogative to  judge and sentence George beforeand after his arrest."
"Even members of Congress and self-proclaimed
'activists' used and routinely use to this day the term 'murderer' when they speak of him—in effect they are re-enforcing the only acceptable judicial outcome in their eyes," she wrote. "Many have seen to it that he be judged by the public, the very public they were keen on misinforming."
Mrs. Zimmerman said that it's imperative that George receive a fair trial, "as this is the quintessential birthright of every American."
She said, "I remember a year ago, when George was arrested, there wasn't a television station in the country or a newspaper in circulation that didn't 'break news' of his arrest by placing his picture along with a sound byte or caption on their airwaves or publications. When George was incarcerated, the food he bought was considered 'news,' the snacks he ate and even the undergarments he purchased were fodder for even more 'news reports' about him. Those days were particularly disheartening and saddened me profoundly, but as a mother I knew that only strength would see us through. There was absolutely no justifiable reason my son should have been charged for a crime he didn't commit and there was no just reason he should find himself incarcerated either."
Mrs. Zimmerman said that she released the letter as a way to let those who support him that she is with them "in solidarity" with them.
"George's family supports him, and anyone who speaks positively about my son is targeted," Mrs. Zimmerman told News 13 . "The threats are very specific. There are threats that have been made to me, our family, that are scary, and therefore, we are always on the move."
George Zimmerman is currently living "in hiding," according to the interview, while they are all preparing for the trial.
Read the letter here.