George Zimmerman Arrested? Wife and Wife's Father Won't Press Charges After He Threatened to Shoot Them
George and Shellie's stories differ as police report says that George was taking photos of his wife removing belongings from house
September 9, 2013 2:41 pm Last Updated: September 11, 2013 3:34 pm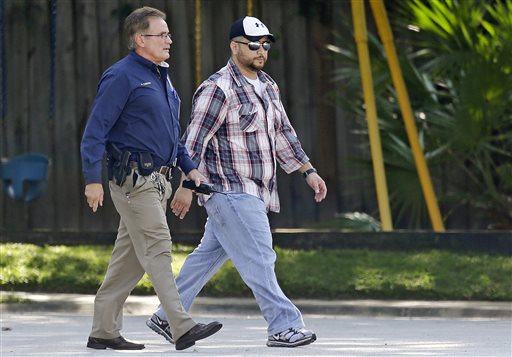 George Zimmerman likely won't be arrested after he allegedly threatened his estranged wife Shellie and her father on September 9, but police say video from Shellie Zimmerman's iPad could deliver evidence for charges.
Although Shellie and her father declined to press charges against George after an altercation on September 10, police could still prosecute George if there's enough evidence.
Lake Mary Police Department spokesman Zach Hudson said Tuesday that the iPad captured video of the dispute, but the mobile device was in pieces and needed to be examined in a lab. But the video could take weeks or months to access video, reported the Orlando Sentinel.
Meanwhile, George says that Shellie struck him in back; either could face domestic violence battery charge, according to the Orlando Sentinel. But no one will be arrested without video corroboration of what happened. A grainy video that emerged on Wednesday from the home's security camera doesn't show much.
Shellie Zimmerman, who recently filed for divorce, says in a police report released Wednesday that Zimmerman showed up at the house while she was removing belongings, stuck his arm inside her father's truck parked outside the house and then locked the front door to the house.
Shellie Zimmerman says she recorded the dispute on her iPad before George Zimmerman smashed the device.
George's friend Wesley Robinson who was there on Monday told police that he stepped between Shellie's father Dean and George when Dean went after George. After he let Dean loose, he went after George again. Robinson says his forearm accidentally hit Dean in the face during the altercation.
————————-
The situation in question happened on Monday. Shellie Zimmerman called police shortly after 2 p.m. to 300 Sprucewood Road, where her parents live, saying George threatened her with a gun.
"We need police," she said in the call. "He's trying to shut the garage door on me. He's in his car, and he continually has his hand on his gun, and he's saying 'step closer' … and he's going to shoot us. He punched my dad on my nose,  my dad has a mark on his face. I saw his glasses were on the floor. He accosted my father, and took my iPad out of my hands, and smashed and cut it with a pocketknife." (listen to the full call here; see a video of police detaining Zimmerman below)
Her dad "feels like he's going to have a heart attack" and his nose may be broken, she said.
Shellie recently filed for divorce from George.
But after police arrived, Shellie and her father signed papers declining to press charges against George Zimmerman and there is no arrest forthcoming, Lake Mary Police Chief Steve Bracknell told reporters, according to Weiner. At the same time "We're documenting the heck out of this thing" in case they change their mind, said Bracknell.
Zimmerman's attorney, Mark O'Mara, said his client never threatened his estranged wife and her father with a gun and never punched his father-in-law. Shellie Zimmerman had collected most of her belongings Saturday from the house, which is owned by her parents, where she and George had both been staying there until she moved out. She had returned unexpectedly Monday to gather the remaining items. Emotions got out of control, but neither side is filing charges against the other, O'Mara said.
A dashcam video shows Zimmerman being detained. Story continues below video.
"I know the 911 tape suggests that Shellie was saying something but I think that was heightened emotions," O'Mara said. "There may have been some pushing and touching. That happens a lot in divorce situations … Nobody was injured."
There was no threat made with a gun, O'Mara said, adding that the fight between the two was a result of "heightened emotions." O'Mara said Zimmerman had a gun but it was holstered under his shirt and stayed there the whole time.
Hours after saying Zimmerman continually had his hand on a gun and was threatening her and her family, Shellie Zimmerman changed her story and said she never saw a firearm, said Lake Mary Police Chief Steve Bracknell.
For the time being, "domestic violence can't be invoked because she has changed her story and says she didn't see a firearm," Bracknell said.
"We didn't find a gun," Lake Mary police spokesman Zach Hudson said late Monday night. "We didn't find anything that indicated he had a gun on his person."
"She [Shellie] basically said he made a movement that would be consistent with a movement someone would make if they had a gun," Hudson added.
Hudson said Zimmerman was released from investigative detention at around 6:30 p.m. and "he just walked back into the house."
"Right now he's not a suspect in anything per se, but were still viewing the video and trying to ascertain what new information that may yield," he said, referring to video from home surveillance cameras outside the house.
Prosecutors could still build a case based on surveillance video from cameras outside the house and also video from the squad cars of officers who responded. Florida law allows police officers to arrest someone for domestic violence without the consent of the victim.
Hudson said the estranged husband and wife were blaming each other for being the aggressor and that police officers were sorting through their accounts.
Zimmerman was acquitted several months ago of second-degree murder and manslaughter in the killing of Trayvon Martin, an unarmed black teenager, in a Florida neighborhood in 2012.
He has been looking at purchasing a tactical shotgun and was also recently pulled over for speeding twice. The first time he had a gun in his glovebox.
Story developing; check back for updates
Follow @ETBreakingNews for breaking news from around the world.
The Associated Press contributed to this report.