General Motors employees rallied outside of the Lordstown, Ohio, plant on its last day.
Photos showed workers crying, protesting, and mourning the loss of jobs and industry in the city.
They were seen outside the plant on March 6 as the last Chevrolet Cruze came off the assembly line.
People gather in front of the General Motors assembly plant on Wednesday, March 6, 2019, the last day of the plant's Chevy Cruze production, in Lordstown, Ohio. pic.twitter.com/RVqFbjawqz

— Steph Chambers (@StephChambers76) March 6, 2019
"It's frustrating," said Jeff Nance, who has worked at the plant for 17 years, reported the Chicago Tribune. "I'm angry and bitter. Watching that last car go by was a kick in the gut."
Shaun Winkler said he's still thinking whether he should transfer to another GM plant where there are job openings.
"It started out as a normal day, but when that last car came into our area, and there was nothing but empty racks behind it, then it got sad," he said.
Lordstown and Ohio say goodbye to the Cruze with tears, hugs, honking horns and hope… https://t.co/twGljQ2Z8F pic.twitter.com/dr73nADZrg

— dispatch editor (@dispatcheditor) March 7, 2019
Meanwhile, UAW 112 President Dave Green said he walked through the plant for the workers' final shift.
"It's gut-wrenching. People were crying, they're frustrated and they feel like they've done everything right," Green said.
At the Lordstown facility, some 1,700 jobs were cut by the automaker, which said that demand for the Cruze has been low, adding that people are opting for SUV-like vehicles.
We're here with @UAW Local 1112 outside the GM Lordstown plant as the final cars are coming off the assembly line. We, and our students, are counting on @GM to #SaveGMLordstown and keep quality jobs in Ohio. pic.twitter.com/0qGmVjSDie

— Lordstown Teachers Association (@LordstownTeach) March 6, 2019
As for the factory itself, which is 6.2 million square feet, it will be put into a "state of readiness," GM spokesman Dan Flores told The Associated Press.
Production of the Cruze will continue in Mexico. The car is made for markets outside the United States, AP noted.
GM President Mark Reuss said the firm is "looking at a lot of different options for the plant" in Lordstown, saying that it's not clear if more vehicles will be built there.
Such a sad day for workers and families please keep gm lordstown in your prayers❤ #driveithomeohio pic.twitter.com/j45wTLpKgt

— A (@Autielovesfall) March 6, 2019
"We've just got to keep an open mind here, and we are," he told AP.
The Cruze "was a good product and was built with tremendous pride by the Lordstown employees. We know this is an emotional day for our Lordstown team," GM said in a statement to Reuters.
GM noted that over 400 Lordstown employees have accepted offers at other GM locations, and it reiterated that jobs are available at other assembly plants for anyone willing to relocate to other states.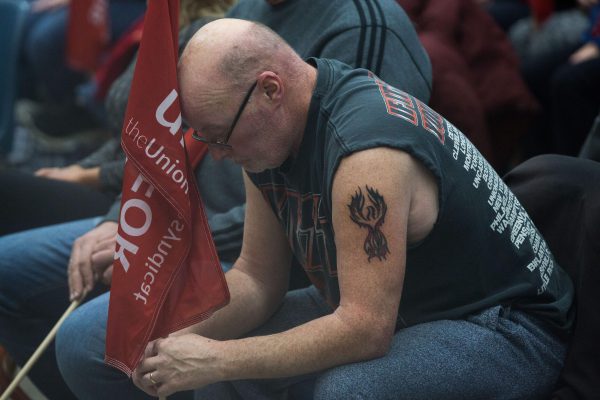 The United Auto Workers union, which has filed suit challenging GM's decision to end Cruze production at Lordstown, said it "will leave no stone unturned in keeping the Lordstown plant open."
In November, GM announced it would idle five North American plants, including Lordstown, and cut up to 15,000 jobs.
Separately, the UAW and the Communication Workers of America union sent a letter this week to the House of Representatives Ways and Means Committee asking it to investigate significant corporate tax cuts received by GM and AT&T Inc even as they cut thousands of union jobs.
The letter said there is "no evidence to date that the corporate tax cuts have encouraged GM to bring back any production from Mexico to the U.S."
Reuters contributed to this report.