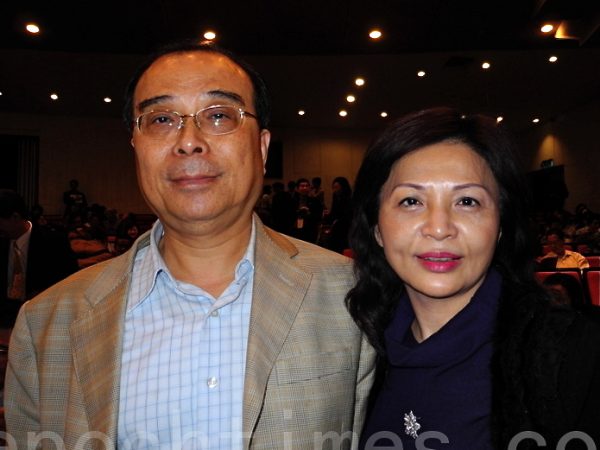 TAINAN, Taiwan—A city rich in historic sites and cultural heritage, Tainan welcomed Shen Yun Performing Arts on its sixth tour of the city. On March 8, the New York-based company, which has as its mission the revival of China's 5,000-year-long divinely inspired traditional culture, gave a performance of pure beauty and compassion, which attracted some of its most loyal fans.
Among them was Heinz Wang, general manager of Wenchi & Brothers Co., who has seen Shen Yun perform for three consecutive years. Mr. Wang said this year's theme, which includes the belief that "good is rewarded and evil is punished," gave him a whole new perspective.
Mr. Wang was emotionally in touch with the scene where divine beings descended from heaven to rescue persecuted Falun Gong practitioners. He believed this program was profound in meaning and he felt a connection with Falun Gong practitioners from every corner of the world, including in mainland China, who provide people with an opportunity to know the truth about the persecution against them.
"I have come across many Falun Gong practitioners in different parts of the world. I sensed a spirit of perseverance," said Mr. Wang. Similar to what was shown in the program, Mr. Wang believed that good is always under the grace of the divine.
According to the company's website, "Shen Yun uses performing arts to present stories that bring to life the inner essence of China's divinely inspired culture. This includes ancient legends, characters and tales from history, and representative events from the modern world, including Falun Gong (also called Falun Dafa) cultivation stories."
"[The Shen Yun performance] is a union of culture and arts," he said.
Mr. Wang praised all of the programs, each with its own unique characteristics. The program Joyful Little Monks drew the heartiest laughs from the Wang couple, he said.
'It's really spectacular'

At the Wednesday evening performance Mr. Xiuping Lin, general manager of the Kun Hung Industrial Co., said he felt that Shen Yun's unique story-based dance, featuring the lessons and values of 5,000 years of traditional Chinese culture, was very inspiring. He said the performance moved him very much and he was totally fascinated.
"It's really spectacular. The Chinese 5,000-year-year-old culture was vividly displayed in the performance, which has profound inspiration," he said.
Mr. Xiuping Lin acknowledged that the Shen Yun performers must have gone through rigorous training to reach such a high level of performance. And he commented that as so many people are having the opportunity to see Shen Yun in Taiwan, it will help to enhance the cultural standard in Taiwan. "It's really great!" he said.
"The entire performance was really superb and very wonderful," he added.
Shen Yun's innovative, dynamic backdrop, which expands and transforms the stage, allowed Xiuping Lin to feel a part of the performance, he said. "In fact, I'm very busy every day. Watching the performance made me feel very relaxed, as it is very inspiring and touching. It gave me a sense of participation, and I felt like I was a part of the performance."
Reporting by Long Fang & Frank Fang and Deman Dai & Joseph Wu.
Shen Yun Performing Arts, based in New York, tours the world on a mission to revive traditional Chinese culture. Shen Yun Performing Arts New York Company will perform in seven cities in Taiwan until April 8 and then continue to top venues in Australia and New Zealand.
For more information visit ShenYunPerformingArts.org
Read the original Chinese article
Read the original Chinese article