Pet Food Company G&C Raw of Versailles in Ohio is expanding its recall to cover all product lots that were manufactured between February and July because they could be contaminated with the bacteria Listeria monocytogenes—the cause of listeriosis.
G & C Raw, LLC is Expanding Recall to Include All Product Lots Manufactured from February 27, 2018 Through July 20, 2018, Because of Possible Listeria Monocytogenes Health Risk https://t.co/AEAPh9rheg

— U.S. FDA (@FDArecalls) October 24, 2018
The products being recalled are under brands G&C Raw Dog Food and G&C Raw Cat food. The pet foods are being sold through direct delivery to Ohio, Michigan, Indiana, Pennsylvania, Kentucky, North Carolina, South Carolina, Tennessee, Georgia, and Illinois.
The company first issued a recall for two of its products, 'Pat's Cat Turkey' and 'Ground Lamb Pet Food' on Aug. 3 but later expanded its recall to cover all products manufactured between Feb. 27 and July 20 on Aug. 31. The recall was issued after the Ohio Department of Agriculture found some G&C Raw products containing the bacteria Listeria monocytogenes during its routine sampling program.
The FDA says the bacteria can cause serious and sometimes fatal infections in animals and humans. Pet owners handling the contaminated food can also be infected—especially if they have not thoroughly washed their hands after touching the food or any surfaces exposed to the potentially contaminated food.
Listeria monocytogenes can cause symptoms of nausea, vomiting, diarrhea, aches, including severe headaches, fever, and stiffness. It can be fatal in children or elderly people, or people who have weakened immune systems. It can cause miscarriages and stillbirths among pregnant women. People who have purchased the G&C Raw Dog Food or Raw Cat Food should contact their doctor if they have any of the above-listed symptoms.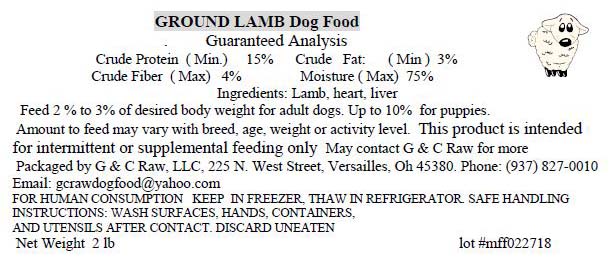 Cases of animals being infected with the bacteria are rare. If infected, they also can show signs of diarrhoea, anorexia, fever, as well as signs related to damage of the nervous, muscular, and respiratory systems. They can also experience depression and shock. The infection can be fatal.
Animals can transmit the bacteria through their feces onto their coats. In doing so, they can infect surfaces around the home and potentially indirectly infect other humans and animals. Customers are advised to contact their vet if they see their pets having any of the above symptoms.
The FDA said that so far, no confirmed cases of listeriosis have been reported.
Those who have bought the products are urged to return them to G&C Raw, 225 N. West Street, Versailles, OH, for a full refund.
Customers can contact the company with any questions about the recall on (937) 827 0010 from 9:00 a.m. to 5:00 p.m. ET or by email at mgcrawdogfood@yahoo.com.
The manufacturing dates for each product are included at the end of the lot number. For example, 022718 indicates that the product was manufactured on Feb. 27, 2018. All products with lot numbers ending in 022718 through 072018 are being recalled. The recalled products include:
Pat's Cat Beef
Pat's Cat Chicken
Pat's Cat Turkey
Pat's Cat Duck
Pat's Cat Rabbit
Beef Veggie Mix Dog Food
Ground Beef Dog Food
Sliced Beef Heart Dog Food
Ground Beef Heart Dog Food
Kim's Special Beef Organ Dog Food
Ground Chicken Dog Food
Chicken Veggie Mix Dog Food
Chicken Mix Patties Dog Food
Duck Veggie Mix Dog Food
Ground Duck Dog Food
Ground Rabbit Dog Food
Rabbit Veggie Mix Dog Food
Ground Lamb Dog Food
Lamb Veggie Mix Dog Food
Ground Beef Pancreas Dog Food
Beef Liver Chunks Dog Food
Beef Sweet Breads Dog Food
Ground Pork Dog Food
Pork Veggie Mix Dog Food
Shelby's Pork Organ Mix Dog Food
Ground Pollock Dog Food
Turkey Veggie Mix Dog Food
Ground Turkey Dog Food
Tripe Dog Food
From NTD.tv