A garbageman saved a 93-year-old woman from a wildfire in northern California.
Margaret Newsum's caregiver had already left when Newsum realized Butte County's Camp Fire was approaching her house in Magalia. But when she went outside, she was soon greeted by a garbageman, Dane Ray Cummings.
"I went out and was standing on the front porch when this great, big, green monster drove up, and my dear friend was emptying the garbage, and I have had him as my worker—I call him my private worker because he's so great—and he said, 'You're not staying here. You've got to get out of here. Why are you still here?'" Newsum told KCRA.
Cummings said he chose to break company protocol and load the elderly woman into his truck after discovering she had no family in the area and couldn't reach her caregiver.
A supervisor had warned him of the fire and advised him to finish early but he wanted to make it to the area in which Newsum resides.
"I been on that route eight years, and I just picked the people that I knew were older, and I tried to stop and help them and let them know that they were coming and make sure they were getting out," he said. "She was my last stop. I probably went to 45 or 50 people to see if I could help them."
During the 5-hour drive to safety, the pair got to know each other better. Cummings learned that Newsum witnessed the attack on Pearl Harbor and was a backup singer for the Rat Pack.
'She was my last stop': Garbageman saves 93-year-old from creeping wildfire by pulling her into truck https://t.co/WSyyurufmY pic.twitter.com/bkApGXD05S

— WESH 2 News (@WESH) November 12, 2018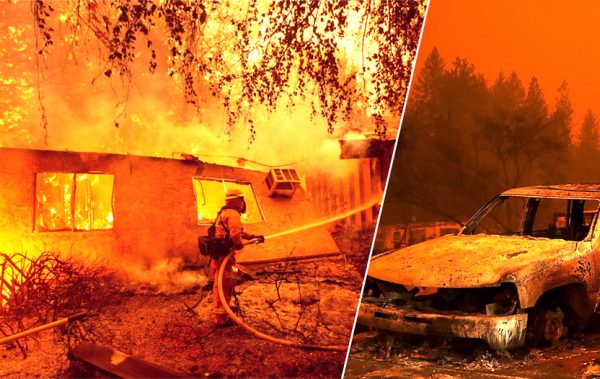 Death Toll Reaches 29
The death toll from the wildfire that incinerated Paradise and surrounding areas climbed to 29—matching the mark for the deadliest single blaze in California history—as crews continued searching for bodies in the smoldering ruins, with nearly 230 people unaccounted for.
Ten search teams were working in Paradise — a town of 27,000 that was engulfed by flames Thursday—and in surrounding communities in Northern California's Sierra Nevada foothills. Authorities called in a DNA lab and anthropologists to help identify what in some cases were only bones or bone fragments.
All told, more 8,000 firefighters battled wildfires that scorched more than 325 square miles of the state, with the flames feeding on dry brush and driven by winds that had a blowtorch effect.
"This is truly a tragedy that all Californians can understand and respond to," Gov. Jerry Brown said Sunday. "It's a time to pull together and work through these tragedies."
"Paradise was literally wiped off the map," said Tim Aboudara, a firefighters union representative. He said at least 36 firefighters lost their own homes, most in the Paradise area.
The Associated Press contributed to this report.
From The Epoch Times