Gao Zhisheng's First Contact with Outside World Since His Unlawful Secret Arrest
November 3, 2007 12:00 am Last Updated: November 3, 2007 12:00 am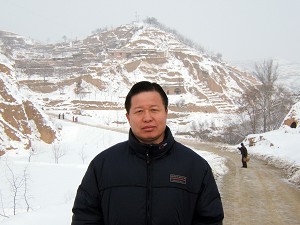 Hu Jia, Beijing-based AIDS activist, received a phone call from Gao Zhisheng, China's most prominent human rights lawyer, at approximately 9:30 p.m. on October 28.
It was the first time Gao has contacted the outside world since being secretly arrested by the CCP (Chinese Communist Party) regime's authorities on September 22.
Not long before that, Gao wrote an open letter to members of the U.S. Congress condemning the CCP for having increased the persecution of religious and human rights defenders before the 2008 Olympic Games scheduled to be held in Beijing.
Hu Jia told our reporter, "I got a phone call from an unknown number on the night of October 28. The area code belongs to Xian City, Shaanxi Province. I recognized lawyer Gao's voice right away. I'm very familiar with his northern Shaanxi accent. I was very excited and called out: 'Lawyer Gao!'"
Mr. Hu reported their conversation, which lasted only one and a half minutes.
Gao warned Hu Jia not to take risks to visit his family, otherwise, the authorities would seek revenge against him. Hu reported, "Lawyer Gao asked me not to go. He also asked me to think more about my family and take good care of Zeng Jinyan and our unborn baby right now."
Hu told Gao that "Although I'm in unlawful detention, the first thing I'll do after I get freedom is to visit your wife and Gege (Gao's daughter)."
Gao repeated, "I know you won't listen to me on this, but you'd better not go." Hu Jia responded,"Your wife and kids are all in fear." Gao replied, "They should be better now." Gao also told Hu that he would be staying in Shaanxi Province and Shanxi Province for a while to take care of something.
Hu passed on the news to Gao that Huang Yan, a Hubei Province-based human rights defender and Gao's close family friend, was violently kidnapped by the Beijing Municipal Public Security Bureau's "National Security" Squad on September 22. She was released on October 23, after a one-month detention at Jin Zhou City, Hubei Province. Gao replied, "Please relay my thanks to her for what she has done. I have to go." The phone call was then cut off.
Hu Jia pointed out, "Under these circumstances, the main purpose of the authorities allowing Gao to call me was to relieve the pressure from the outside to save lawyer Gao. The authorities also did this to cut off my connection with him. As Gao mentioned clearly for me to cut off the contact with his family, this is the most important thing to the authorities."
Hu Jia said he was relieved to hear Gao Zhisheng's voice again. He is optimistic about Gao's situation. He predicts that Gao will go back to Beijing and be together with his family soon.
Gao Zhisheng wrote one open letter to the National Peoples' Congress in 2004 and two open letters to Hu Jintao and Wen Jibao in 2005, before his open letter to the members of the U.S. Congress, requesting that they stop the persecution toward Falun Gong practitioners. In December 2006, he was sentenced to three years in prison for "subversion of the state," with a five-year "suspended sentence," and denial of all of his constitutional rights, such as freedom of speech and free association, for one year. Gao and his family have been under strict surveillance by the authorities ever since, and they have been repeatedly harassed. Thugs have beaten his daughter, apparently under the direction of someone—or some faction of—the CCP.