Gao Zhisheng Resurfaces, Says He Quits
April 7, 2010 10:03 am Last Updated: October 1, 2015 8:26 pm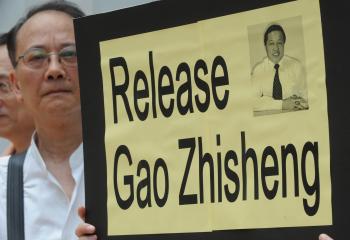 During a meeting with Associated Press reporters in a Beijing teahouse on April 7, human rights lawyer Gao Zhisheng said he was giving up his activism against the Chinese Communist Party in the hopes of being able to contact, and possibly reunite with, his family in the future.
It was the first interview since he was reported to have reappeared two weeks ago. Then, he made and received a series of phone calls with journalists and supporters while reportedly staying on Wutai Shan, a mountain retreat. That was the first intimation that his status as a political prisoner may change.
Before then, Gao had been abducted by Chinese security forces in February 2009 and held incommunicado since. Gao, initially lauded by the Chinese establishment for his legal work, attracted the ire of the CCP for becoming steadily more involved in cases deemed politically sensitive to the communist authorities. This culminated in a series of letters he wrote to the country's leaders condemning what he regarded as the barbaric persecution of the Falun Gong spiritual practice, following his own investigation of the issue in the north of China.
AP suggests in its report that the recent meeting may have been devised by the authorities to allay concerns about Gao's mental and physical health.
Gao's case has been unusual in how the communist authorities have done little to attempt to show observers that he has been treated in accordance with the law. His 14 months of disappearance and detention remained largely unacknowledged by officials, except for a string of inconsistent and sometimes apocryphal statements.
In 2007 when Gao was abducted, he reported being subjected to electric shocks to the genitals, and having lit cigarettes held to his eyes. He wrote in a graphic letter outlining the ordeal, which lasted 50 days, that he tried to kill himself by slamming his head onto a table to end the suffering, but was unsuccessful.
"I don't have the capacity to persevere," Gao is reported to have said to AP in the recent meeting. "On the one hand, it's my past experiences. It's also that these experiences greatly hurt my loved ones. This ultimate choice of mine, after a process of deep and careful thought, is to seek the goal of peace and calm," he said.
Gao was unwilling to talk about the conditions of his freedom or lack thereof, nor how he had been treated while in unofficial custody.