Gao Zhisheng Said to Be Free, but Doubts Linger
March 28, 2010 10:51 pm Last Updated: October 1, 2015 8:30 pm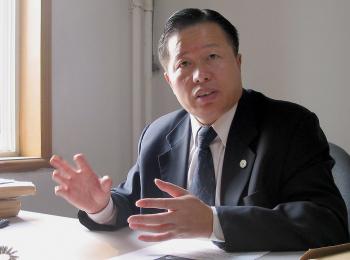 A Chinese human rights lawyer, famous for standing up to the communist authorities, is said to be relaxing in a Buddhist mountain retreat rather than being in prison, as was previously thought.
Gao Zhisheng reported that he was healthy and free, staying on Wutai Shan, a mountain range and Buddhist retreat. "I just want to be in peace and quiet for a while and be reunited with my family," Gao is reported to have said in a March 28 phone call with Reuters. He said he could not answer further questions.
A Beijing-based human rights lawyer and friend of Gao, Li Heping, told the Associated press that he had spoken briefly to Gao on his cell phone, but was skeptical about the claim to freedom. "First, when we were speaking, he sounded like he wanted to hang up. He told me that he had friends around him. I'm sure that the people around him are limiting what he can say."
"Secondly, he would not tell me exactly where he is when I suggested visiting him," Li said. "We are very concerned about his situation."
Gao Zhisheng was seized in February 2009, a month after his wife and family fled China, and some time after he released a letter documenting 50 days of torture he experienced at the hands of communist authorities in 2007. His advocacy on behalf of Falun Gong was said to have angered "uncles" in the security forces, and he was given a "12 course meal" as payback. The letter describes electric shocks and toothpicks being applied to the genitals and cigarettes held to the eyes.
The claim about his current whereabouts and condition is the fifth in a series of odd and sometimes contradictory statements on the topic by Chinese authorities.
On Sept. 25 last year, Gao Zhisheng's brother said public security officials told him he had "gone missing" during a walk—a remark considered risible by many commentators, given the extreme conditions of Gao's detention.
On Jan. 21, when asked at a press conference, foreign ministry spokesman Mao Zhaoxu said that Gao had been "dealt with according to the law," and was "where he should be." This heightened interest in the case, as observers sought more concrete details.
In February the Dui Hua Foundation, a human rights groups based in San Francisco, reported that the Chinese Embassy in Washington told them that Gao was working in the far western Xinjiang Province, and that he had been in contact with his family. His wife decried the rumor, insisting that she had never heard from him.
On March 16, during a joint news conference with British Foreign Secretary David Miliband, Chinese Foreign Minister Yang Jiechi said that Gao had been sentenced to prison on subversion charges, and asserted that he had not been tortured.
In the latest statement, Gao said he had been sentenced but released; he did not provide a reason as to why he may have been afforded such treatment, and while Reuters reported that he was supposed to have been in the mountainous area for the last six months, there was no explanation as to why the news had not come out earlier.
It is a common experience of political prisoners, documented in prison memoirs from the Maoist-era to today, to be coerced to lie about their conditions in return for more lenient treatment or early release. http://media.ntdtv.com/ebrief/news/20100330-AB-03-