Gao Zhisheng Kidnapped by CCP Authorities in Shandong Province
August 17, 2006 12:00 am Last Updated: August 17, 2006 12:00 am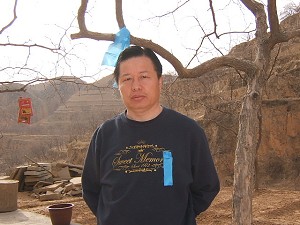 Renowned Chinese attorney Gao Zhisheng was kidnapped on August 15 by several plainclothes policemen while visiting his critically-ill brother-in-law at his sister's home in Dongying City, Shangdong Province. This was confirmed after contact with Gao had been lost for 24 hours as all communication channels were cut off by the Chinese Communist Party authorities, and by verification from other sources.
On Monday, the phone at the home of Gao's sister was disconnected, and they could not receive or make any calls. The cell phones of Gao's relatives were seized by the authorities and held for 24 hours. Relatives were also warned by police.
On the morning of August 15, an Epoch Times reporter spoke to Gao on the phone. At that time, Gao had no idea that he would be kidnapped that afternoon.
At noon, about a dozen plainclothes police stormed Gao's sister's home, held Gao down, and prevented him from making any noise. Gao's sister was held in another room and was also not permitted to speak. After several minutes, the plainclothes police took Gao away without providing any legal procedures or explanations.
After Gao was taken away, a public figure told Gao's sister, "Your brother committed a crime. Dongying City public security has taken him away." Gao's sister replied, "I don't know what crime my brother committed. I just know he is a lawyer, and I am worried whether he is still alive."
After the kidnapping, the authorities disconnected Gao's sister's phone, as were the phones of his wife, Geng He, and close friend Ma Wendou. Gao's other cell phones were also disconnected, and even the phones of Gao's nephews who sell vegetables in Beijing have been disconnected.
Gao's relatives in North Shaanxi are very worried. They were unable to get a hold of Geng He and Gao's sister on the day of Gao's kidnapping.
The CCP authorities had used all means to block news of Gao's kidnapping, and were successful for about one day before word got out to The Epoch Times .
An insider told The Epoch Times, "Inside rumors claim that the Public Security did something to Gao on August 15. Gao's current situation is unknown. Please pay attention to this issue!"
Gao once said that he didn't fear being kidnapped by the authorities. His articles would still directly pinpoint the root of the public's misery.
After Gao wrote an article that exposed Public Security Minister Zhou Yongkang, the CCP authorities' monitoring and harassment of Gao became more threatening. They disconnected his phone, electricity, gas and even aggressively followed him at close distances.
On August 13, Gao said, "Today, the Dongying City plainclothes followed me quite closely."
Gao also said, "In the sweltering summer days, the spies monitor me day and night, every day. They try to cool off with big leaf fans and a pile of jars containing cool water by their feet — it is so pitiful." Gao told an Epoch Times reporter to wait to see what Zhuo Yongkang would do next.
Under these circumstances, Gao has been monitored by the special agents for 262 days and beaten several times by plainclothes police. With blind human rights activist Cheng Guangcheng's court hearing coming up on August 18, the local police have taken extra precautions against crowds of supporters, and Gao was secretly kidnapped.
Gao once said, "We are dealing with the most evil organization in the history of humankind. This inhumane organization will definitely use the most desperate methods. In the face of this, we have to be prepared to shed our blood and lose our lives."